News
CMR robots push picking trolleys at Bilka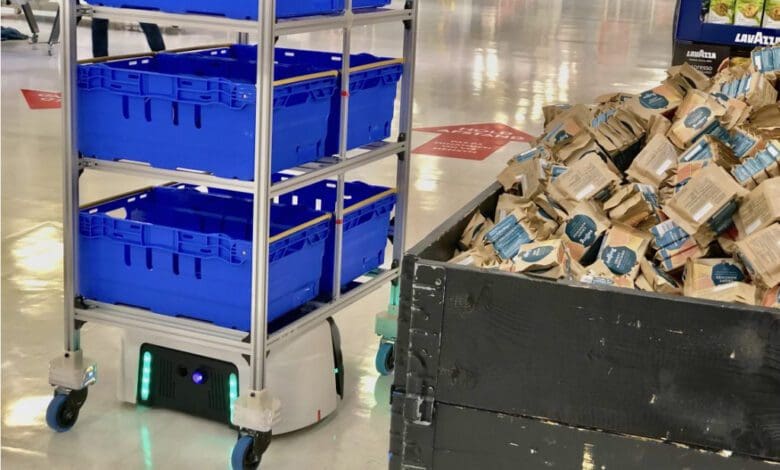 Danish Salling Group's hypermarket banner operation Bilka will use 10 robots from also Odense based start-up Coalescent Mobile Robotics (CMR) in its store in Odense to support its employees within time-consuming and physically demanding click and collect picking processes. After 18 months of cooperation, the retail company has chosen 10 robots from the start-up Coalescent Mobile Robotics (CMR) at the end of March 2022 also against the background of the sharp increase in daily orders from 20 to 400-500 in the last two years.
Around 40 per cent of the time within the Click & Collect picking processes is spent on repetitive and physically demanding tasks, such as pulling and pushing heavy trolleys. In the future, robots will support and relieve the employees by taking over the trolley transport from warehouse to store and back.
"The previous process has been simplified, employees are relieved of physically heavy tasks, the working environment has been improved and there is more time for customer service", said Mark Nielsen, CEO at Bilka in a press release. "We see great potential in the robots, which could be used in all our supermarkets in the future also perhaps for other tasks for example restocking."
Bilka is a Danish hypermarket chain within the Salling Group, which also includes Netto Discounters, Føtex Supermarkets and Salling Department Stores. The Bilka chain consists of 18 stores.
In addition to the stationary offer, customers can also order and pay for their purchases online via the Bilka To Go Service App or via the Bilka To Go website. Store staff assemble the products and place them on transport trolleys. On the same day, customers can receive their goods directly from the staff in the Bilka Drive In or by using an autonomous Pick-Up store which can be unlocked with an access code. Daily orders via online services have risen sharply from 20 to 400-500 in the last two years.
Thomas Greve, Group Director IT at Bilka owner Salling Group, says: "For us working with start-ups is to get inspired. We want to be visionary and need technological innovation. We've had a very constructive collaboration."
Controlled by an employee, Serena transport robot automatically pushes a picking trolley from one refrigerated shelf to the next at Bilka Odense. (Video: Coalescent Mobile Robotics)