News
Fraunhofer develops a counterfeit-proof barcode system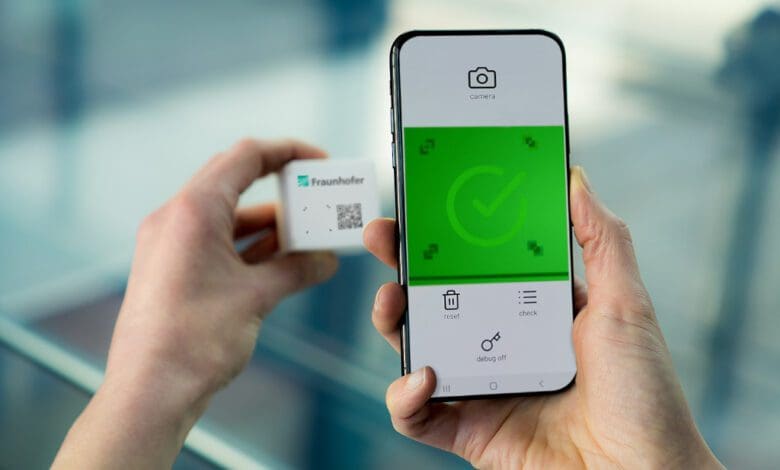 In the SmartID project, three Fraunhofer institutes are developing a new type of labelling system with which products can be clearly verified and authenticated via smartphone. Among other things, products such as medicines, cosmetics, watches or groceries and delicatessen products can be verified for authenticity in order to counteract product piracy.
The Fraunhofer Institutes for Applied Polymer Research (IAP), Secure Information Technology (SIT) and Open Communication Systems (FOKUS) utilise the unique, characteristic surface texture of a packaging. The texture therefore represents a unique security feature and can be read by any commercially available smartphone camera. Via an app, the system checks whether the information of the printed barcode matches the surface texture of the respective packaging. "With the SmartID system, everyone in the supply chain – from the manufacturer to the intermediary and customs to the end consumer – can easily check whether a product is genuine," explains Dr Tobias Jochum from Fraunhofer IAP.
Focus on automatic recognition of articles
The identification system goes beyond product protection, as additional product information can be placed. According to the Fraunhofer researchers, SmartID also works offline, does not require databases and is suitable for commercial printing processes during the production of the packaging. Currently, the system is in the prototype stage.
The optimisation of labelling has played a major role for retailers for some time. Edeka's discount banner operation Netto, for example, uses the so-called invisible barcode of the US company Digimarc for private labels since 2020, as reported by Lebensmittel Zeitung. A minimally modified packaging displays a 2D code for the classic article number GTIN/EAN by image scanners and smartphone cameras. The digital watermark is said to increase scanning at checkouts by 30 per cent.
Also Aldi Süd has started already in 2020 to look for start-ups from the fields of machine learning and computer vision to develop solutions for the automatic recognition of articles, as The Retail Optimiser reported. The discounter also mentions apps which display additional information on the products to the customers. Numerous retail companies are currently looking for such solutions in order to make up for the lead of online trade in the filtering of product attributes.