Reports
Electronic shelf labels need more use cases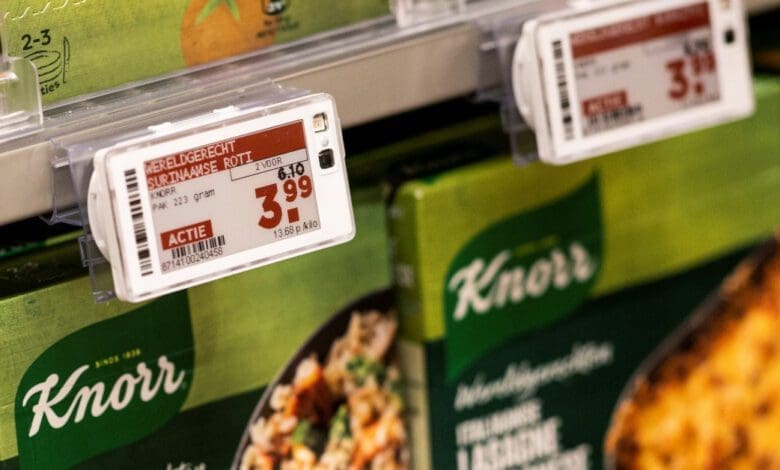 After decades of reluctance, it looks as if the German grocery industry is finally embracing electronic shelf price labels. But numerous tests in individual stores and even framework agreements with suppliers of the technology are not yet proof that electronic labels will soon be seen across the board in all stores. After all, retailers will only achieve a rapid return on investment if they use the labels to react more dynamically to market developments with intelligent price optimisation solutions, improve in-store processes or offer customers significant additional benefits through the technology.
When MediaSaturn equipped its stores with electronic shelf price labels in 2016, the motivation was clear: the electronics stores could no longer avoid adjusting prices to the highly dynamic online market. As Pieter Haas, CEO of MediaSaturn's holding at that time, told EHI: "Without digital price labelling in the stores, no consumer electronics retailer will be able to survive in the medium term." As painful as this was in view of the shrinking margins of the specialist stores, it became unavoidable as more and more customers compared the prices of the goods either before visiting or while in the store, with those of the internet retailers.
Metro also works with the intelligent price optimisation solution from Revionics (now part of Aptos) within its C+C stores, across eight countries in Europe, and was for a long time, the only banner in Germany that equipped its stores with electronic shelf price labels (ESL).
After decades of restraint, German grocery retailers are now also feeling more comfortable with using electronic shelf price labels. However, if you ask those responsible within the retail organisation, which goals they are pursuing, the answer is modest: The aim, they often say, is to avoid the costs of sticking new paper labels and to show the customer error-free prices on the shelf. But when asked, the respondents concede that prices on paper labels are very rarely incorrect in the German retail trade.
ESL need a solid business case
The question of how quickly the investment will pay off is the key to whether electronic shelf price labels will really make it into stores. Thus, in a webinar on the subject held last year by the Retail Optimiser publisher Fourspot with experts from Revionics and Pricer, the participating retail managers rated a quick return on investment and the total cost of ownership as the most important criteria when deciding on the use of electronic price labels.
According to Stefan Welke, Pricer's Country Manager in Germany, Austria and Switzerland, a major opportunity in the use of electronic shelf price labels also lies in optimising price image, sales and margins against the competition through more dynamic pricing. This can be achieved through the use of intelligent, self-learning optimisation software, which calculates price elasticities from historical sales data and uses these to optimise prices within the framework of strategies defined for specific assortments. Retailers who use price optimisation solutions regularly report significant increases in both their turnover and profits. For example, ICA's subsidiary RIMI Baltic was able to achieve significant sales increases with the introduction of Revionics. Retail Optimiser reported.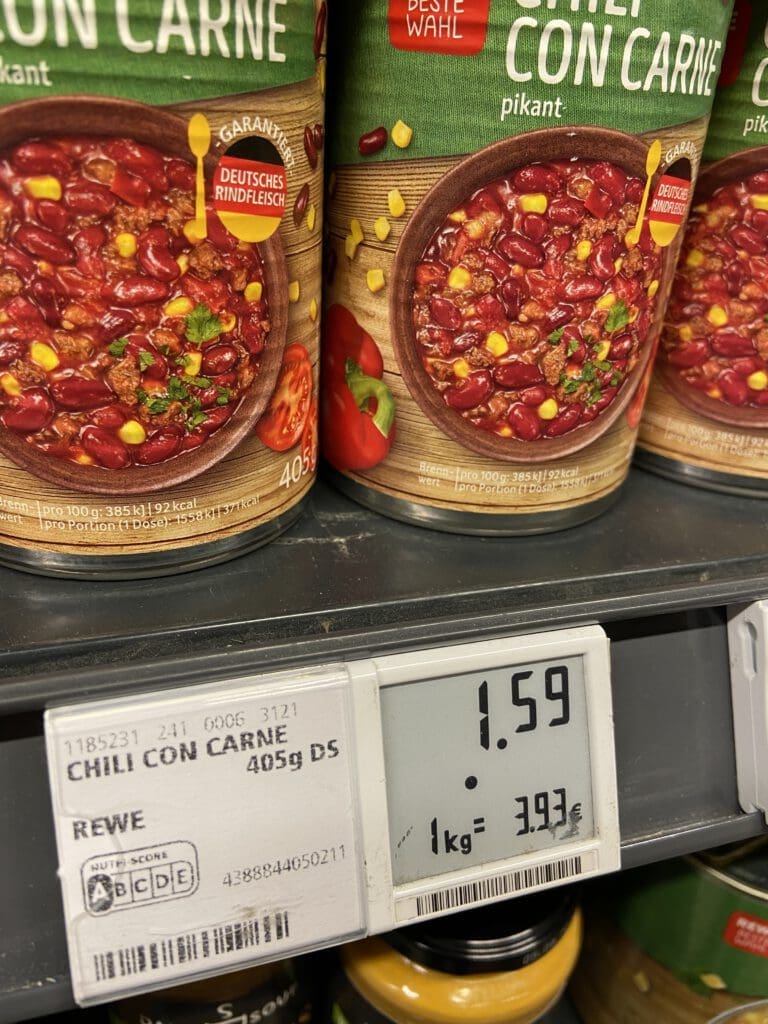 Even though the use of price optimisation solutions does not necessarily mean more frequent price changes, numerous projects show that both margin and turnover can be improved by slightly more dynamic pricing, as it is possible to react faster to relevant price changes of the immediate competition.
ROI for ESLs a year earlier with price optimisation
In Fourspot's "Dynamic Duo" webinar on the topic last year, Pricer and pricing specialist Revionics, which is now part of Aptos, jointly presented a business case mapping the switch to the price optimisation solution and introduction of electronic shelf price labels together.
"If a retailer is no longer constrained operationally with a limited number of price changes they can make," reported Anastasia Laska of Revionics, "an additional 37 per cent of the profit optimisation potential can be realised by using dynamic pricing in conjunction with electronic price labels." By limiting the number of price changes due to the high costs associated with manual price changes, retailers are depriving themselves of this additional profit opportunity.
Furthermore, by introducing electronic shelf price labels alongside with price optimisation from Revionics, a positive cash flow can be achieved within 1.8 years, compared with 2.8 years if implementing only ESLs.
"Considering implementation of ESLs and dynamic price optimisation technology is not only a good investment approach, but also the right strategic decision", Anastasia Laska explained: "In today's fast paced retail environment, capability to dynamically and intelligently react to changes of the internal business parameters cost and the external parameters demand and competition is an essential enabler for the success of retailers."
First use with fruit and vegetables
Even if grocery retailers in Germany are still struggling to adapt their prices more dynamically to market events, those responsible in the retail organisations nevertheless see a clear benefit of electronic price labelling in areas where prices are already very volatile because they often follow strongly fluctuating purchase prices: In the fruit and vegetable assortment.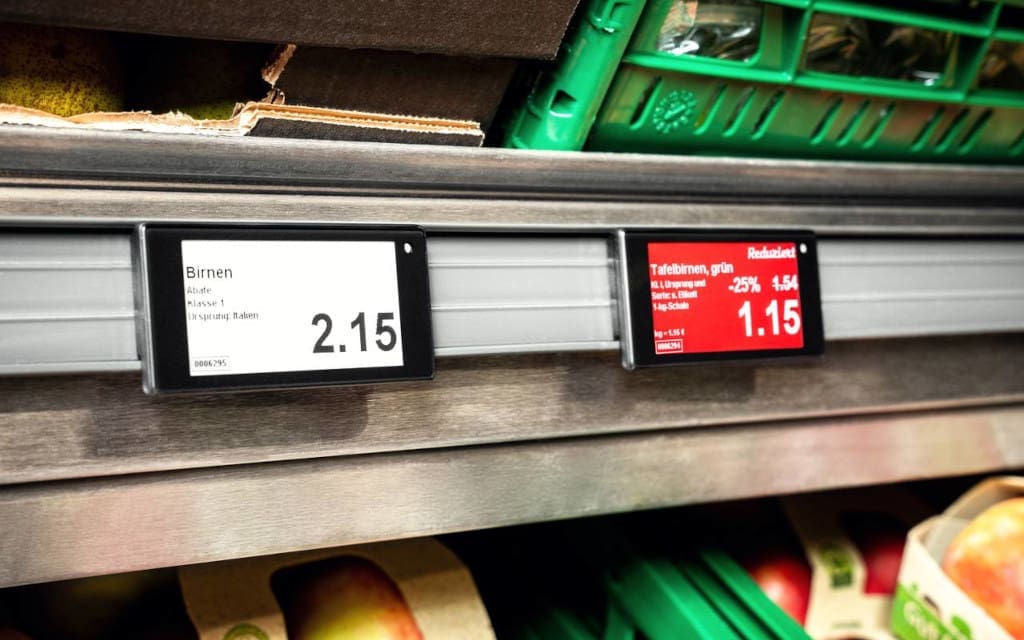 And it is precisely here that those in charge of the German retail trade are also thinking about the use of price optimisation. And this in the form of mark-down optimisation with the aim of selling off fresh produce in good time before it spoils and reducing the destruction of food. Consequently, Schwarz Group, for example, is starting its gigantic investment project in electronic shelf price labels at both Lidl and Kaufland in the fruit and vegetable sector
Big plans at Lidl and Aldi
With two suppliers of the technology, the Samsung spin-off SoluM and SES Imagotag, Schwarz Group had recently agreed on a large framework package of graphic-enabled labels for their entire estate, which do not differ in colour and appearance from the paper labels. Lidl has already started to completely equip shops in the high-wage countries of Switzerland and Sweden with electronic shelf price labels. In Germany, the roll-out has started for the fruit and vegetable assortment.
Even before the group-wide decision in favour of the technology providers, Kaufland had already started to equip the fruit and vegetable section of its stores across Europe with three-colour, unrestricted graphic-enabled displays from British provider Displaydata.
In 2018, Aldi Süd opted for electronic shelf price labels from SES Imagotag. However, not much can be seen of this in the shops. In 2019, Aldi Nord also issued a call for tenders for electronic labels and carried out a pilot in a branch in Duisburg – also with labels from SES Imagotag. However, it remains to be seen whether Aldi Nord will actually buy the custom-made labels in the special 3.5 inch size not otherwise offered by the manufacturers.
A question of frequency
Uncertainty in the market is caused not only by the size of the investment but also by the question of which radio frequency is future-proof for data transmission to the labels. But those who choose labels from Pricer are not spoilt for choice, because Pricer continues to rely on optical transmission of the information. Problems with radio transmission into refrigerated cabinets recently prompted the French retail giant, Carrefour, to use only Pricer for  all new installations.
On the other hand, those who rely on radio-frequency labels must decide on which frequency the transmission should run. Once they have decided on a bandwidth, it can no longer be changed for labels that have already been produced. The previously common 868 MHz is no longer commonly used as the frequency band is too close to that of RFID. However, higher frequencies also cost more energy, which shortens the lifetime of the label.
WLAN frequencies are widely used: But is 2.4 GHz or 5 GHz the right frequency for the future? The experts in the technology departments of the trade organisations are not unanimous on this. Once the labels are produced, the retail company is locked into one frequency. And there are numerous other devices in the store on the common frequencies.
At the moment, many retailers are saying 'wait and see'. Also, because manufacturers will offer four-colour labels in their standard assortment for the first time this year — and not just as showcases. This is because the company E-Ink, from which everyone has to buy the e-paper technology for graphic displays, is now offering this four-colour capability.
Many German retailers are also currently testing discounts on perishable items such as dairy products in the chiller cabinet shortly before the expiry of the minimum shelf-life date. However, since the price reduction only applies to some of the goods in a SKU, there is still a lack of imagination as to how electronic shelf price labels can help here.
Rewe as a pioneer
Nevertheless, Rewe Group has made a start on equipping numerous stores completely with electronic shelf price labels and is also offering this to its affiliated shop owners. In choosing the technology, it followed British retail leader Tesco, which asked the Korean electronics giant Samsung in 2011 to produce particularly inexpensive displays for exactly this purpose. In 2015, Samsung spun off the shelf price label business into the independent company SoluM.
At the standard shelf, Rewe Group relies on extremely simple labels that only display the price of the product and the basic price based on segments. All other information is printed out on paper and attached to the label. Only in the fruit & vegetable segment does Rewe Group use two-colour e-paper displays, which, for example, clearly highlight reduced goods by turning the entire background red.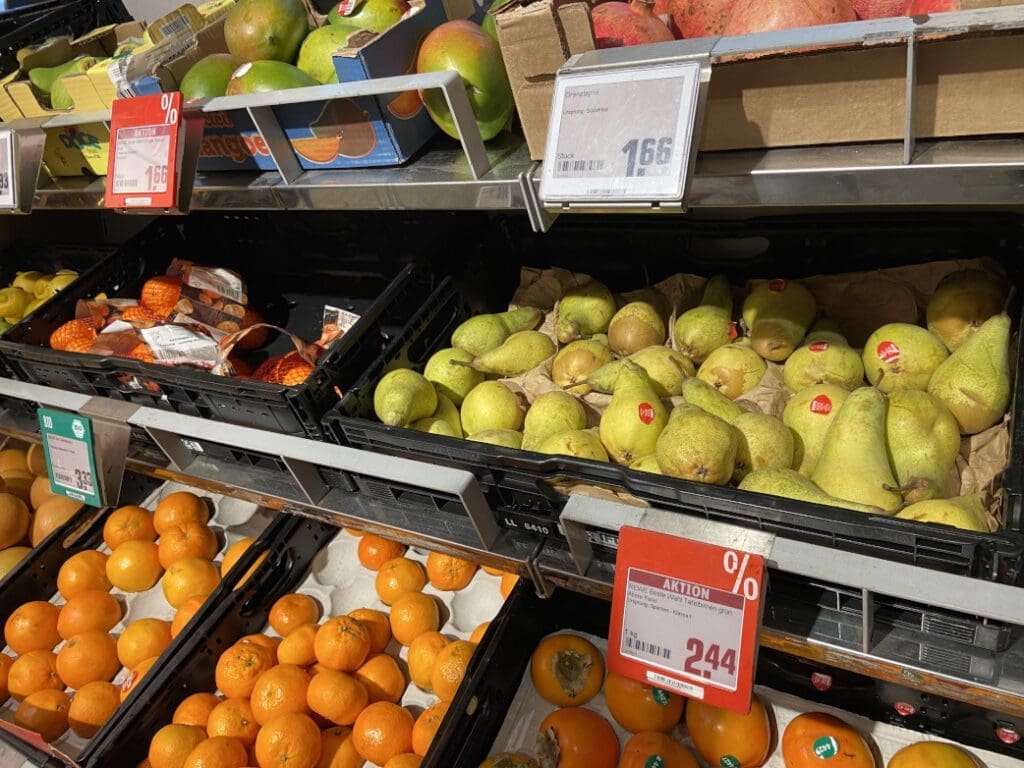 With the significantly cheaper, segment-based labels, retailers can achieve an ROI relatively quickly if they introduce the labels together with a price optimisation solution in such a way that they benefit from a more dynamic adjustment of prices based on market events.
Additional benefits for customers
However, the simple, segment-based labels do not offer shoppers any advantage, given that the employees have also reliably replaced the paper labels beforehand. However, the leading manufacturers of electronic shelf price labels now offer retailers numerous additional use cases.
For example, electronic shelf price labels can be used as beacons that navigate customers through the store on their smartphones. Pricer was one of the first providers to write an application that guides the customer through the store using the shopping list created on the smartphone. When they get close to a product they are looking for, the label starts flashing. The same logic can also be used to facilitate the in-store picking of goods ordered online by employees.
Electronic shelf price labels can pay for themselves relatively quickly if the labels are also used in the fight against out-of-stocks. Missing goods are not only poison for sales, they are the second biggest annoyance for customers in retail after queues at the checkout, as several studies confirm.
Counting what flashes
Retail companies that rely on automatic disposition of store stocks can use flashing elements to guide employees to the items for which stock needs to be recorded. And for shelf maintenance outside opening hours, it makes sense to switch the labels completely to display relevant information from the planogram: Position, number of facings as well as information on shelf-ready packaging increase the efficiency of shelf replenishment.
Stefan Welke from Pricer reports on use cases for electronic labels that go far beyond displaying of information. In interaction with cameras, they can help to continuously report shelf gaps, but also misplacements and cold de-listings. Ultimately, says Welke, retailers could realise a permanent, automatic comparison of the realogram with the planogram, and automatically assign employees to solve the problems via task management solutions.
A question of perseverance
The cost of electronic shelf price labels is often underestimated, because the total cost of ownership (TCO) of the technology is always much higher than the purchase price. As the labels usually do not have a replaceable battery, they have to be replaced when they run out of power.
Carrefour therefore decided last year to buy new labels only from Pricer. The Swedish manufacturer is known for labels last a particularly long time. The Head of Pricer's German operation Welke says: "Our new labels of the SmartTagPower and PowerPlus generation last at least eight years."