Reports
RFID-checkout in record time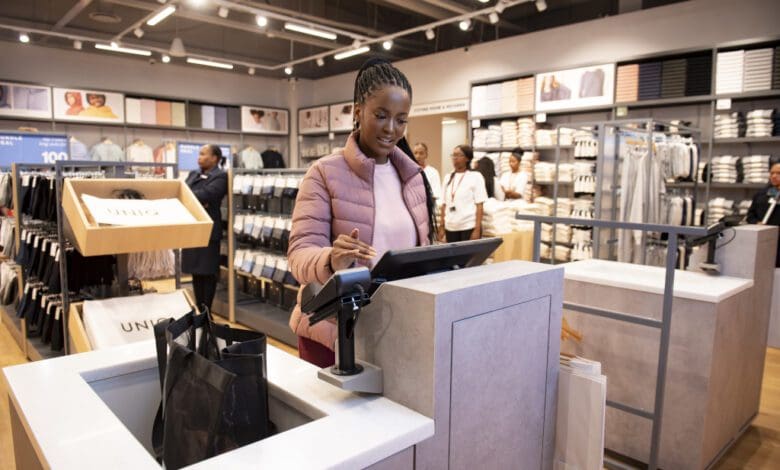 Africa's largest retailer, The Shoprite Group, is currently upgrading its entire POS software architecture for around 2,500 stores with GK OmniPOS. In September 2022, in the middle of its preparation to go-live with GK POS in its grocery stores in 2023, the Shoprite Group's senior executives surprised their teams with the request to start a new apparel banner in just six months. The challenge: The new clothing stores under the UNIQ brand were envisioned with RFID-based self-checkouts instead of traditional tills.
What seemed unreasonable at first glance was accomplished: When the first UNIQ store opened in Cape Town as planned in March 2023, the teams from Shoprite Technology, GK, and the RFID technology provider Nedap had performed a miracle. The first RFID self-checkout on the African continent worked extremely well when shoppers put their items into the self-checkout wells. With no barcode scanning, all items appeared on a self-checkout display immediately. According to Shoprite Group's CIO David Cohn, everything was remarkably error-free.
By June 2023, The Shoprite Group had nine UNIQ stores operating throughout South Africa, and the technology is running smoothly. Further store will follow soon.
Future-proof technology implemented at lightning speed
"The Shoprite Technology team we brought into the new store for the first two weeks were impressed by how well everything worked," reports David Cohn: "By realising an RFID self-checkout in only six months, GK supported us in implementing future-proof technology at lightning speed." The success of implementing an RFID-based self-checkout in such a short period of time was only possible because GK has well-defined integration points available, with which the provider of the RFID technology was able to integrate.
Through the integration, RFID labels are used for both item identification and Electronic Article Surveillance (EAS). The unique identification number on items that are paid for at self-checkout is transferred to a cloud-based system, which ensures that an alert goes off only if an unpaid item passes through the store's security gates.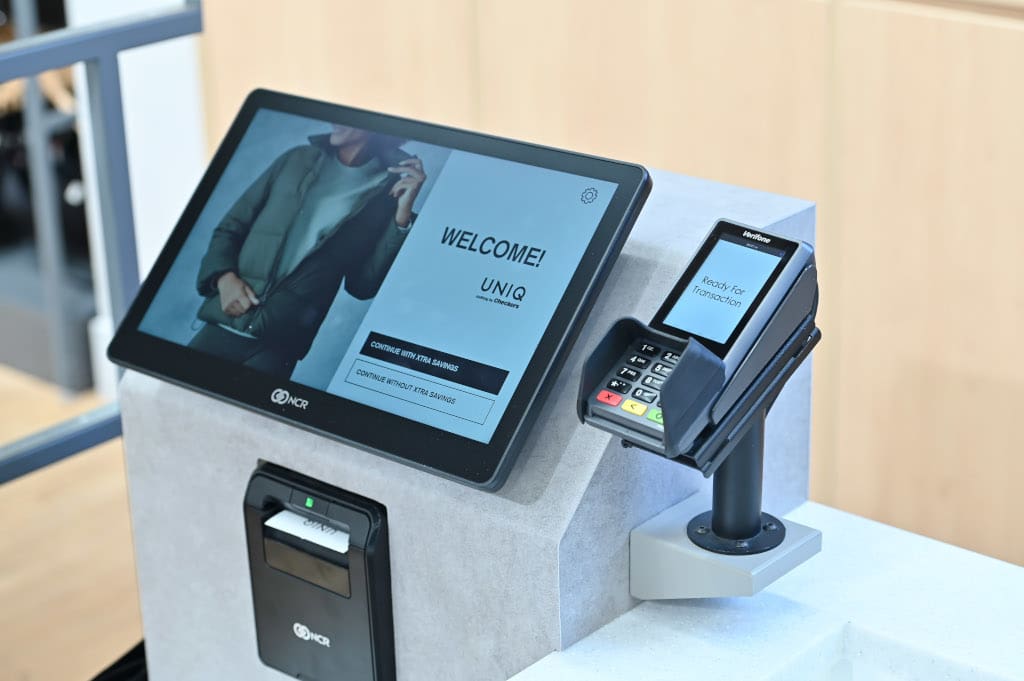 Challenge Loyalty scheme
For the start of the new UNIQ apparel banner, GK had to complete the integration to the existing loyalty scheme and the Shoprite Group's PIN Pads significantly faster than planned. Integrating its existing loyalty platform was particularly challenging under the new schedule. "It was like making someone who only speaks Japanese and someone who only speaks German, speak fluently to each other", says David Cohn, describing the difficulties of integrating GK into their established loyalty program. Additionally, the Group offers a wide variety of promotion types, from "buy two, get 50 percent off" and "buy three, get the cheapest free" to personalised discounts or free articles on shoppers' birthdays.
A number of factors played a role in the Group's decision to go with GK for its modernisation of its in-store technology for about 2,500 stores with GK in a multi-year programme. These factors included the flexibility of GK's platform, its omnichannel capabilities, experience with fiscalisation in Southern African countries, and the ease of integration into SAP with the GK Model Company's standardised approach. The German-based software house had already a presence in South Africa before, along with a subsidiary and a team of developers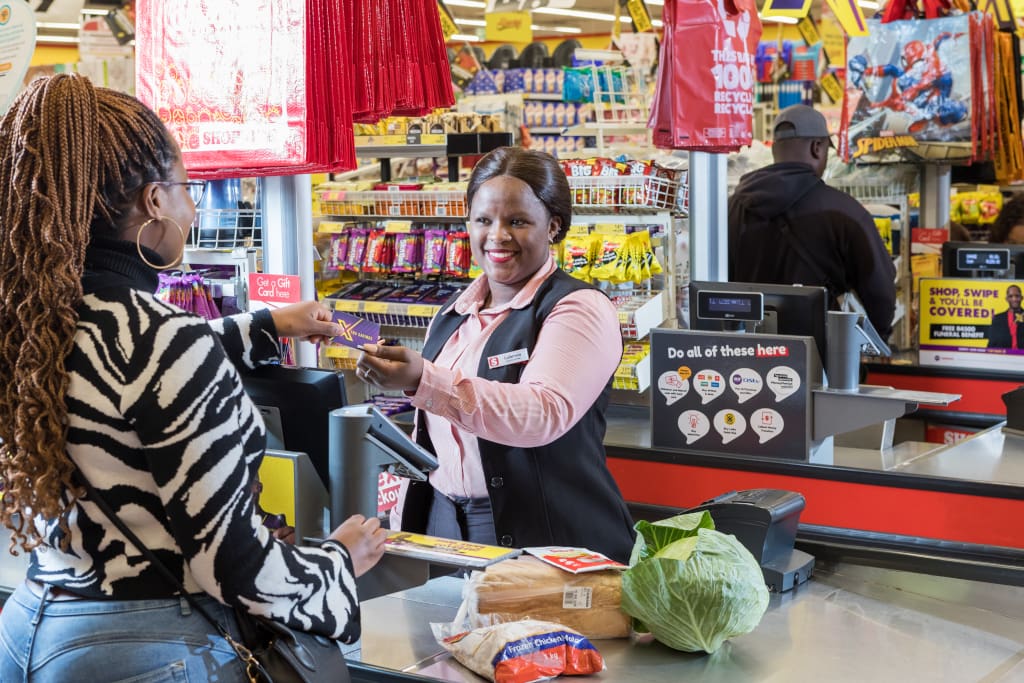 GK won extensive evaluation
"After external and internal analysts' extensive evaluation of many solutions, as well as visits to other retailers using different POS software platforms, we decided to go with GK," explains the Shoprite Group's CIO, David Cohn: "For our 30,000 tills, we wanted the most robust solution with the best omnichannel capabilities. We looked at many potential solutions, spoke with many retailers and analysts, and did our own analysis, eventually selecting GK for a number of reasons: Crucial were their omnichannel capabilities, their roadmap, and their technology – also their spirit. We felt that GK is a company that understands our needs as Africa's largest retailer – a company we can partner with beyond buying a piece of software from them."
Integration of multiple fiscalisations
Another reason for choosing GK was their experience with fiscalisation – including in Southern African countries. Many markets in which the retail group is present, such as Angola, Zambia, Botswana, and Malawi, require this. Cohn indicated that GK's architecture, which allows multiple fiscal integrations simultaneously, was key in the selection.
Over and above these considerations, the Group was impressed by GK's capabilities to rapidly integrate into the retailer's existing SAP systems. The German retail technology specialist offers standardised mapping into retailers' SAP landscapes, which has proven many times to significantly reduce the implementation times for new POS solutions.
SAP integration in just eight weeks
"When GK showed us their timeline for the integration into our SAP system, we were sceptical", says Cohn. "But they were right. The integration into our merchandise management environment went not only as promised – it was done in a record-breaking eight weeks. The native integration of GK into SAP was remarkably painless and slick."
GK Model Company
The in-store technology expert GK offers standardised mapping into retailers' SAP  landscapes, which has proven many times to significantly reduce the implementation  times of in-store solutions. This standardised approach, based on best-of-class  process integration, enables GK to map its in-store solutions into a retail  organisation's SAP-based merchandise management system, usually in just six weeks.  This is especially beneficial as it enables retailers to rapidly set up test environments  at the beginning of a project with their live SAP system.
As a next step, the Group plans to go live with GK, in the first South African grocery stores in autumn 2023. By then, GK's platform will be managing more complex Shoprite Group customer promotions, value-added services it sells at tills, as well as cash handling. By the end of the year, if everything goes well, the first liquor and pet stores are also planned to run with GK. David Cohn is happy with the progress of the project: "GK has delivered on schedule. The results were better than expected."
POS data in almost real time
One of the many benefits the Shoprite Group will have with GK in its core grocery business is the near-real-time sales data integration into SAP CAR. "This will be tremendously advantageous to our customers, especially with online orders", explains Cohn. "Going forward, we also trust GK to consistently support future SAP developments."
"With GK, we were able to successfully form a single team with shared accountability. We solve challenges together," says Cohn: "Collaboration and transparency are keystones in our working relationship. GK is a partner that makes sure they really understand what we want before they start working on it."
The Shoprite Group plans to go live with GK OmniPOS, in the first South African grocery stores in autumn 2023. By the end of the year, more grocery stores in South Africa and the first liquor and pet stores are planned to run with GK, too. In 2024, Africa's largest retailer will roll out GK to all stores, step by step, including operations in the rest of Africa. GK's experience with fiscalisation in other Southern African countries will support an efficient and successful completion of the project.