News
Rossmann introduces Electronic Shelf Labels from SoluM and Hanshow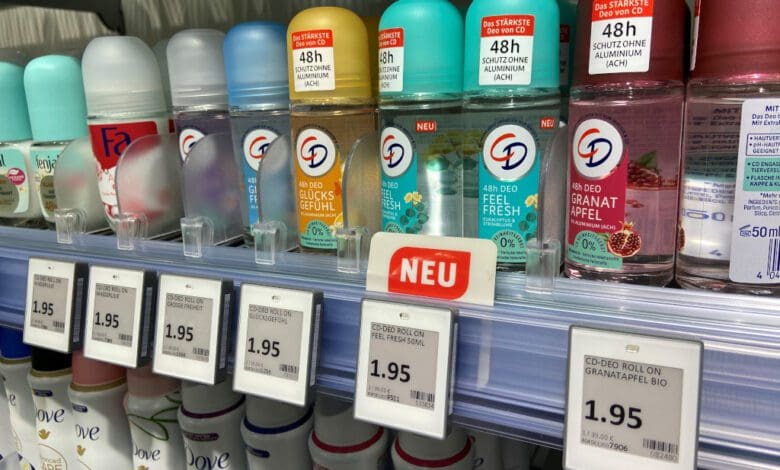 We revised this article on 20 July 2023. We apologise that not everything in the previous version of this article was correct.
Rossmann is equipping more of its stores in Germany with Electronic Shelf Price Labels (ESLs). Initial tests are also taking place in the Polish market. The labels come mainly from South Korean manufacturer SoluM, but some stores have also been equipped with labels from Chinese supplier Hanshow.
"In view of possible supply bottlenecks, we are definitely going for a multi-vendor strategy," reports Mark Wittig, head of agile development at Rossmann, speaking with The Retail Optimiser. It has not yet been finally decided which providers of electronic price tags will be allowed to supply for a broad roll-out, says Mark Wittig.
Rossmann currently sources the tags from SoluM and Hanshow. Both labels used are among the smallest offered as standard solutions. With only 1.6-inch displays, the labels from SoluM's Newton series are only 36.7 millimetres wide and thus also enable the electronic labelling of small items, such as those often found in the assortment of a drugstore. The labels used from Hanshow's Nebular series are similarly sized.
Clever fastening solution from POS Tuning
Recently, the roll-out at Rossmann had been delayed because the initially used holders had not held the labels, which are over 13 millimetres thick, sufficiently tightly. The company POS Tuning then developed a rail for Rossmann that met the high requirements. "The challenge was to design the handling of the labels in such a way that we didn't need any tools to attach them," reports project manager Mark Wittig. The employees in the stores would have to be able to change the position of the ESLs without any effort when rearranging the assortment or the number of facings of an item.
According to SoluM, the prices on the labels can be easily read at an angle of almost 180 degrees. The labels are connected via 2.4 GHz wireless, and the label-to-product link can be easily established at the shelf by scanning the ESL and an item with the mobile data collection devices.
Cautious pace of changeover
Rossmann has been looking at Electronic Shelf Labels for some time. In the first step, one stores in Hanover was equipped with labels from SES Imagotag in 2019. In 2021, the drugstore operator began equipping three stores with SoluM labels and three with Hanshow labels. Then, in 2022, the first 50 shops were converted. In the coming months, Mark Wittig reports, the number of stores equipped with ESLs is to increase to a total of around 110. The drugstore operator, which operates 2,263 shops in Germany alone, continues to proceed cautiously with the introduction of ESLs.