News
Aldi Süd installs ESLs from Hanshow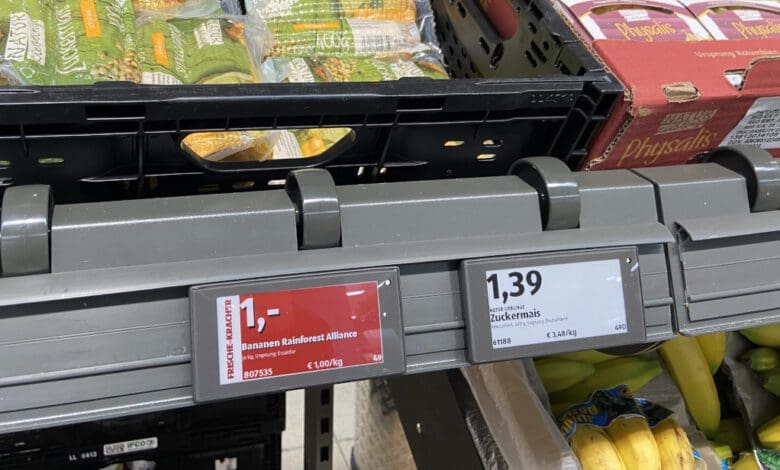 Aldi Süd has started to equip its stores in Germany with Electronic Shelf Labels (ESLs). Contrary to expectations, the discount market operator is not using labels specially developed for its requirements, but the standard slim labels of the Nebular series from Chinese manufacturer Hanshow.
After tests with electronic shelf price labels from different manufacturers, Aldi Süd decided on labels from Chinese supplier Hanshow. The graphic displays are based on e-paper technology and even allow logos to be displayed in a resolution of 123 dpi. Among other things, Aldi Süd uses this to display its symbol for 'vegan', 'organic' but also of the DLG test seal.
Aldi Süd uses the Hanshow product Nebular 350R-N with a display size of 3.5 inches. In this version, the labels can display the colours red, white and black. For price reductions, Aldi Süd uses the background colour red with white lettering and displays the old price crossed out. New products get a red box in the upper right corner with the words 'NEW' in white.
Display of ingredients as well
There is no additional information on paper on Aldi Süd's shelves anymore. The discounter consistently shows all information on the display, including in tiny print the list of ingredients and additives of baked goods sold loose.
According to the manufacturer, the lithium manganese dioxide batteries of these labels last for 15 years with two price changes per day. In general, however, manufacturers' claims are difficult to verify for retailers because although it is possible to test in the laboratory after how many price changes the batteries go flat, it is not really possible to simulate the lifespan of the power dispensers on the time axis.
The labels are updated via radio in the RF range. The labels can store nine different pages of content. For example, they can be switched to display shelf layout information when no customers are in the store.
Retail Optimiser Image Gallery: The ESLs at Aldi Süd
Copyright all photos: Retail Optimiser