News
Carrefour tests autonomous driving pick-up station with Goggo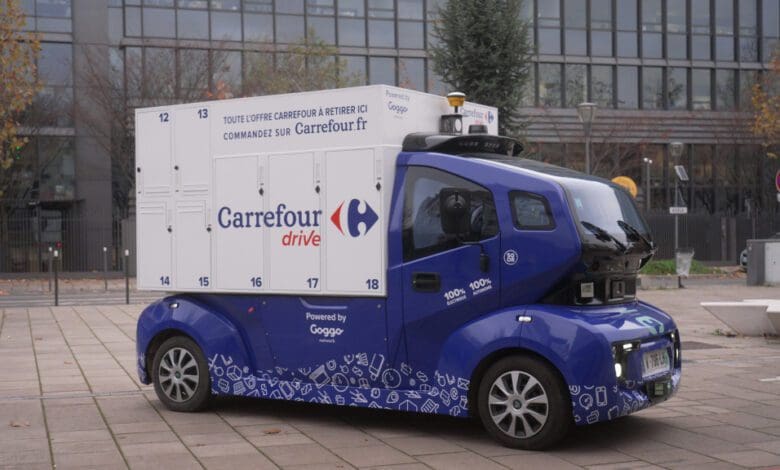 Since this week, Carrefour is testing together with Goggo Network the delivery of Carrefour Drive orders with the help of an autonomously driving and electrically operated pick-up station. With the test on the Plateau de Saclay, South of Paris, the retailer aims to expand its delivery area while optimising delivery time and costs.
In Paris, the electric van will cover the distance between the Carrefour store in Massy to the campus of the Polytechnic Institute in Palaiseau and back, which represents a total operating distance of about 15 kilometres. At the same time, the autonomous vehicle will drive on public roads for the first time in France at a maximum speed of 70 kilometres per hour.
To implement this service, Goggo Network, a start-up that operates fleets of autonomous vehicles, has chosen French manufacturer Milla Group and is using 5G technology from French mobile operator Bouygues Telecom, which is connected to Carrefour's systems. The collaboration is part of 5G Open Road, a programme to promote autonomous driving on public roads in Europe.
During the test phase, the autonomous delivery van will also have a human attendant who can intervene if an accident is imminent. In six months, however, the vehicle is expected to carry out its tours autonomously. "We expect that an operator will eventually be able to monitor up to ten autonomous shuttles remotely," Frédéric Mathis, Milla's CEO, tells the French magazine Le Figaro.
Customers who want to use the service must place their order on the Carrefour.fr website or via the retailer's mobile application and select a delivery day. The order will then be prepared at the automated warehouse in Plessis-Pâté, and then sent to Carrefour Massy's Drive loading point, where employees will load it into the autonomous delivery vehicle, equipped with 18 compartments. The vehicle then drives autonomously to Plateau de Saclay.
Once the vehicle arrives at its destination, customers unlock their box with a code previously received by text message to take out their purchases. Currently, the autonomous vehicle is parked on campus every day from 5pm to 7pm. Once the orders have been removed, the transport vehicle returns autonomously to its starting point in Massy and waits for its next tour.