News
Coles opens world's largest automated dry goods DC with Witron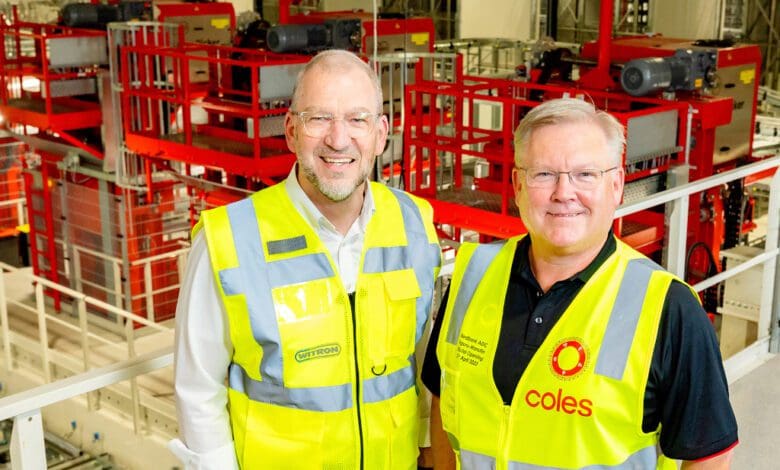 Australia's Coles Group has opened the world's largest Witron-automated dry goods distribution centre for more than 18,000 different SKUs in Redbank, Queensland. A second is under construction and is due to be operational next year in Kemps Creek, New South Wales (NSW). In total, Coles Group is investing more than one billion Australian Dollars (over 600 million Euros) into the two facilities.
The largely automated Redbank facility is located 30 kilometres southwest of Brisbane and supplies 219 Coles supermarkets in Queensland and Northern New South Wales, as far north as Port Douglas and as far south as Laurieton (NSW). The site can pick up to four million trade units per week, which equates to 32 million consumer units in Coles shops. Extrapolated, this is around 1.6 billion retail units annually. It is the first Witron facility in Australia.
With a building area of 66,000 square metres, the distribution centre is one of the largest and most productive automated logistics facilities in the world. The pallet high-bay warehouse measures 34 metres high, almost three times the height of Coles' current manual distribution centres. Witron, the Upper Palatinate-based distribution centre automation specialists, has already successfully implemented 93 automated food distribution centres in 13 different countries.
Store-specific automated pallet construction
Witron's algorithm enables individual store pallets of varying heights to be sized error-free and in an optimal stacking order based on product characteristics and store-friendly logic. Once these pallets are delivered to the store, the items no longer need to be manually sorted before putaway due to product grouping and high picking quality. This improves on-shelf availability, shortens the time it takes to put items on the shelf and allows supermarket staff to focus more on the customer.