News
Edeka Meyer's Frischecenter speeds up reverse vending with Tomra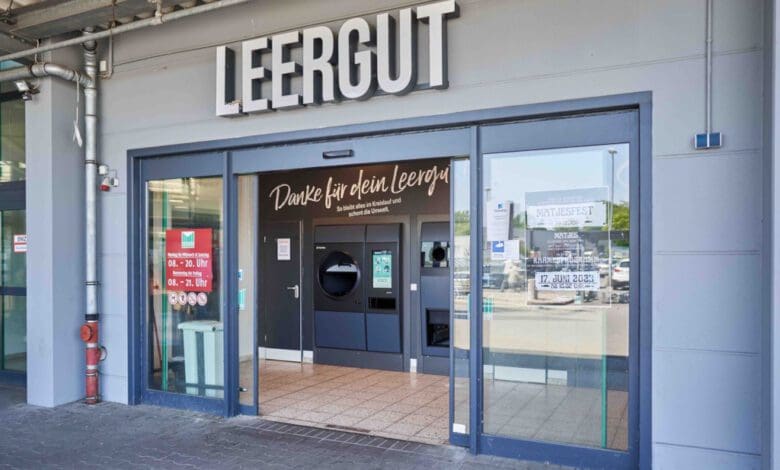 Meyer's Frischecenter in Prisdorf near Hamburg makes it easier for its customers to return empties using the innovative R1 Tomra reverse vending system. The Norwegian manufacturer's machine has a multi-feed function. Customers no longer must put in PET bottles and beverage cans one by one but can insert them all at once into the large opening of the machine. The system can process up to 100 empty beverage containers at a time.
In addition to the R1, the family-owned company runs three conventional Tomra reverse vending systems at its Prisdorf outlet. Store manager Caglar Cot reports in a press release from the manufacturer that some visitors come to the store specifically because of the new machine. This way, new customers could be won. They are enthusiastic because they can return their empties in one go and do not have to wait long. Moreover, it is a dirt-free operation, as not every bottle or can has to be touched by hand.
The reverse vending solution, which is unique so far, has currently been in use at about 40 store sites in Germany. Trinkgut, Globus, Rewe as well as the Edeka Group, including its discount line Netto, are among the first users. Aldi Nord had also been testing the Tomra R1, as reported by The Retail Optimiser.
Five times faster operation
The Tomra R1 processes both non-returnable and returnable plastic bottles as well as beverage cans in one step. Customers pour the unsorted containers from their carrier bag directly into the opening of the machine. After closing the flap, the counting and sorting process starts using Tomra Flow technology, a sensor system with 360-degree recognition. According to the manufacturer, this happens up to five times faster than with conventional reverse vending machines.
To achieve a processing speed this high, Tomra does not rely on a mechanical sorting system for background logistics as before, but one called Multipac Air, which is based on compressed air. Glass bottles are too heavy for this technology. Therefore, the R1 can be combined with the Tomra T9 module for the return of glass bottles and beverage crates.  Both units share the compacting unit but have their own printer that ejects the respective deposit receipt.
The video in German language shows the Tomra R1 in operation at Meyer's Frischecenter. (Video: Tomra)