Reports
More flexible with self-checkouts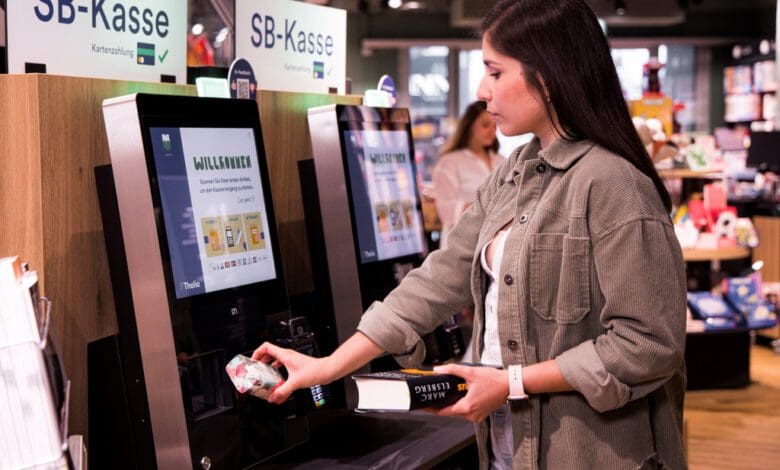 Thalia is the market-leading omnichannel bookseller in Germany, Austria, and Switzerland. With the installation of self-checkout terminals – as an addition to the manned cash register – the bookstore specialist wants to improve the shopping experience for customers and streamline internal processes.
In the summer of 2022, Thalia started the self-checkout (SCO) project together with its technology partner GK, whose GK Retail 12 checkout solution has been in use at the book retailer's manned cash registers for many years. The technological basis of the SCOs at Thalia is GK's software solution OmniPOS and the Easy Express System from Diebold Nixdorf as hardware. "The aim is to relieve pressure on the checkout area of the bookstores at high-frequency times and avoid long queues at the cash registers. Thanks to the self-checkout, the trained booksellers who work at Thalia can concentrate more on advising customers," explains Stephanie Spurzem, Head of Sales Support at Thalia.
The first SCOs were initially launched in selected pilot bookstores in February 2023. Thalia plans to install a total of 500 self-checkouts in the German Thalia bookstores and 100 in Austria and Switzerland.
Self-checkouts already on the new platform
Simultaneously, the bookselling company is preparing the conversion of all cash registers from GK Retail 12 to GK OmniPOS, which is planned for the end of September 2024.  The system will also enable Thalia to integrate external apps into the solution. A big advantage for the book retailer is that it can already implement the flexible solution on its new SCOs.
Before the customer starts the process, the OmniPOS checkout software, which Thalia uses to control the SCOs, does not hold any stored data on products, loyalty cards, vouchers or coupons. The moment the customer scans items at the self-checkout terminals, the data is retrieved from the SAP backend and delivered in real time to the software of the SCOs. In order to guarantee a seamless data supply in the company's bookstores and headquarters, both types of GK's POS software were set up to work smoothly in parallel until all Thalia locations are converted to GK OmniPOS by the end of September 2024.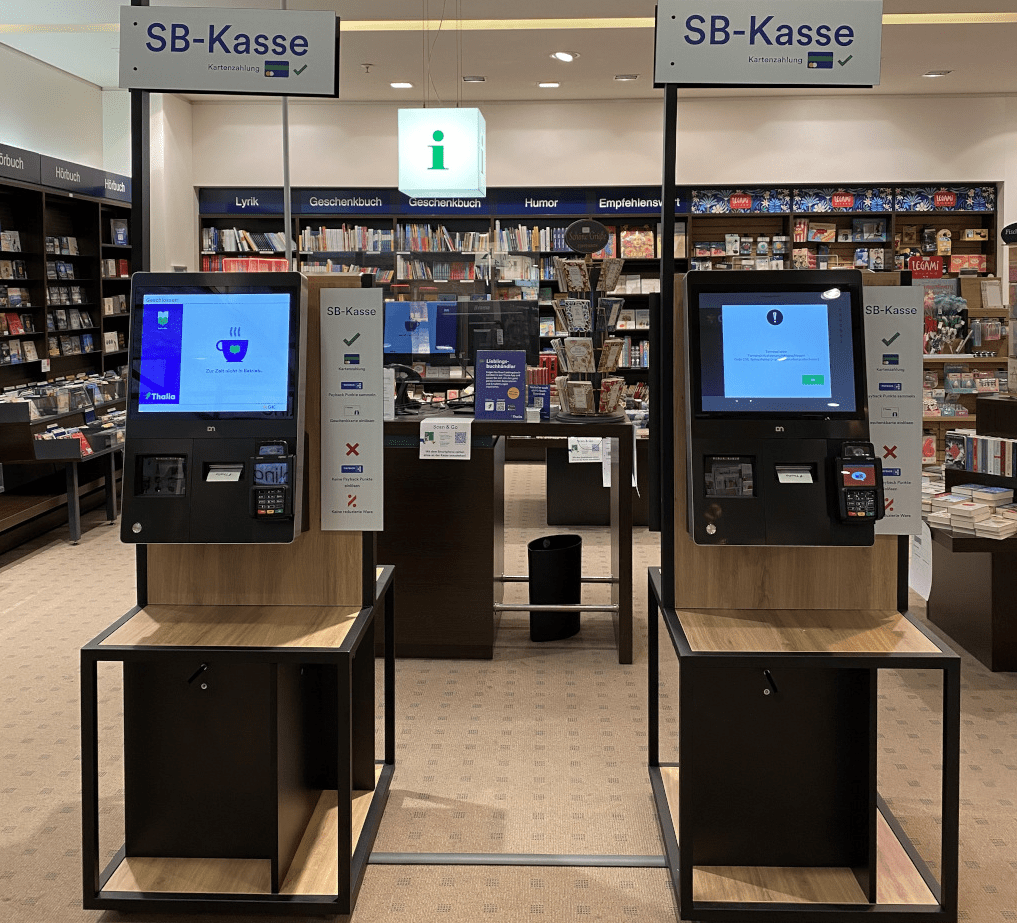 Future-proof with app enablement
"We used this project to further optimise the collaboration between Thalia and GK. We're seeing huge benefits: We are much faster and no longer require significant additional effort when it comes to driving new release or product updates," enthuses Francesco Di Maggio, summarizing the agile team and project structure: "It's a great advantage that OmniPOS gives us the opportunity to integrate our own apps into the checkout. As a result, we see ourselves today at an operational level as a large cross-location and cross-company project team that works together on solutions."
He is very satisfied with the cooperation: "No matter what challenges arise, in this project group we have always managed to identify, analyze, plan and solve the challenges very quickly. It all worked perfectly."
Flexible expansion options
With the GK OmniPOS solution, Thalia can flexibly respond to market requirements thanks to expansion options via app enablement and quickly offer new services for customers. Add-ons fit seamlessly into the checkout infrastructure. App enablement allows Thalia's developers to plan, implement and retrofit new features, such as the product-related age rating, on their own. Feature requests from Thalia's sales employees can also be launched much faster.
"There will always be topics relating to the self-checkouts that we want to develop further in an agile way. This is a living product. We are now in a much better position to do this thanks to GK OmniPOS. We no longer have major dependencies on resources at GK. This makes planning much easier and is exactly the effect we wanted," explains Francesco Di Maggio.
Self-checkouts are well received
Thalia was able to very quickly roll out the SCOs developed for the individual requirements of the company. The SCOs were introduced during operating hours, without bookstores having to close due to renovation work. All components are seamlessly coordinated, which prevents duplication of work and additional costs. There have been no notable errors since piloting. The project team was able to work together using agile methodology to solve all challenges related to the roll-out of the SCOs.
Francesco Di Maggio states: "In our experience, we have always been able to work through new tasks with GK as a partner very quickly, with a friendly and high-quality approach, and thus solve any challenges." The user interface of the SCOs is intuitive and self-explanatory. Most customers use the terminal quite naturally and record their goods, loyalty cards and coupons without any problems. Paying with a card also works smoothly. The SCOs have been well received. Thalia is hearing a lot of positive feedback from customers and employees.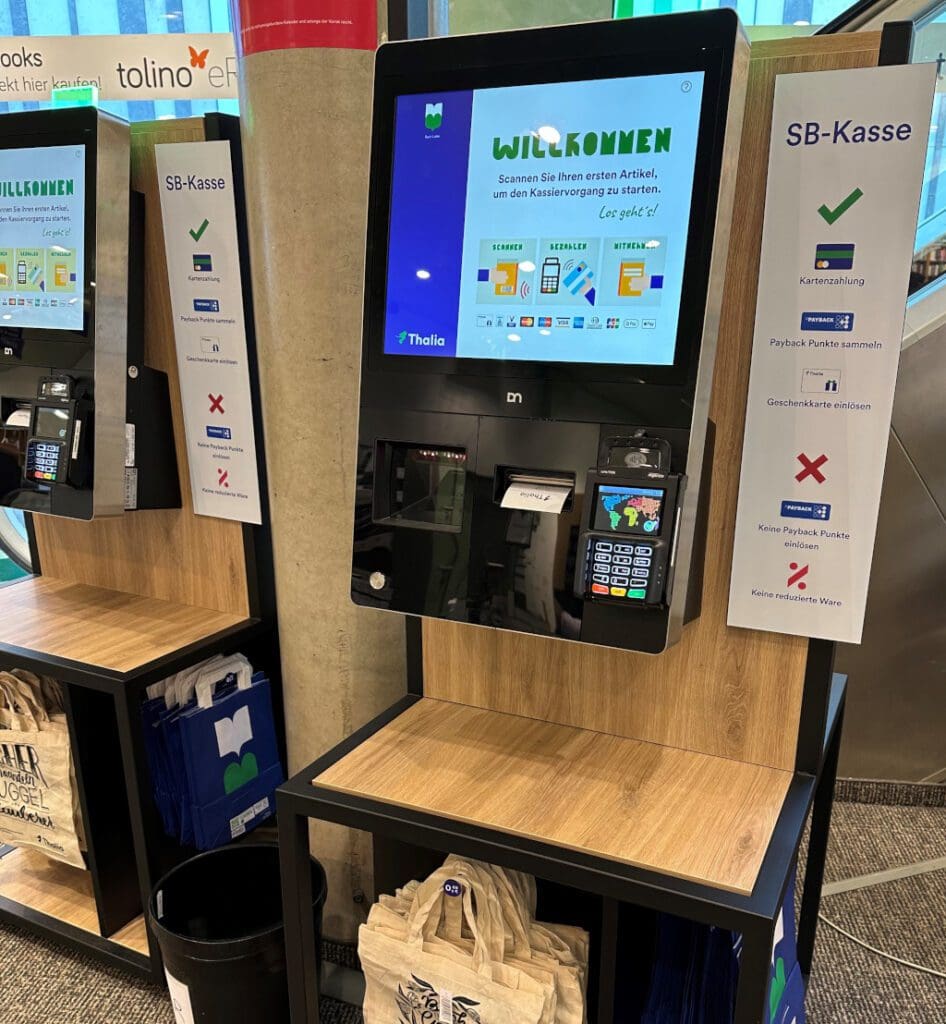 Self-checkout roll out by mid-2024
In August 2023, Thalia had already put half of the 500 planned SCOs into operation. By mid-2024, further locations in Germany, but also in Austria and Switzerland, are to be equipped with SCOs.
The OmniPOS app enablement has brought the cross-company and cross-location project team of Thalia and GK colleagues much closer together. There are many ideas for new features in the pipeline and these can now be implemented much faster and more efficiently with the powerful OmniPOS solution. "Many colleagues from all areas have excellent ideas for new features for the checkout – which makes us very happy. We are not running out of ideas for further improvements," promises Stephanie Spurzem.