News
Robot Sally prepares fresh salads at Heinen's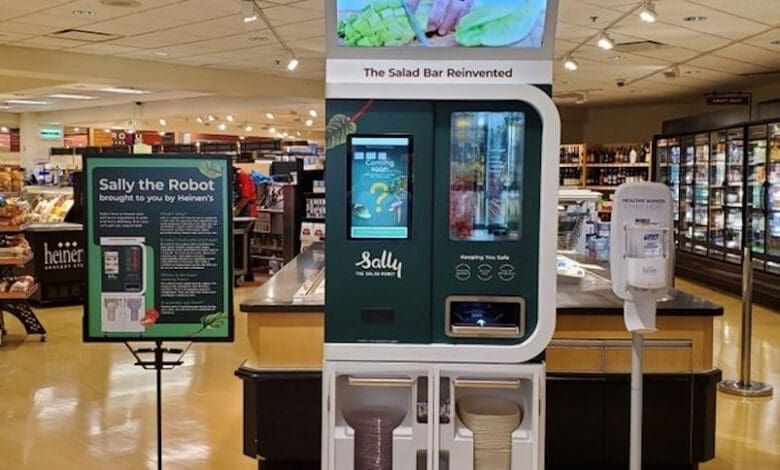 For the US supermarket operator Heinen's, freshness is the key differentiating feature against its powerful competitors. Even more bitter for the company with 23 stores in Ohio and Illinois, that it had to close the salad bar in its stores because of government hygiene regulations.
However, Heinen's opts for a contactless salad preparation robot that is in use in hospitals, universities and fast casual restaurants. The supermarket operator is now rolling out the machine, called Sally, from the Californian company Chowbotics, in its stores.
Sally also uses chilled ingredients
In front of the shoppers' eyes, salads are freshly prepared in Heinen's stores according to individual customer choice. After a few touches on Sally's screen, up to 22 different chilled ingredients such as sliced salad, vegetables, cereals, liquids and high-protein foods such as chicken, ham or salmon are portioned without contact.
The employees of the store prepare the ingredients and fill them into the individual compartments of the robot. As soon as a shopper has entered his selection, the machine portions vegetables, salad and other ingredients together with a dash of dressing into a compostable bowl. In the initial phase, the machine offers pre-selected standard salad options such as Ceasar or Cobb, which are popular in the USA.
As the US online magazine Grocery Dive reports, Heinen's has currently programmed the Sally robot with five options for salad creations. Each salad costs 7 US dollars. The aim is to offer more mixing and selection options once customers have become more familiar with the handling of the machine.
Sally costs 35,000 US dollars per robot and was developed by Chowbotics. The start-up from California plans as next development step to enable shoppers to configure their salad in advance via app.  They will then be able to send their wishes to the salad robot completely contact-free by using a QR code on their smartphone.
Sally is new in retail
Mara Behrens, vice president of design and marketing at Chowbotics, told Grocery Dive that many more grocery retailers will be launching Sally in the coming weeks, including three major retailers whose names she has not yet named. Before hygiene regulations, retail was not an issue for Chowbotics.
In the period before the hygiene regulations, up to 150 salads per hour were sold on high-frequency days in a Heinen's supermarket during the lunch rush. These sales represent 2.5 percent of the chain store's total business, which is strongly oriented towards fresh convenience foods. At Heinen's, Sally can only produce about a quarter of the quantity that used to be sold during a typical lunch break.
Grocery Dive learned that when Chris Foltz, Chief Innovation Officer at Heinen's, first evaluated the machine, he said he saw no added value for Heinen's stores. That was before the politically decided hygiene regulations. Four months later, Foltz said that Sally also made sense as an in-store solution at a time when there are not many good options.
US retailers continue looking into different options
Many large retail groups are still unsure how to react to the closed salad bar. "We haven't decided that yet," Kroger Co. Chief Executive Officer Rodney McMullen told Bloomberg. "Right now we're trying different things in different stores."
Rival Albertsons is also experimenting with different options like pre-packaged salads. "It's a difficult situation," Vivek Sankaran, CEO of Albertsons told Bloomberg, adding that "it will be a long time before the open salad bar is making a comeback".
This video from Chowbotics also shows the inner workings of the salad robot. (Video: Chowbotics)