News
Save Mart automates online order picking with Fulfil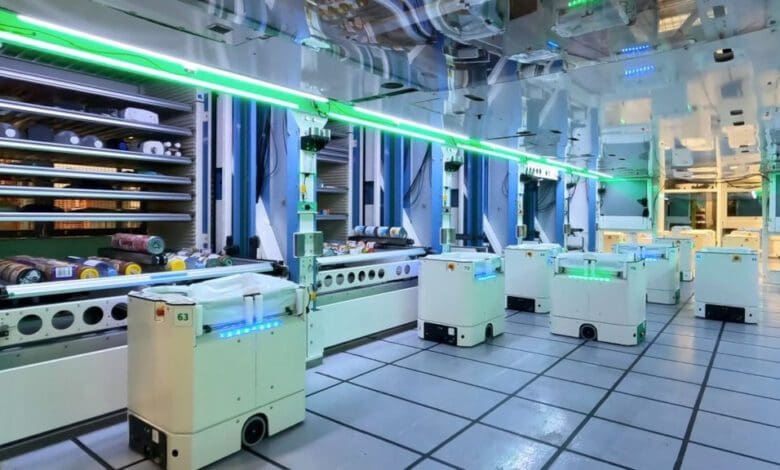 US grocery company Save Mart has converted a closed store of its Lucky banner operation into a fully automated micro fulfilment centre (MFC) with robots from start-up Fulfil Solutions. A fleet of robots picks orders placed via the new online service Lucky Now.
Delivery is handled by the on-demand delivery service DoorDash. The Save Mart Companies operates around 200 stores in California and Western Nevada under the Save Mart, Lucky California and FoodMaxx brands.
Immediately after receipt, the robots collect the items of the respective order from the shelves. The assortment ranges from ambient to refrigerated and frozen food. Once picking is complete, the robots automatically move to the waiting area where DoorDash drivers receive the delivery.
Fulfil combines sensor technologies with AI
In addition to automated picking, the system monitors stock levels and expiry dates. Fulfil's overarching platform uses artificial intelligence (AI), machine learning and computer vision technology for the complex processes, in addition to sensor technologies for automated inventory management and quality control. The start-up company has developed sensor fusion algorithms to ensure that items are packaged correctly and damage and waste are reduced. In addition, the startup says this can minimise packing time.
"Fulfil robots are designed to help grocers reduce the cost of their e-commerce operations. They also offer benefits such as eliminating food waste," says Mir Aamir, CEO and president of the venture capital-funded company.
Save Mart has been working with Fulfil since June last year.. In another trial, Save Mart had tested delivery robots from Starship but endend the pilot in June 2022. From September 2020, Starship's sidewalk-roaming bots handling the delivery of orders from Save Mart's flagship store in Modesto, California. Later, the companies announced they had expanded delivery by the robotic vehicles to a Lucky California supermarket in Pleasanton, California.