News
Spar Austria considerably expands DC automation with Witron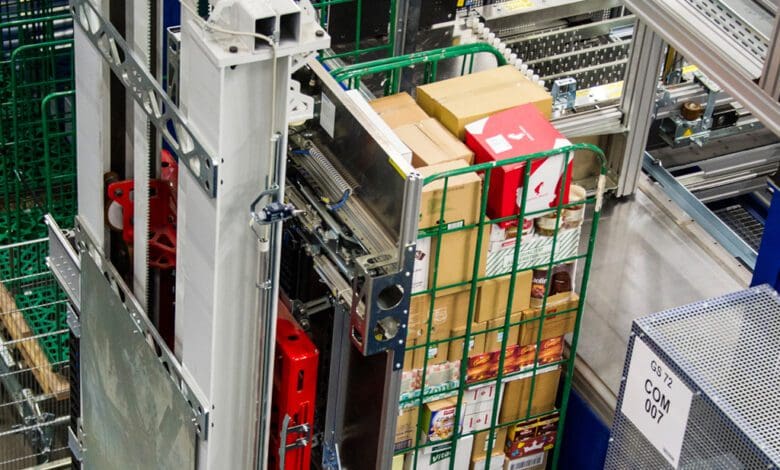 Spar Austria has significantly expanded on its use of fully automated picking with Witron technology. The retail company has completed the fourth construction phase of its central warehouse in Wels and started full operation. There, a further 16 Witron COM machines now pack the pallets and roll cages for 1,500 sales outlets in Austria, Italy, Croatia, Hungary and Slovenia without manual intervention. A total of 24 COM machines are now in operation at Spar Austria's central distribution centre in Wels, automatically loading 340,000 pick units per day according to store requirements.
With the 20,000 square metre expansion of Spar's central distribution centre, the site has now grown to 50,000 square metres and picks a large part of the 18,000 articles from the dry goods assortment. Fresh goods are distributed by seven other logistics centres throughout Austria to ensure short distances for regional products.
For the expansion, the tray warehouse required for automatic picking was considerably expanded: The number of stacker cranes increased by 32 to 48 and the tray storage spaces by 293,000 to 450,000, plus another pallet high-bay warehouse with 31,200 pallet storage spaces, seven more depalletisers and three additional foil wrappers. An automatic empties buffer with four stacker cranes for up to 8,600 roller containers has been integrated. For small parts, Spar Austria relies on the Witron system DPS (Dynamic Picking System).
Spar Austria plans for up to 500,000 picking units
"With the final completion of the fourth construction stage, we have reached another necessary milestone at the site," says Martin Gleiss, Head of Group Logistics at Spar Austria: "Since last summer, we have been continuously increasing the output. Now we are in full operation and more than satisfied with the efficiency. With the capacity created here, we are sustainably relieving the regional warehouses throughout Austria."
In the future, the distribution centre is designed for a daily picking capacity of 500,000 picking units in 3-shift operation. A Witron on-site team is responsible for service, maintenance and system operation in shift operation and is to ensure a permanently high availability of all logistics areas, material flows, mechanical, control and IT components.