News
Walmart Canada invests billions in technology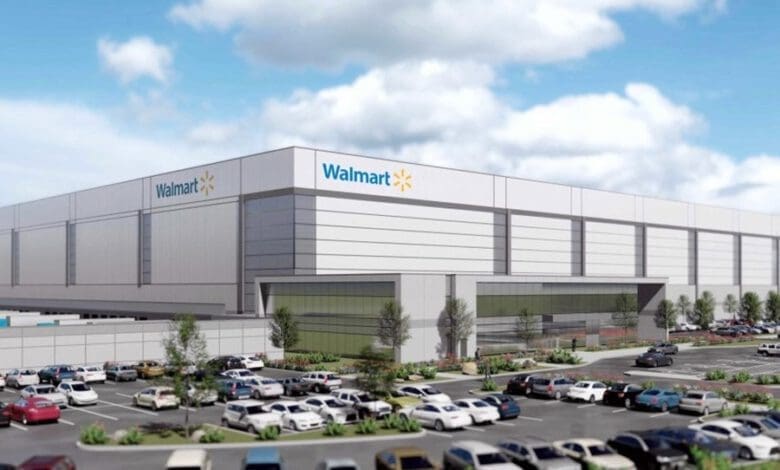 Walmart reacts to the pressure from Amazon: Also in Canada, the world's largest retailer will invest 3.5 billion Canadian Dollars (2.25 billion Euros), predominately into technology. About one third of this investment will be used for the automation of distribution centres. In its stores, Walmart also aims for on innovative inventory management, additional product information for shoppers and innovative checkout processes – partly based on computer vision.
Walmart Canada is constructing two complete new distribution centres that will interestingly will be automated by two different, competing European warehouse automation specialist with slightly different approaches to the automated packing of store pallets:  Witron and Vanderlande.
Already under construction is a 28,000 square metre-site in Surrey (British Columbia). It will be fully automated with technology from Witron and is supposed to be opened in 2022.
Another fully automated distribution centre will comprise 51,000 square metres, is planned in Vaughan (Ontario) and will be automated by Vanderlande. It is supposed to go operational in 2024. It will be equipped with the Storepick automation from Vanderlande that deploys robots to pack the pallets that go to the stores.
Witron, Vanderlande and o9 are key providers
Both solutions, the one from Witron as well as the one from Vanderlande enable retailers to pack the store pallets exactly in the way and order the stores need them to fill the shelves in the most efficient way. Optimised processes in the stores are one of the main advantages of this kind of warehouse automation among the fact that machines can lift significant more weight than humans and can be nonstop deployed day and night.
Explicitly, Walmart names further technology vendors that will support the retail giant to revamp its supply chain:
New next generation warehouse management systems which are omni capable in meeting the future needs of both physical stores and e-commerce
Investing in telematics and "internet of things" sensors across over 2,200 trailers to give real-time information around the quality and freshness of its deliveries
Launching world-leading artificial intelligence software in partnership with o9 to more accurately predict and better plan volume to ensure Walmart's customers get what they want, when they want
Scaling the blockchain transportation payments platform with Toronto based DLT Labs – the world's biggest blockchain solution for transportation payments system
Using new machine learning training software to support improved training and safety on the front lines of our distribution centre and fleet operations with Axonify, a Waterloo based micro-frontline learning company.
More product information for the shoppers in the stores
But Walmart Canada is not only investing heavily into its logistics. It will also bring more shopper-facing technology into the stores: The retail giant plans to expand the deployment of electronic shelf labels and shelf scanners to provide customers with additional information on the products.
As The Retail Optimiser learned, Walmart is not only deploying these established instore technologies but also working with start-up companies to create innovative ways to facilitate shopping based on computer vision cameras. The goal is, to minimize touches for the shopper and maximise efficiency and accuracy of shelf replenishment.
Walmart announced also a "new checkout experience to reduce touchpoints, including tap-to-pay, new bigger self-checkout and 'Check Out With Me' mobile payment technology to allow associates to checkout customers anywhere in the store."