News
Aldi Nord and Süd distribute leaflets via WhatsApp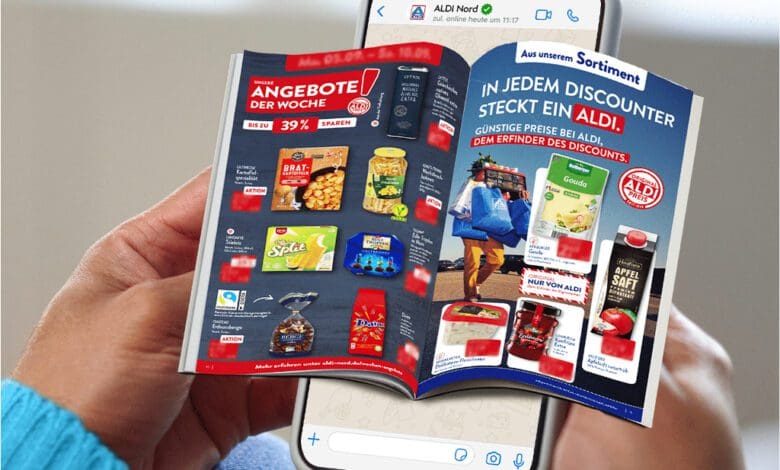 Discounters Aldi Nord and Aldi Süd are now using social media platform WhatsApp to communicate with their customers. Registered users will receive the digital leaflet with all offers of the following week via the short message service every Sunday. With the move, the companies are further expanding their presence in digital channels. Customers can also access the digital flyers via the retailers' respective websites and customer apps.
Since September, users of the Aldi Nord app can also receive early information on all non-food deals. In a special digital flyer, they can find out which items will be on offer at their store two weeks before the promotion date. This way, the discounter wants to simplify shopping planning for its customers.
Retailers are looking for cost-effective and resource-saving ways to distribute advertising via digital platforms. However, for the time being, both Aldi companies do not plan to completely abandon printed handouts like competitor Rewe. As reported by Retail Optimiser, the Cologne-based supermarket operator plans to stop printing leaflets from July 2023 with a view to climate and environment. However, due to the risk of possible sales losses, this has been seen quite critical by its peers in the industry.
Connected with just a few clicks
Customers who want to be regularly informed about offers from their local Aldi via WhatsApp can activate the service in just a few steps. They open the link on the respective website with their smartphone and confirm data protection regulations. After entering their postcode, they can select their preferred store nearby. By clicking on 'Start' they receive a welcome e-mail. From then on, the discounter will inform them regularly about weekly special offers and worthwhile news. Registration is even easier if future users scan the corresponding QR code on the respective Aldi website. To stop digital delivery of the leaflet, users just need to text 'stop' in the chat.