News
Aldi Nord and Süd pack Europe-wide into Ifco's reusable containers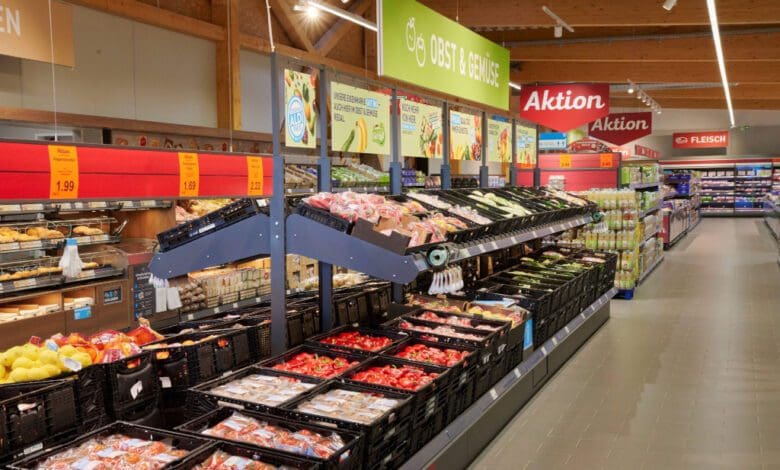 Aldi Nord and Aldi Süd have completed the Europe-wide introduction of reusable transport packaging from service provider Ifco for fresh fruit and vegetables. With the use of the black, collapsible plastic boxes, the discounters want to secure the efficiency of their logistics in the fresh produce sector in the long term and make their supply chains more sustainable.
Both Aldi groups had been expanding the use of these reusable packaging containers (RPCs) for the transport and presentation of fruit and vegetables for years. In autumn 2020, the sister companies decided to use the same reusable boxes in the future. With the choice of pool operator Ifco Aldi Nord's previous service provider, , Euro Pool System, lost an important customer.
The changeover took place successively country by country. To minimise environmental impact, the companies ensured that containers from Aldi Süd's legacy pool did not end up in the waste. To this end, Ifco processed them into granules, manufactured new RPCs from them and integrated them into its pooling system.
Containers are re-used and recycled
The reusable crates save logistics costs and reduce environmental impact. They protect sensitive foodstuffs during transport and serve to present the goods at the POS. In this way, no packaging waste is generated. For return transport, the boxes can be folded up to save space.
With the new system, Aldi is adapting to targets that are to come into force at the end of 2024 as part of the amendment to the EU Packaging and Packaging Waste Regulation (PPWR). This stipulates that companies must switch to a certain proportion of reusable and recyclable packaging by January 2030.
Ifco follows a circular model. The company supplies clean RPCs to producers. The goods remain in the containers until they are sold. Empty boxes are folded up and returned to the retailer's distribution centre. There, the service provider collects them, checks them and cleans them in one of its service centres. At the end of their life cycle, Ifco granulates the crates to 100 per cent and manufactures new ones from them.