News
Aldi Nord opens checkout-free store in Utrecht with Trigo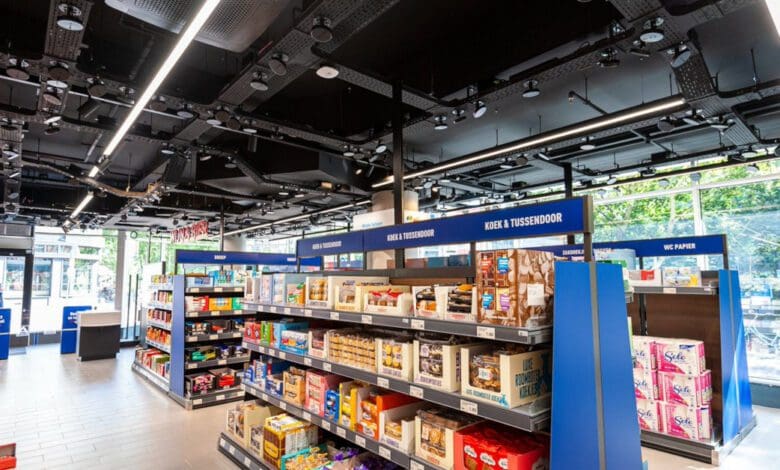 Aldi Nord has opened its Trigo technology-equipped store in Utrecht, the Netherlands, to everyone. After Tesco, Rewe and Edeka's Netto, the discount store operator is the fourth European retail group to test shopping without scanning with the technology of the Israeli start-up in real-life use. Unlike Rewe and Netto, but like Tesco in London, Aldi Nord in Utrecht is not testing hybrid shopping: The store has no checkout.
In the Aldi Nord store of only 370 square metres with around 1,400 SKUs in the Lange Viestraat in the centre of Utrecht, 470 cameras were mounted on the ceiling and around 500 scales in shelves. As in other stores with Trigo technology, the AI system of the Israeli specialist calculates from the collected data which customer takes which goods or puts them back again.
A special challenge in the project were the typical Aldi containers with constantly changing non-food articles, reports Trigo CEO Michael Gabay. Trigo can now also reliably recognise purchases of these promotional goods.
Mareike Kleimann, project manager of Aldi Shop&Go, emphasises that no biometric or facial recognition is used with Trigo. She calls the approach "privacy by design". Since the technology does not yet allow the digital shopping basket to be created in real time, customers only receive their digital receipt on their smartphone after leaving the store. The amount to be paid is automatically debited via the means of payment stored in the app.
No roll-out plans yet
Sinanudin Omerhodzic, CTO of Aldi Nord, explained in Utrecht that his company would only decide later and on the basis of customer feedback in Utrecht whether it would equip other stores – also in Germany – with the Trigo technology. According to media reports, Aldi Nord has invested around one million euros in this one store. Trigo reports that the Aldi Nord store in Utrecht is currently the world's largest store with their technology. In Berlin, however, the Rewe Group has equipped an even larger store with Trigo technology – but has not yet opened it to the public. Rewe is still testing with employees and their families.
Aldi Süd has also been testing a cashierless store since January this year under the name 'Aldi Shop&Go': In the London borough of Greenwich. However, Aldi Süd is not relying on Trigo, but on its US competitor AiFi.