News
Amazon introduces improved Dash Cart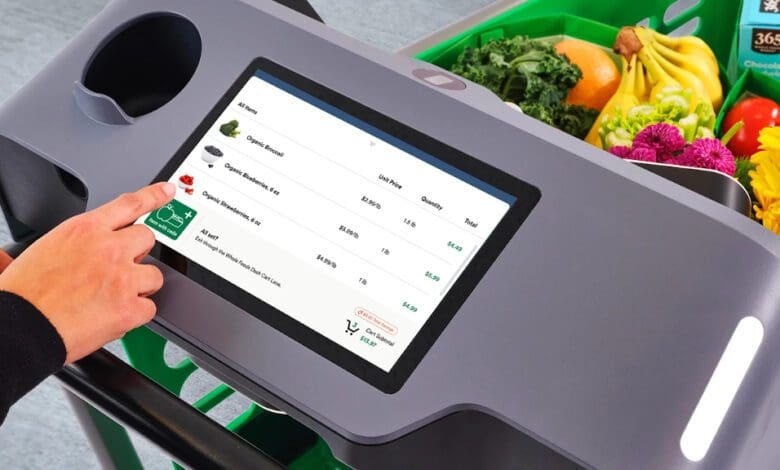 US internet giant Amazon has developed a new version of its Dash Cart smart shopping trolley. It now holds more than twice as many items, is lighter and can also be used by customers in outdoor areas. Amazon has also improved its computer vision and sensor technology to increase user-friendliness. The new system has first been implemented in a Whole Foods store in Westford, Massachusetts.
Amazon had introduced the original Dash Cart in September 2020. It intended to make shopping at the company's physical grocery stores faster and more convenient. Since then, several of the nearly 30 Amazon Fresh stores in the US have deployed the system, albeit with mixed response. According to press reports, usage has recently declined.
Amazon has reacted and used the feedback and suggestions from users for improvements. The company announced that more Whole Foods and many Amazon Fresh outlets will implement the new Dash Carts in the coming months.
Improvements to drive adoption
Shoppers who wish to use Dash Cart will need the Amazon or Whole Foods Market app. With this, they can scan a QR code that unlocks the smart cart. Payment is made automatically via card stored in the app at the end of the shopping trip when passing through special lane. They then receive an electronic receipt by email.
Good selected by the shoppers are identified by a camera mounted near the handlebar. A combination of computer vision algorithms and sensor technology checks whether goods in the trolley correspond to the products scanned. To accurately register produce, a weighing module is built into the cart.
The large-format display provides real-time information on purchases made. It now also shows the images of fresh produce nearby. This way, customers can directly select desired items for entry. Alternatively, they can type in the product name. Entering a PLU, as in the earlier version of the Dash Cart, is no longer necessary.
The trolley is now lighter and holds the contents of four shopping bags instead of two. There is a separate compartment for delicate items. Bulky items, such as beverage crates, can be placed underneath the basket. Amazon has made the shopping cart weatherproof so that customers can use it to bring their purchases directly to their vehicle. Improvements of the software enable a more precise location of the shopping trolley as well as faster and more accurate responses from cameras and scales. The developers were also able to significantly increase battery life.