News
Auchan monitors shelves with robots from MetraLabs and software from Trax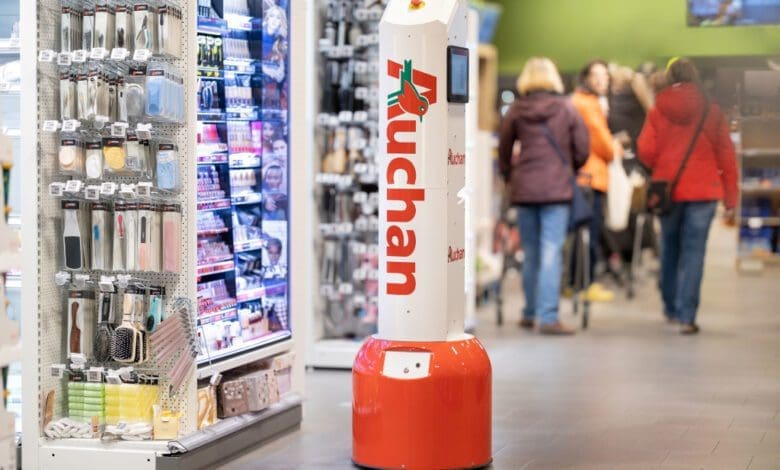 In Portugal, Auchan started a project with robots that continuously take images of shelves to enable automated detection of out-of-stocks as well as incorrect pricing or placing of items.
It is an early project of this kind in Europe, while in the US, aisle robots are already established at retailers such as Walmart, Schucks and Giant Eagle. Woodman's, a regional grocery retailer in Wisconsin and Illinois, just started a project with robots that have an eye on all shelves.
Auchan launched the project with Trax, which is deployed by more than 150 brand manufacturers and retailers to analyse real shelves based on images and provide insights based on these realograms as well as actionable dashboards. The robots, Trax built with German robotic specialist MetraLabs. Auchan started the project at its hypermarket in Alfragide near Lisbon.
Trax feeds task to the retailer's employees
Trax allows retailers to not only analyse issues with placing, availability or price labels of items, but also to fed tasks to the employees on the shopfloor. Andre Vieira, Digital Director at Auchan Retail Portugal, said: "With the introduction of autonomous robots, Auchan wants to improve productivity in stores and optimise the supply chain, freeing employees to focus 100% on the mission of providing a better customer experience."
Robots walking the aisle, which could also be disturbing for shoppers who don't necessarily understand their purpose, are not the only way Trax offers to retailers to continuously monitor their shelves: Other retailers use fixed on-shelf and ceiling cameras to monitor real-time shelf conditions. Brand manufacturers often use services of crowd sourcing platforms which provide pictures of shelves through smartphone apps deployed by crowd workers.
In the US, Woodman's Markets recently launched a project with walking robots from Badger's Technologies to automate the monitoring on out-of-stocks and price compliance. According to the US online magazine Grocery Dive, Badger Technologies has installed robots in more than 500 grocery stores since early 2019, including Stop & Shop and Giant stores.