News
Back-Factory speeds up checkout with Walkout Technologies and Pan Osten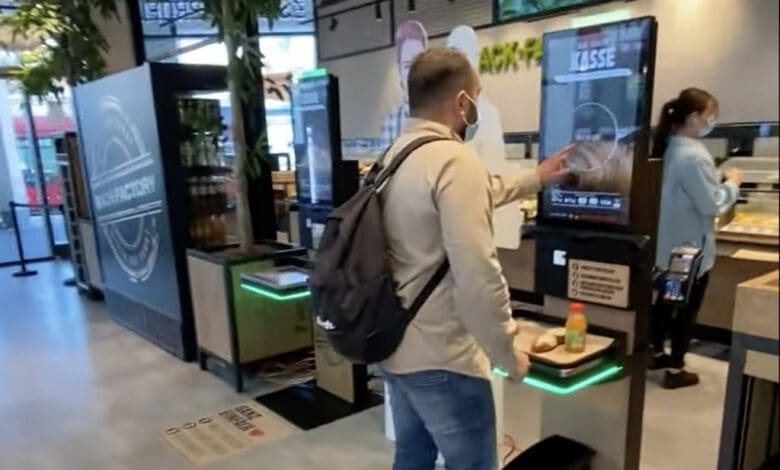 Self-service bakery operator Back-Factory is testing the deployment of image recognition and artificial intelligence to register goods at its Bremen outlet, Lebensmittel Zeitung reports. The hardware was supplied by Pan Oston, a Dutch manufacturer of checkout counters and kiosk systems. Companies Smoothr (Sterlix GmbH) and Walkout Technologies, which are affiliated in the Digital Convenience Group, developed the ordering and payment software as well as the AI-based sensor and camera systems.
The self-service terminals work without barcodes. The customer only needs to place his tablet in the designated area. Three built-in computer vision cameras recognise the selected products in a few seconds. The assortment currently includes 180 items, some of which are handmade. Recognition rate is already said to be 98percent. The convenience food chain plans to equip four more bakery shops with the technology.
AI also recognises bun toppings
The computer Vision uses machine learning to derive increasingly confident decisions from the image data. Sean Berisha, founder and CEO of Walkout Technologies and sister company Smoothr, explained to Lebensmittel Zeitung how the technology was set up for Back-Factory. Development of the system began in early April this year. Once completed, it was first trained on three days with 60 items each. When the two self-service terminals were set up in Bremen in July, they already recognised 89 percent of the unpackaged bakery snacks. Beginning of September, the software had already achieved its current recognition rate of 98 percent from the correction of misallocations.
High accuracy of product recognition is particularly remarkable because the artisan pastries always show slight differences. Shapes can vary and the baked product can be lighter or darker. The technology can also reliably distinguish the toppings of the rolls on offer. This is even though the cameras can only detect the protruding parts of the topping. However, there is one restriction that must be considered. Per tablet, customer can select a maximum of ten snack item, which must be arranged next to each other.
The video shows registration of goods and payment process at a Pan Oston self-service terminal in the Bremen Back-Factory store. (Video: Smoothr)