News
Carrefour tests Cust2Mate's smart carts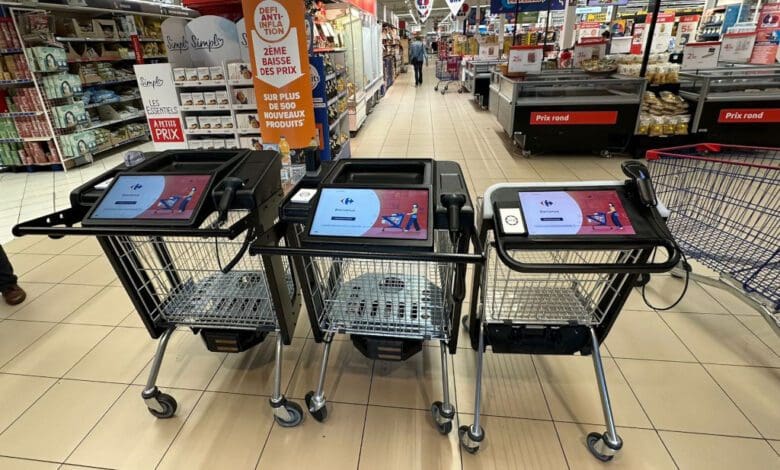 Carrefour is piloting the smart shopping cart from Israeli start-up Cust2mate. The French retail giant has implemented 15 of the systems in its store in Sainte Geneviève des Bois near Paris. The hypermarket there is the oldest of its kind in France and celebrates its 60th anniversary this month. To mark the occasion, the retailer equipped the store with latest technology, including ESLs from Pricer's newest line.
Cust2mate is now part of A2Z Smart Technologies, which has been supplying systems to the Israeli Defence and Security Forces for more than 30 years. With the Cust2mate Smart Cart platform, the company is also targeting the civilian market. It uses hardware components from Chinese PC manufacturer Lenovo for its solutions. In January this year, the company announced that it would fully integrate its smart carts into the NCR R10 checkout software.
In Israel, retailer Yochananof operates a total of 1,300 Cust2mate smart carts in its supermarkets. In the USA, Morton Williams Supermarkets in New York has been piloting a total of 50 systems in two stores since autumn 2021. In autumn last year, Migros Ticaret in Turkey and Chedraui in Mexico also announced tests of the platform.
Computer vision identifies the products
The Cust2mate shopping cart integrates a touch screen and is equipped with camera systems and a scale. The customer only needs to place the selected items in the shopping cart. Using computer vision, the system recognises the product and displays its price. Thanks to its built-in scale, the trolley can also register weight items. The scale also serves as a security control to make self-scanning safer for the retailer.
The touchscreen can notify the customer about current offers. During the customer journey, the system collects valuable data on shopping behaviour, which the retailer can use for assortment planning and a targeted marketing approach. At the end of the shopping trip, customers pay directly at the shopping trolley via its integrated card terminal.