News
Colruyt tests autonomous delivery vehicle from Clevon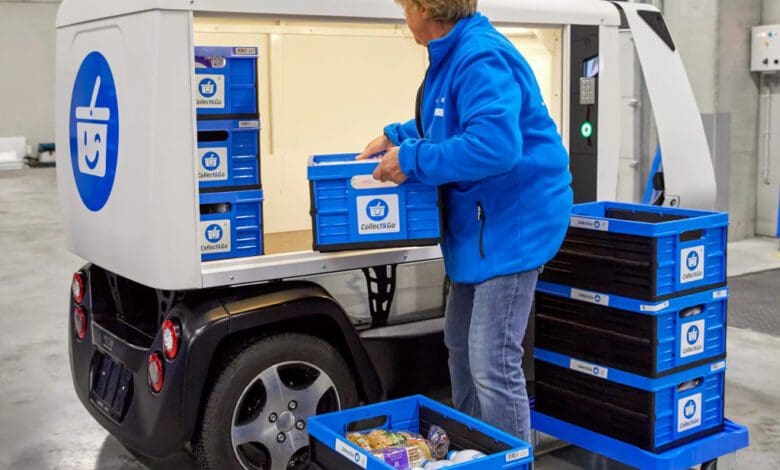 Belgian grocery retailer Colruyt is testing usage of autonomous vehicles for its pick-up in store service Collect&Go. The driverless vehicle, made by the Estonian manufacturer Clevon, travels autonomously, but monitored remotely. It shuttles a four-kilometre route from the warehouse to a Colruyt store in the municipality of Londerzeel. This is the longest route driven by an autonomous vehicle on public roads in Belgium to date. The test operation has been permitted by the Federal Government Mobility and is supported by local authorities.
During the two-month pilot operation, Colruyt Group's Smart Technics innovation team wants to carefully explore to which extent autonomous vehicles can be deployed for the last mile of online deliveries. In this first step, however, goods are not yet delivered directly to the consumer. The compact vehicle serves a fixed route between distribution centre and a Click & Collect pick-up station at the retail site.
The so-called last mile to the consumer's door is still a headache for online retailers. Costs are high and traffic, especially in larger cities, is a challenge. In addition, there is a shortage of delivery drivers. Therefore, Colruyt Group sees high potential in autonomous vehicle technology. However, the company states that it is realistic about the possibilities and will only proceed step by step.
Drives monitored remotely for safety
The Cevon 1 electric vehicle uses computer vision, machine learning and sensor technology for autonomous operation. It can travel at speeds of up to 50 kilometre per hour. For the test, however, the parties involved agreed on a maximum speed of 25 kilometre per hour . To monitor surroundings, the vehicle uses a total of six cameras mounted on front, sides, and rear. In addition, the vehicle is equipped with short- and long-range radar. It can thus estimate distances and detect possible obstacles such as cars, bicycles or pedestrians. With the help of neural networks that calculate all information in real time, it can avoid possible collisions and move autonomously in road traffic.
Nevertheless, the vehicle is constantly monitored from distance. It is connected to a driver in the control centre via 4G mobile network. This person can monitor the journey and intervene at any time if a dangerous situation arises. To ensure that the communication is not broken at any time, two SIM cards from different network operators are used. However, if the connection is lost, the vehicle is stopped automatically. The manufacturer states that one operator in the control centre will be able to monitor five to ten vehicles simultaneously in the future.
The load compartment of Cevon 1 can be opened and closed with a numeric or QR code. For individual delivery directly to the end customer, the vehicle would then ideally have to be equipped with individual compartments for each order. However, this type of application is still far from practical implementation, especially in densely populated regions. Nor are self-driving delivery vehicles the only possible solution for this. For example, using cargo bicycles for the last mile has already proven in practice. For the route between logistic centre and a local hub, however, autonomous vehicles could prove to be an economically viable solution.
The video in Flemish with English subtitles explains nature and scope of the test. (Video: Clevon)