News
dm expands Click&Collect with pick-up stations in 700 stores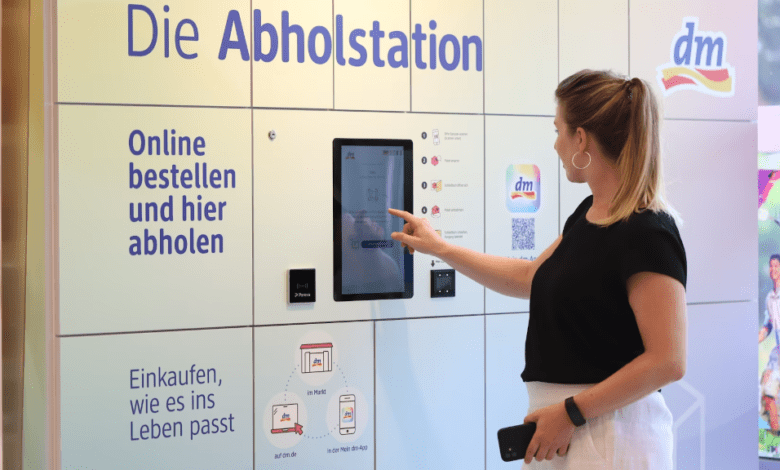 By mid-2023, the drugstore operator dm plans to equip around 700 of its stores with a pick-up station. This will give customers the opportunity to pick up their already paid online orders directly at this station in self-service without having to speak to an employee. The offer is only available during opening hours.
"With the dm pick-up stations, we are combining the shopping experience in our dm stores with the advantages of online ordering", said Sebastian Bayer, Managing Director for Marketing and Procurement at dm in a press release. It not only allows customers to easily pick up their order, but also opens up the possibility of making further impulse purchases in the store.
dm has been testing pick-up stations for some time
In a pilot project in 2018, the drugstore operator tried out the first pick-up stations in three stores in Hamburg. There, customers could pick up orders from the dm online shop as well as parcels from the shipping service providers GLS or DPD. At that time, the 24/7 Smart Terminal model from Kern GmbH located in Bensheim in Hesse was used with software from Parcellock.
Further tests followed, covering 14 stores initially and from spring of this year up to 200 stores. Due to positive feedback from customers, dm has now decided on a roll-out in around 700 stores. This is also because in spring of this year, the volume of online orders at dm already amounted to 20,000 delivery orders per day. More than 22 per cent of these have already been supplied directly to the stores with Click & Collect at customer's request.
Self-service now also possible during pick-up
All customer orders that were placed via online shop dm.de or via Mein-dm app as well as paid for in advance and for which customers selected pick-up at a dm store with a pick-up station will be included.
As soon as the order has been assembled at dm and can be taken away by the customer, a confirmation message will be received containing an order number and a pick-up code. The code is then scanned at the pick-up station or alternatively entered manually on the screen. Afterwards, the pick-up box associated with the order opens, containing the goods that have been made available. The customer removes his purchase and ends the process by closing the box.
Free of charge service for dm customers
dm is offering this new service free of charge to its customers registered in the Mein-dm loyalty program for goods worth 19.00 Euros or more. All non-registered customers can also use the service, but must pay a shipping fee of 4.95 Euros per parcel regardless of the goods value and delivery method. Alternatively, if the order can be assembled in a store located close to the customer so that shipping costs are not incurred, a service fee of 2.95 Euros is charged.
According to the company's own information, customers can pick-up their purchase as early as three hours after the order has been placed. For goods containing 51 or more items, a minimum of 6 hours is estimated to be needed for order preparation. The pick-up stations can be loaded with up to 26 orders at a time.  Customers can find out online which stores are already equipped with a pick-up station by using the dm-Filialfinder search function on the dm company homepage.