News
Edeka Nordbayern streamlines self-checkout with Pyramid and GK Software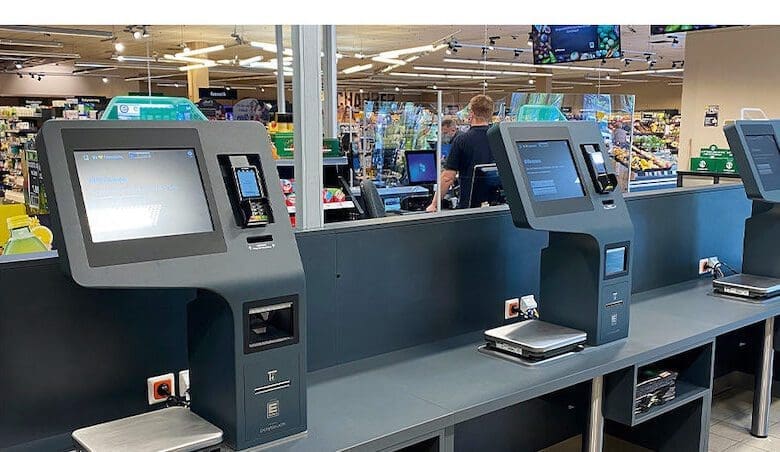 The regional Edeka co-operative Northern Bavaria-Saxony-Thuringia is offering its members a self-checkout solution tailored to the needs of independent retailers. The compact systems were developed by Freiburg-based manufacturer Pyramid Computer according to the cooperative's specifications. The hardware is running Edeka's POS software from GK Software.
Edeka's central group administration in Hamburg pursues a vendor pool strategy. For SCO systems, it works with suppliers Itab and Diebold Nixdorf. Edeka Nordbayern was looking for a compact and cost-effective solution for its independent retailers. According to Pierre Vieweg, head of the regional group's IT/retail department, the gap between large SCO systems and conventional cash registers needed to be closed. The company therefore decided on an individual approach with supplier Pyramid, which also belongs to the Edeka supplier group.
Compact and cost-effective solution for all store types
Edeka Nordbayern was looking for a new solution in form of compact express terminals. These were to be based on standard checkout hardware, space-saving and flexibly expandable. Above all, the group wanted the systems to be easy to install and integrate into Edeka's infrastructure. It also wanted them to be applicable in all of Edeka's store types.
Pyramid developed the first prototypes according to these specifications within six months. From August 2020, Edeka retailer Stefan Scharrer piloted the solution in his E-Centre in Fürth. So far, two regional companies have deployed a total of 30 terminals. In a basic version, these comprise scanner, non-cash payment module, receipt printer and coupon unit. Systems can be easily expanded with a cash module and a scale.
Ready to run within 15 minutes
GK Software's application, which is tailored to the Edeka Group requirements, supports the self-checkout functions. As Vieweg explains in an interview with Stores + Shops magazine published by the EHI Retail Institute, systems are ready to run within 15 minutes of being set up. Those eight independent retailers from the group who already installed the SCOs have been highly satisfied. Further rollouts are planned for the current year. Vieweg is convinced that the new system will meet with great interest among Edeka retailers.