News
Eurospar in Dublin goes colourful with SES Imagotag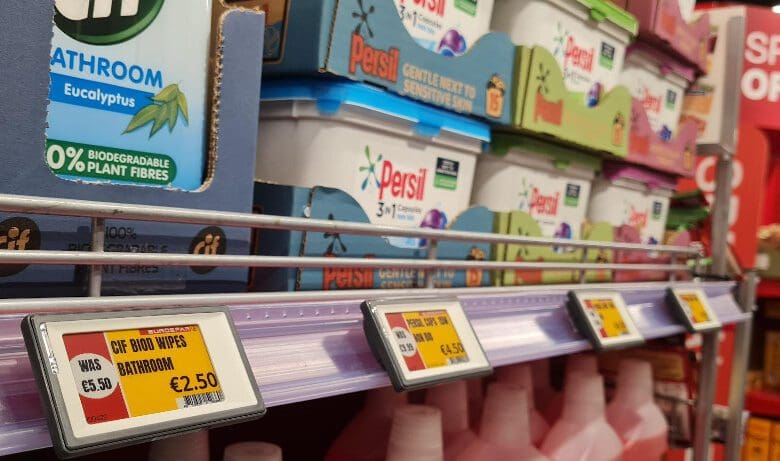 Irish Spar store owner John Prendergast has equipped its Eurospar supermarket in Dublin's Barrow Street with digital price tags and customer communication displays on SES Imagotag's Vusion platform. This has been the first time the technology provider implemented four-colour ESLs in a retail store. On selected shelves or gondola heads, the high-quality e-ink displays are intended to effectively draw customers' attention to promotions and new product introductions.
Speaking to Retail Optimiser, SES Imagotag CMO Roy Horgan explained that this is the world's first installation of four-colour ESLs in retail. He said the product has already been developed to market readiness and can be rolled out in larger quantities by the manufacturer.
Colours create attention
The novel electronic shelf label can display the four colours black, white, red and yellow. This allows to effectively highlight prices and information as well as logos and product images. E-ink technology – used in e-book readers, for example works in an energy-saving way. It consumes energy only when contend on the display is changed. The manufacturer specifies a service life of 10 to a maximum of 13 years, depending on the application profile. After that, batteries can be replaced and recycled.
Coloured ESLs are more expensive than its conventional siblings. Roy Hogan recommends using them selectively. This way they stand out more and can be more effective.
Bringing digital experiences to the sales floor
The coloured ESLs are integrated into an overall customer communication concept. It is aimed to bring digital experiences to the sales floor. For this purpose, SES Imagotag has developed its Vusion platform. All IoT products from the tech provider have a uniform operating system and are networked via the cloud. This means that the systems can be supplied with new content at any time. Technical or security updates as well as new hardware and software functions can be installed remotely by the service provider without the need for a technician.
The overall concept also includes monitoring of shelves to prevent out-of-stocks. The SES solution Captana monitors shelves with wireless mini cameras. In the cloud, the system evaluates the data and provides feedback to the retailer in real time. The software also analyses POS data and controls marketing messages depending on sales performance.
Horgan is convinced that this can not only promote the sale of goods, but also create a sense of community through appropriate messaging. For example, SES Imagotag works closely with the United Nations World Food Programme. With corresponding messages displayed across the entire sales floor, retail companies have already been able to generate a lot of attention for the humanitarian aid organisation.