News
Kroger combines picking and pick-up with BrightDrop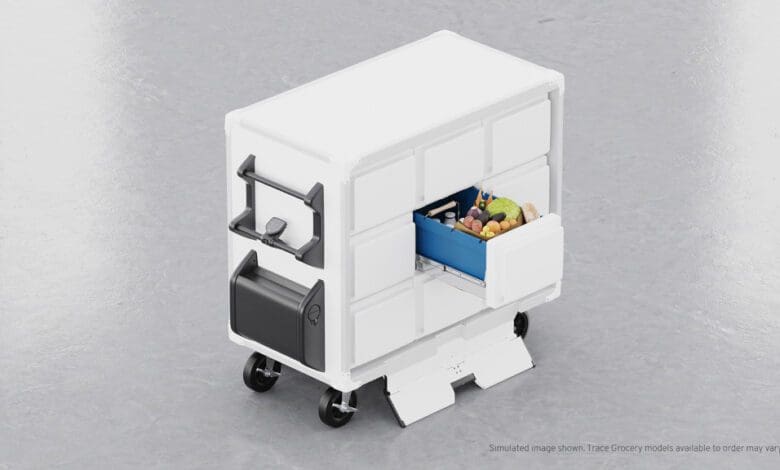 US-retailer Kroger will be the first customer to introduce the electronic trolley named Grocery eCart from BrightDrop, a wholly owned subsidiary of automaker General Motors, later this year for curbside pickup of goods ordered online. Kroger previously tested the wheeled cart as part of a pilot project in Lexington and Versailles in the US federal state of Kentucky and saw a significant improvement in customer and employee satisfaction.
The electrically operated trolley was specially developed for processing online grocery orders. It allows store employees to pick customer orders directly into lockable compartments of the trolley. Afterwards, the eCart can be transported and left unattended at the roadside. Customers can then autonomously pick up their purchases there. They have to identify themselves with the help of a code to unlock the intended drawer and receive their goods.
The profitable handling of the dramatic increase in online grocery orders has become a major challenge for retailers of all sizes, Travis Katz, president and CEO of California-based BrightDrop, said in a press release. "With the Trace Grocery, we saw an opportunity to help companies like Kroger tackle these challenge head on".
Each of the eCarts, which will be introduced in Kroger stores later this year, contains nine temperature-controlled compartments that can refrigerate food for up to four hours. With the help of the built-in electric motor, the trolley moves at a speed of up to 4.8 kilometres per hour to ease transportation of goods for the employees. The speed of the eCart automatically adjusts to the walking speed of the employee. The cart can transport a maximum of 158 kilograms of weight and can be used in all seasons regardless of the weather.
This is not the first project to improve order processing for the e-commerce sector that the US retail company has carried out. Kroger already expanded its delivery service with autonomous vehicles from Nuro in January 2022, as the Retail Optimiser reported.