News
Kroger expands delivery service with autonomous vehicles from Nuro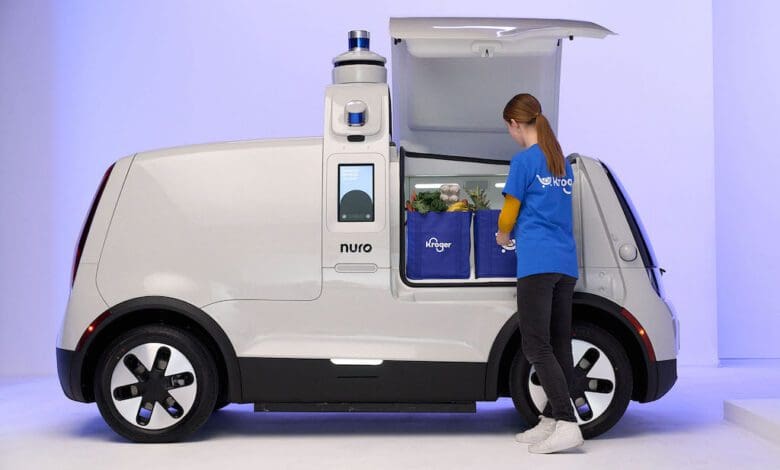 Kroger is expanding its partnership with driverless delivery vehicle manufacturer Nuro. The US grocer announced it will further expand its existing test operation of home deliveries with autonomous vehicles in Houston Texas. The company will deploy a yet undisclosed number of latest generation vehicles from Californian specialist Nuro for this purpose.
Kroger and Nuro have been collaborating since 2018.  Succeeding initial tests at a Fry's supermarket in Scotsdale, Arizona, the retailer opened pilot operations for selected delivery areas near two Kroger stores in Houston, Texas the following year. The area's topology makes it well-suited for testing autonomous cars. With the new vehicles, Kroger hopes to reach additional customers in the region.
Specialised in grocery deliveries
The Nuro vehicles are designed exclusively for transporting goods. They do not have a driver's cab and are smaller than conventional delivery vans. Depending on the requirements, they can be modularly equipped with different loading zones. This enables them to deliver refrigerated goods or frozen food.
The electrically powered vehicles travel on public roads at a maximum speed of 25 miles per hour, the equivalent of about 40 kilometres per hour. Using artificial intelligence, video, and thermal cameras as well as radar and laser sensors, they are given a 360-degree all-round view and can move autonomously in traffic. Furthermore, additional safety devices, such as airbags on the outer front, ensure that other road users are not endangered. The manufacturer states that legal requirements for autonomous driving in the areas of use have been ensured. At present, however, the vehicles are still escorted by a manned car.
Customers using the service order their goods online. They receive a message via app when the vehicle has arrived with their purchases. It waits at curb side. With a code displayed in the app, the customer can open the corresponding compartment on the vehicle and take out the goods.
In the long run, Kroger plans to offer the service nationwide. This is part of the company's efforts to save costs through automation. Many competitors are currently experimenting with diverse automation technologies to deliver goods. Nuro's systems are also currently being tested by fast-food restaurants Chipotle and Domino's, as well as convenience store operator 7-Eleven.
This video in English explains how the latest generation of autonomous delivery vehicles from manufacturer Nuro work. (Video: Nuro)