Reports
Asda trials impact of technologies on shopping experience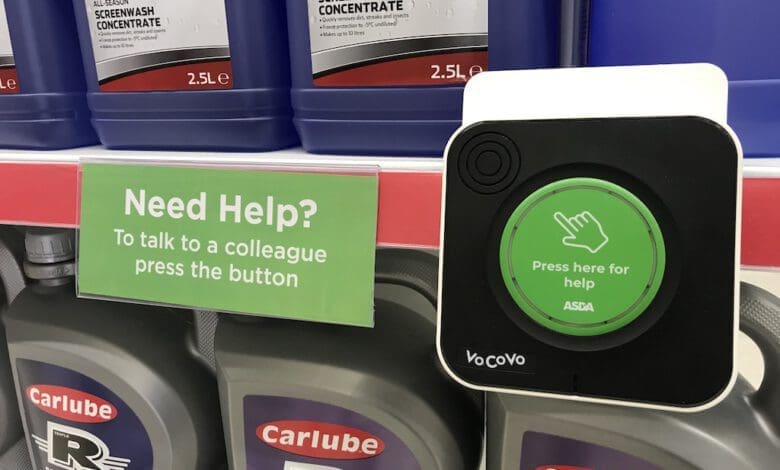 We are delighted that the Retail Optimiser has been able to accompany the internationally highly valued retail expert Bryan Roberts on a store check at Asda in Stevenage, UK, and share his personal insights. Meanwhile, as announced on 2 October 2020, Asda has been sold by Walmart to brothers Mohsin and Zuber Issa and TDR Capital for £6.8 billion. The buyers are reportedly acquiring a majority stake. Walmart will, however, retain shares and a seat on the board of directors.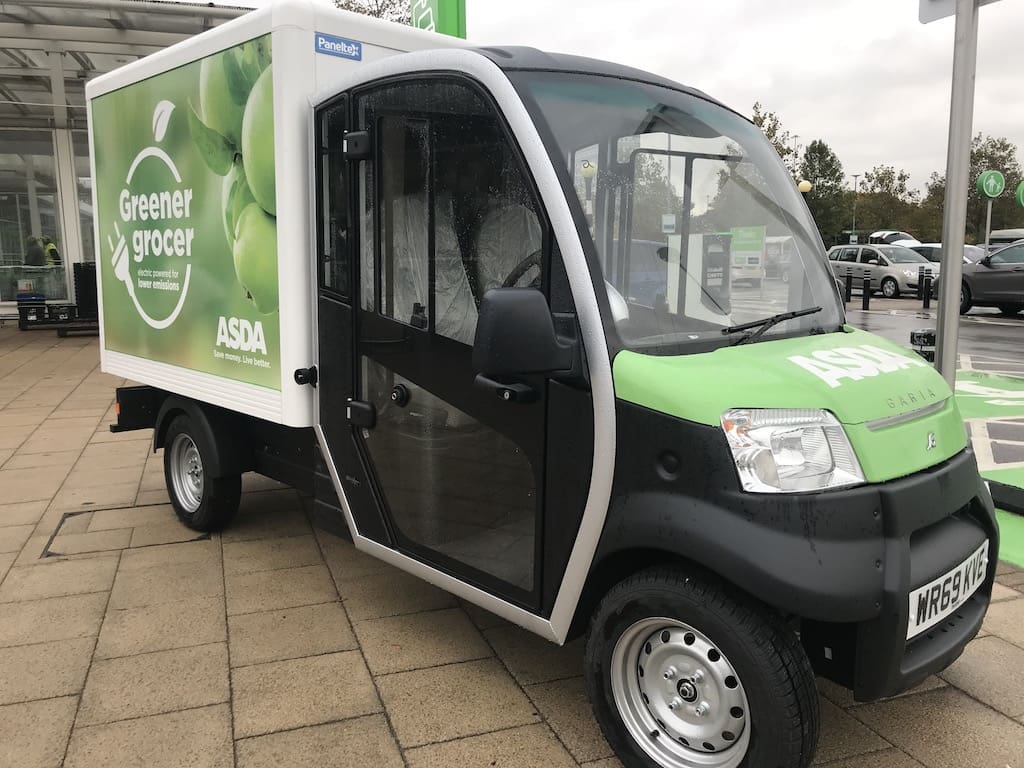 As the bulk of the UK supermarket sector trundles along its race to the middle, in which the aspiration appears to have shifted from excellence to adequacy, it is always a pleasant surprise to see retailers trying to raise the bar a little. I guess that this opening statement might be a grotesque generalisation, and I get that the economics of the UK grocery sector can be a little challenging, but it sometimes saddens me that many UK stores have become the epitome of utilitarian frugality: smiles on the faces of shareholders more of a concern than smiles on the faces of customers.
Exceptions confirm the rule
There are some notable exceptions, such as M&S' new concepts, Morrisons' ongoing commitment to service counters and the wholly underappreciated Iceland Food Warehouse chain, but the broader narrative is one of counter closures, the hawking of space to third parties and a perpetual eye on reducing headcount.
Another pleasing exception is the Asda store in Stevenage, a store devoted to piloting new operational, service and marketing technologies. I've been to this place a worrying number of times, but always look forward to going back as there is always something new to see and, in fairness, it's actually a very decent store setting aside the bells and whistles.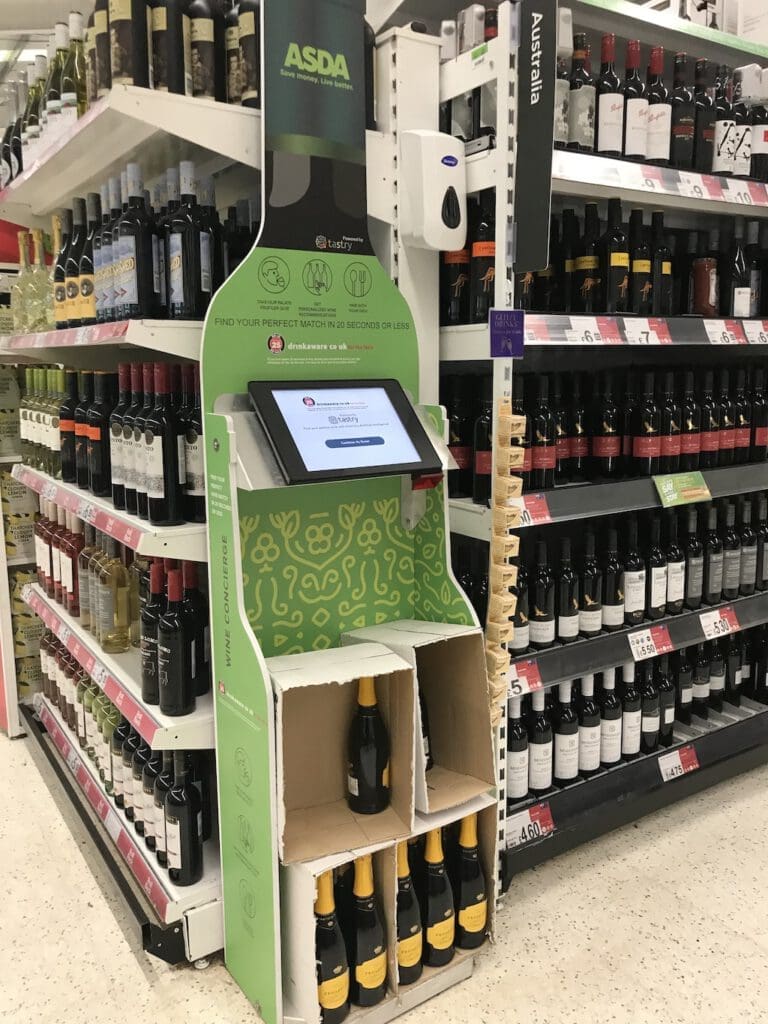 A multitude of new applications
I've written in the past about this place, highlighting previous innovations such as holographic signage and the automated click & collect parcel machine. Since then, however, there have been many more additions, including a wine recommendation app that surveys shoppers on flavour preferences before suggesting wines to pick up instore, a personalised chocolate card machine, a Perfume Point fragrance kiosk, customer service call buttons, the introduction of electric delivery vehicles and new electric car charging points.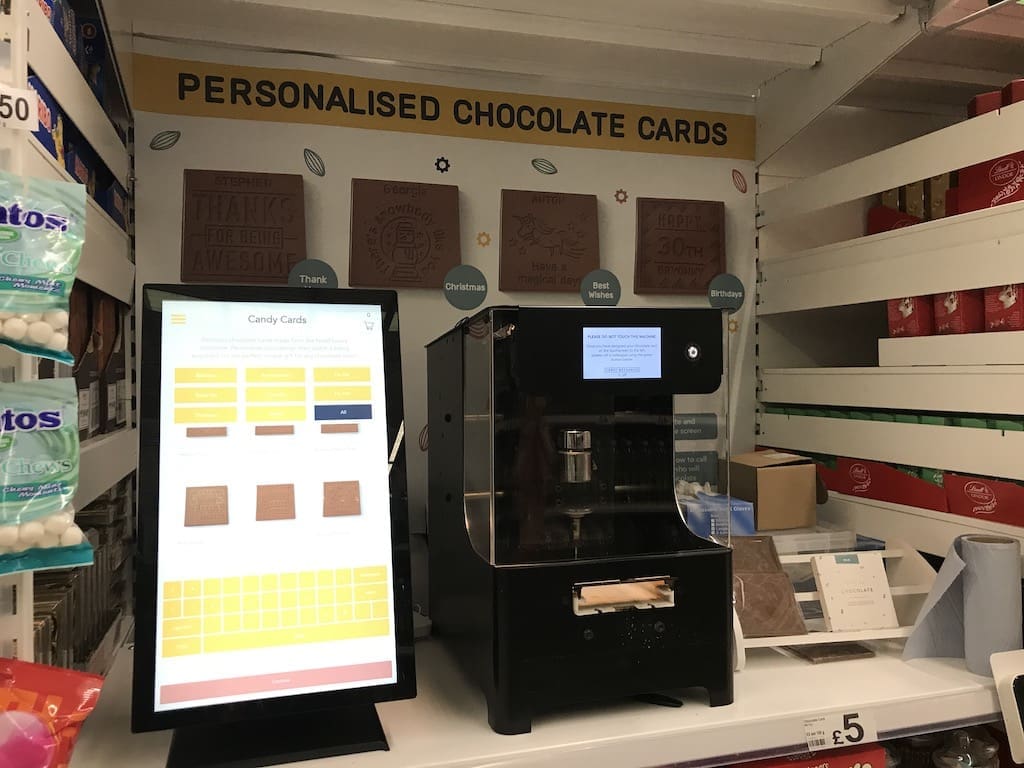 Another significant subsequent deployment has been a trial of Electronic Shelf Labels (ESLs) across 22,000 grocery SKUs. The Vusion ESLs are supplied by SES-imagotag, the leading global provider of ESL solutions. According to them, "Electronic shelf labels enhance in-store efficiency and reduce labour costs generated by the daily implementation of the pricing policy. It also reduces wastage through the dynamic management of products with a sell-by date (stock level alerts, shelf capacity, etc.)." I really liked the enhanced clarity they provide. The UK has lagged other markets in the deployment of ESLs (partly due to the absence of big fines for a lack of price integrity) so it will be interesting to see if this move marks a turning point for the technology in the British market.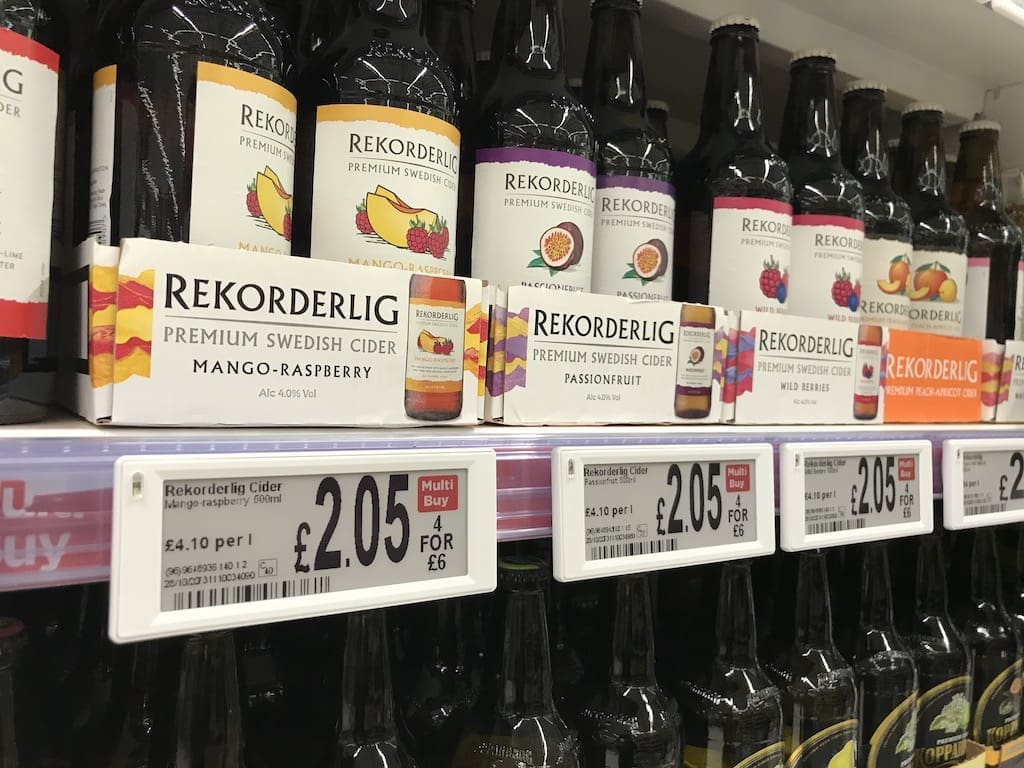 Digital Signage in the yoghurt aisle
Picking up some attention in recent weeks has been the partnership with dairy company Müller to activate digital signage in the yoghurt aisle in around 30 stores across the country. The Stevensage store hasn't got the full version (massive screens along the top of the chiller), but has a more modest effort comprising a digital header and two digital fins showing animated content. According to the supplier's Sales Director, Rob Lockley, "impactful display or POS in UK retail is largely cardboard based, which whilst cheap, brings the inevitable issue on execution compliance and longevity. Working with Asda, we've managed to change the game. Our digital fixture execution allows easy refresh of content and links directly back to above the line marketing."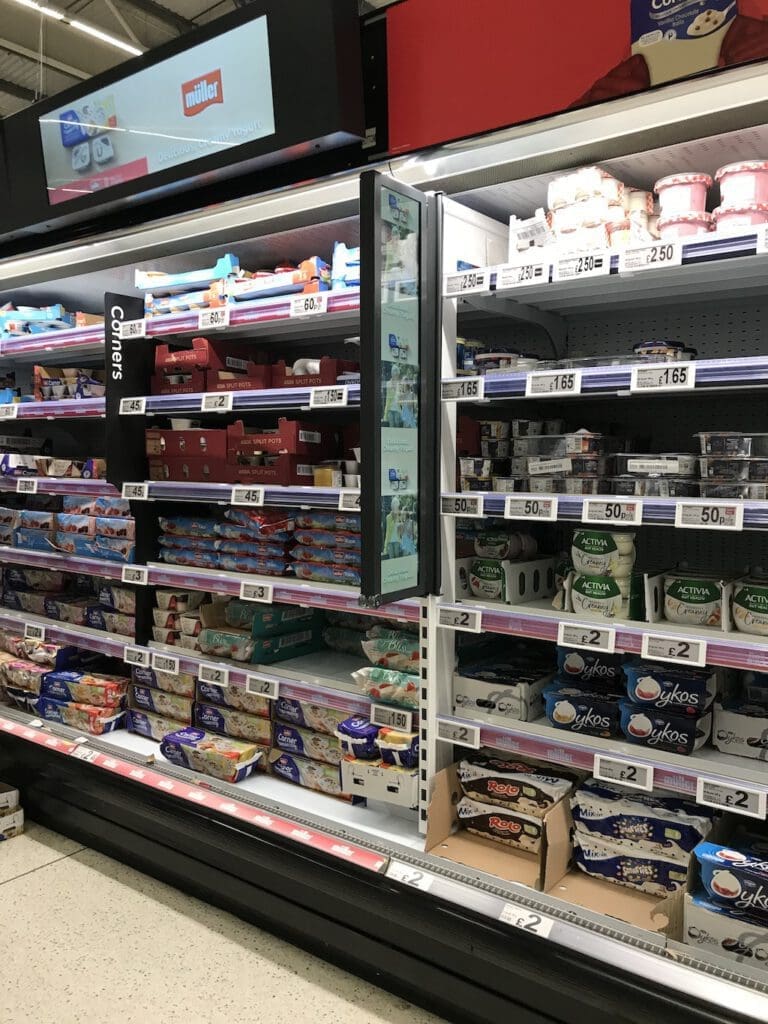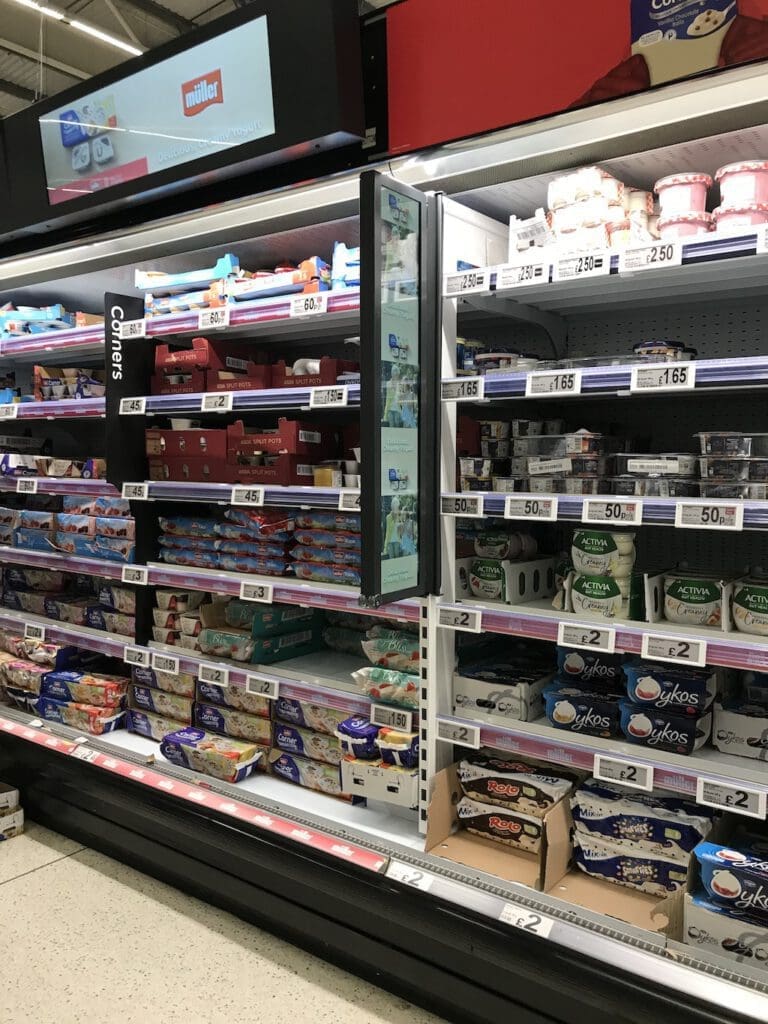 And pretty good it was too: eye-catching, informative and providing several calls to action in terms of actually buying stuff. There was a similar endeavour underway in snacks, with digital signage from Walkers.
Small details make a big difference
The final flourish I noted this week was a charming expansion of the holographic signage pilot, this time onto a gondola end devoted to Asda's range of popcorn. I've already received negative feedback on social media that this is a waste of shelf space, indulgent and won't drive sales. The same could be said of the clucking chickens in M&S or the train going round the ceiling of Stew Leonard's. Do they inherently make money? Of course not. Are they one of many small touches that add up to a place you want to spend time and money? Absolutely.
Either way, kudos to the team at Asda Stevenage for bringing together lots of features that come together to create a genuinely enjoyable place to shop.