News
Migros builds omnichannel logistics with Witron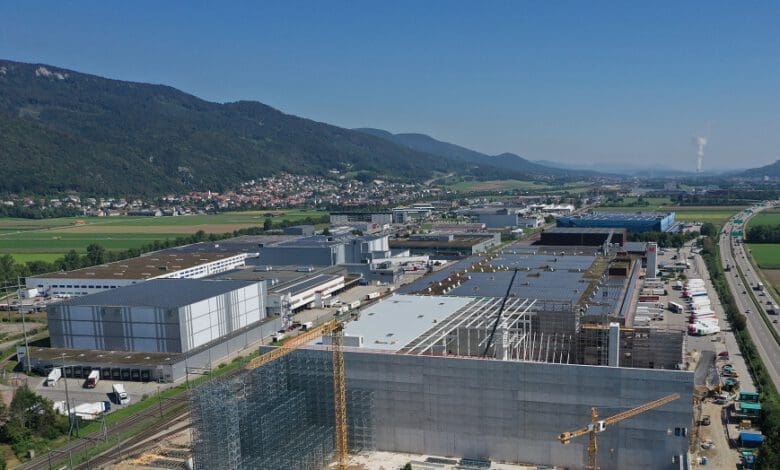 According to forecasts, the Swiss retail trade could have come through the lockdown unscathed, as the market leaders had already positioned themselves well online beforehand. GfK is expecting online business in Switzerland to grow by up to 50% in the current year, with no overall decline in sales.
The Swiss market leader Migros is also currently setting an example in non-food logistics, by integrating order picking for stores, home delivery and parcel dispatch to come from an integrated process.
Despite the lockdown crisis, Migros made good progress in the construction of what will be Switzerland's largest logistics centre in future. As planned, the gigantic distribution centre in Neuendorf, not far from Basel, is to go live next year. The central non-food warehouse at this location will then pick orders from the branches, affiliated other retailers, and online shoppers in a single process.
The entire automation technology comes from Witron. With the technology of the Upper Palatinate specialists, the branch order picking is to be fully automated using Witron's OPM technology.
Unlike in the German retail sector, Click&Collect is also relevant for Migros in Switzerland: The supply of the branches therefore also consists to a considerable extent of orders from online shoppers. This makes the complete integration of logistics processes particularly important.
E-Commerce needs scalability
"We want scalability in the e-commerce business," says Thomas Kissling, head of the logistics centre, summarising the main requirements. And he has very high goals. None of the 100,000 articles should be handled without automation. Whatever cannot be picked fully automatically by the OPM due to its size or nature is fed into the process in at least partially automated mode.
The system should grow with the company. "Being able to breathe with the daily business, reacting flexibly to changing market volumes. Agility and scalability are the central keywords here". In addition, Kissling sees further advantages in automation: "The ergonomics – because physically heavy work is eliminated. The sustainability – by reducing transport costs due to optimally packed load carriers and by reducing inventories. A high level of efficiency – by reducing the colli costs per pick".
Migros was not the first Witron customer who decided to integrate the fully automated OPM for store delivery and the automation technology for the online area. The world's largest system of this kind is currently being built for the Swedish retailer Axfood near Stockholm and is scheduled to go live in 2023. Witron also recently received an order for its AIO (All in One Order Fulfillment) system from the USA. However, the Migros distribution center in Neuendorf will be the first worldwide that will go into operation with this integration of Witron.