News
NCR expands market share in thriving global self-checkout business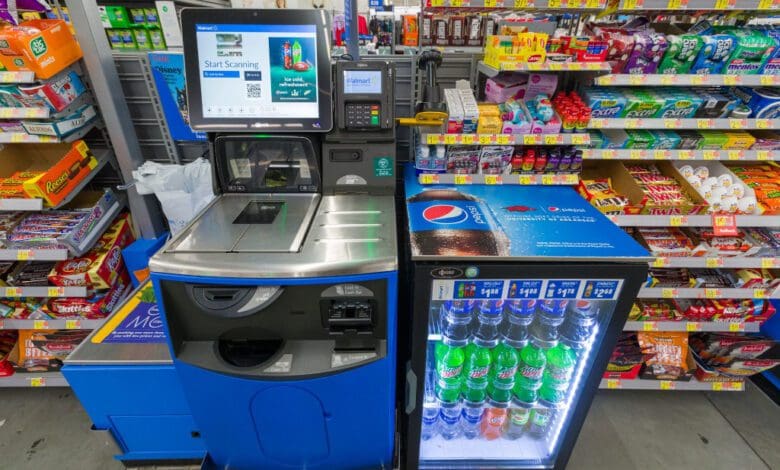 Despite all attempts with scanless stores, the self-checkout business is flourishing worldwide. According to the latest report by RBR Data Services, now part of Datos Insights, nearly 200,000 self-checkout devices were shipped worldwide last year. By 2028, the analysts expect the number of global installations to exceed 1.9 million.
NCR remains the largest player in the market with one-third of the shipments – and even increased its market share by one percentage point, according to RBR Data Services. However, challengers Toshiba and Diebold Nixdorf also increased their market share by one percentage point. The shares of the Chinese challengers HiStone, CCL Technology and Wintec remain modest in the self-checkout segment so far.
RBR Data Services counts around 50 providers, from international companies to local players, and also takes into account the solutions which some retailers put together themselves. NCR is extending its market leadership through deliveries in its core markets in Europe and the Americas – with its long-term customers including Walmart and some of the UK's leading retailers.
Toshiba and Diebold Nixdorf also expand market share
In second place is Toshiba with a significant presence in Japan and the US. Major Japanese retail groups such as Family Mart use Toshiba self-service machines, while customers outside Japan include Kroger and Albertsons.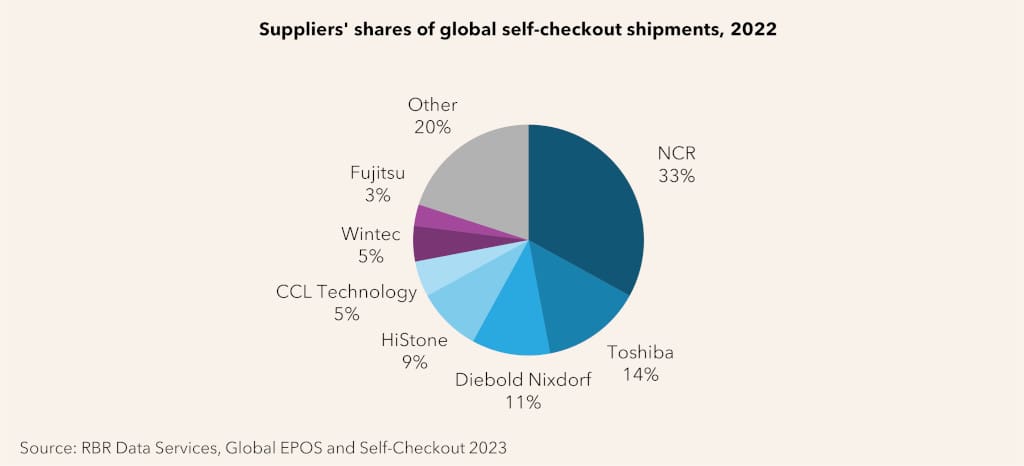 For the time being, the US and Japanese providers were able to push back the Chinese challengers somewhat in the global self-checkout market. (Graphics: RBR Data Services)
In 2022, Diebold Nixdorf, which has been beset by financial difficulties in the meantime, moved past Chinese challenger CCL Technology to become the third largest supplier of self-checkouts, with a market share of 11 per cent. Discount retailer Lidl is rolling out the vendor's solution in several countries, and other customers include Carrefour in France.
Chinese providers grow slowly
The Chinese suppliers HiStone, CCL Technology and Wintec together account for almost a fifth of deliveries. HiStone is a leader in its home market and is increasingly expanding overseas, with projects with local supermarket chains in Latin America.
CCL Technology and Wintec also expanded their presence outside China. CCL Technology has customers in Europe, including the French supermarket chain Monoprix, while Wintec has a strong presence in the Middle East.
Rest of the market stays fragmented
The rest of the market is fragmented, with Japanese companies Fujitsu and NEC having major projects in North America and Asia, and Swiss company 4POS supplying food customers across Europe.
US vendor Mashgin continues to roll out its AI-based terminals in convenience locations, while a growing number of POS hardware vendors are adding self-service solutions to their portfolios as demand for the technology continues to grow.
Trend towards individual solutions
Over the past few years, a number of retailers have opted to develop their own self-checkout solutions. Jeni Bloomfield, who led RBR Data Services' Global EPOS and Self-Checkout 2023 study, comments, "More and more retailers are facing a huge choice of self-checkout technologies. This presents excellent growth opportunities for vendors who work closely with retailers to find the perfect solution."
Major US companies Dollar General and Home Depot have introduced their own solutions by putting together devices from different technology providers. Smaller retailers such as Prima Supermarkets in Hungary and Norfa in Lithuania are working with local vendors to do the same, according to RBR Data Services.