Reports
Profitable digital at the shelf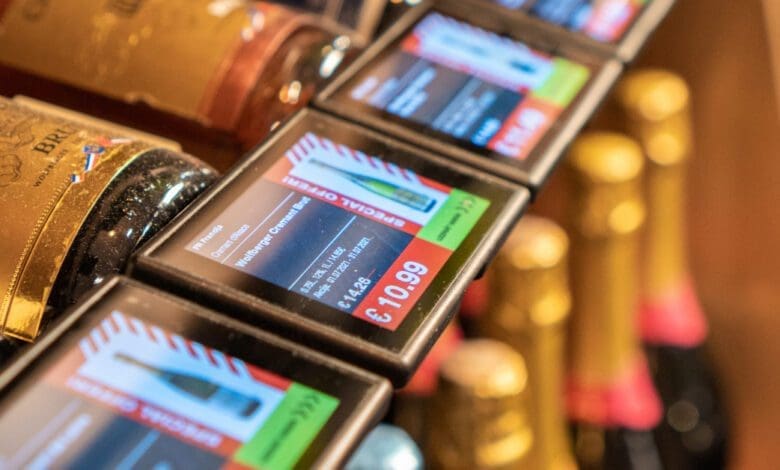 Andris Lukins, CEO and owner of the Latvian retail company Spirits&Wine, was actually looking for a solution with which his employees would no longer have to print 1000 price labels per month and store and stick them on the shelves. His company wished also to be able to dynamically adjust prices to demand, even by time of day. But the offers from the market leaders for Electronic Shelf Labels (ESL) made Andris Lukins hesitate.
The costs of such a project seemed out of proportion to the expected savings. Especially since Spirits&Wine is a small company that started in 2009 with one store in the port of Riga, mainly targeting the demand of Swedish tourists. The company now operates eight distribution outlets in Latvia and will soon open two more.
The search for solutions for digital price communication gave CEO Andris Lukins another idea: Why not bringing all the product information that an online shop provides to the shelf? In 2016, together with Ivars Mirosnikovs, he founded his own technology start-up, Vivid Tech, to develop solutions for this challenging task. And these can now be seen in Spirits&Wine stores.
Touchscreens instead of ePaper displays
Vivid Tech's approach is fundamentally different from that of the market leaders in Electronic Shelf Labels. Instead of ePaper labels, his company supplies complete, small touchscreen displays. On each one, the shopper can call up a lot of additional information about the product via a touch menu, which is otherwise reserved for customers of online shops.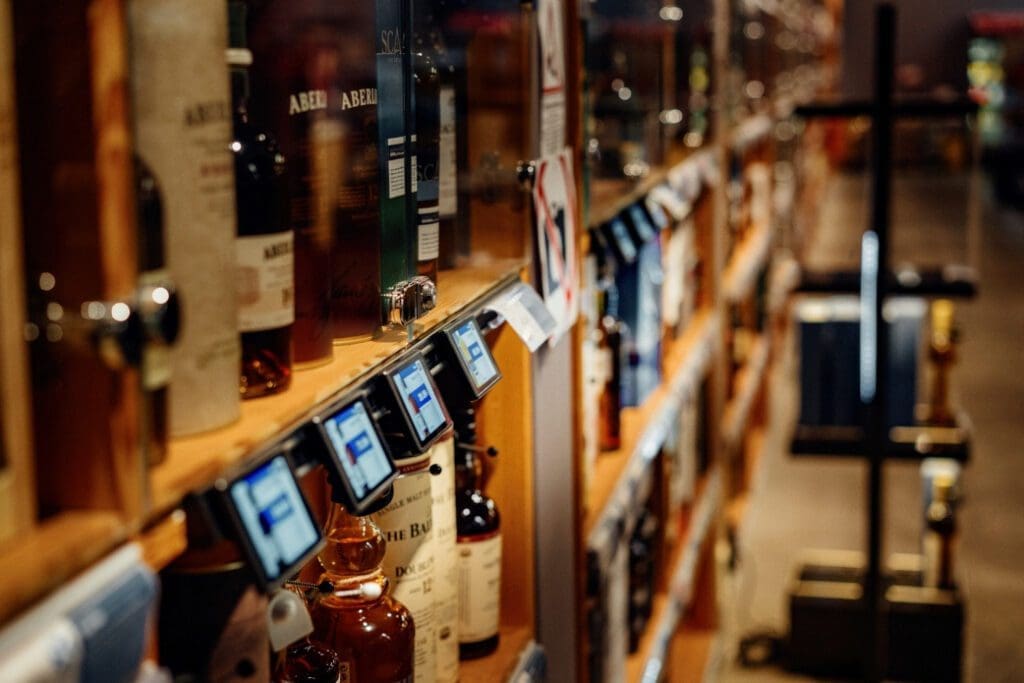 Calls-to-actions on the displays such as "Learn more!" and "Goes well with" lead customers to more detailed information when they press on the displays. A simple menu with up to six fields enables navigation. The design templates for the content come from Vivid Tech.
In his role as owner and CEO of Spirits&Wine, Andris Lukins explains that his retail company has "made money from day one with the use of technology." What at first glance looks like a marketing stunt for his other company, Vivid Tech, has a realistic background: Spirits&Wine receives considerable advertising subsidies from numerous well-known brand-name manufacturers and their national distribution partners for presenting their product content so extensively not only in the online shop but also on the shelf.
Brand distributors pay fee for deployment
Spirits&Wine rents the displays from Vivid Tech instead of buying them and allows the manufacturers to display their content for a fee. As a result, the project has been in the black for his retail company from day one, Lukins explains.
Unlike electronic shelf price labels, Vivid Tech's displays need power supply. Stylish rails, into which the touch devices are simply latched, carry the power and at the same time allow the mini monitors to be locked against theft. The fact that the shelves themselves must be supplied with power could be a reason against the solution for some retail companies. But not for Spirits&Wine: Part of the special design of the company's stores is that its shelves are upgraded with LED lighting anyway.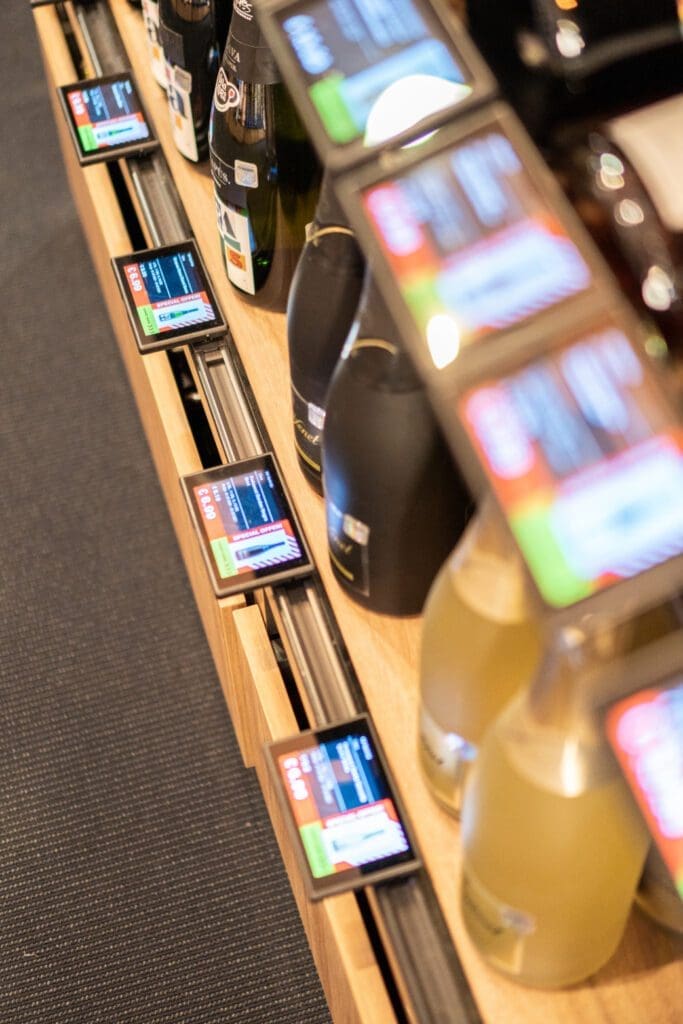 Since Spirits&Wine also runs an online shop, it has already procured the product content for the items, which appears on the displays. Vivid Tech has now succeeded in integrating the product information of the online shop with its own platform: If the content in the online shop system changes, it automatically changes on the mini-displays as well. The mapping of the Wifi-connected displays and the products is done in an extremely user-friendly way by means of a smartphone app with which a QR code is scanned, which is then displayed on the electronic label.
Retailers can edit content themselves
For companies that want to edit special content for the displays, Vivid Tech provides its own browser-based content management system with attractive design templates for the display content.
After the first 100 displays were used by Pernot Ricard and Diageo, other Spirits&Wine suppliers quickly followed suit. In the meantime, 1300 labels are in use across the eight stores, communicating information about the products of 20 suppliers. Among the brand suppliers now participating is Henkell Freixenet as well as various Baltic distributors representing brands such as Russian Standard, Glenfiddich, Jägermeister, Remy Martin, Barcadi, Cointreau, Martini, Metaxa and many others on the national market.
The list of participating brand-name manufacturers and distributors is growing fast. Around 1000 more labels have already been ordered from Vivid Tech for use at Spirits&Wine — Lukins says he has a waiting list of more suppliers who also want to see the displays on their products.
"No more expensive than shelf talkers"
"The brand manufacturers don't pay us any more for participating than for shelf talkers made of cardboard, but they have the advantage that the displays are in continuous use and not only for promotions," explains Andris Lukins. According to him, the labels generate a sales uplift of a gigantic 30 per cent. This is because they are not only used for price promotions, but also continuously for the basic assortment of the participating brand manufacturers.
The use of Vivid Tech displays at the Latvian retailer Spirits&Wine (Video: Vivid Tech)
However, Vivid Tech and Sprits&Wine face a challenge: not all shoppers recognise the possibility of calling up further content by pressing on the on-screen menu of the displays. The process is simply not known or practised. Therefore, Spirits&Wine has now activated another feature of the mini monitors: A motion sensor in the displays detects when a person approaches and prompts them to access additional content through moving content.
For Andris Lukins, it is still not out of the question to introduce additional conventional Electronic Shelf Labels as a supplement for those items whose manufacturers do not participate in the Vivid Tech project. Only in a small boutique store Spirits&Wine no longer has to do this: At the Baltic Beach Hotel in Riga, the company has a sales outlet where all items are equipped with Vivid Tech displays.