News
Edeka app with new functions to become Group standard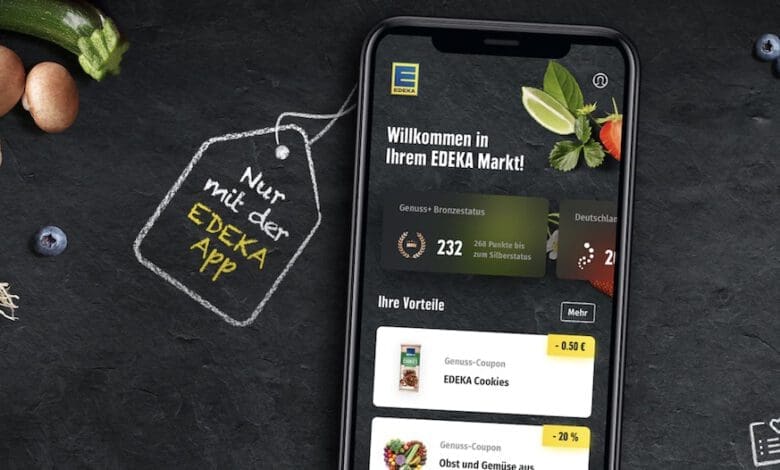 Edeka group has added essential functions to its app and thus created a unified solution for mobile customer engagement for its regional entities. The Edeka app integrates and replaces previously inconsistent approaches of its regional entities. Only the Hessenring region continues to go its own way. With the rollout of the new Edeka app, in-house development team Edeka Digital, or Eddi for short, has completed a key component of the retailer's digital initiative.
Customers can now use the app to collect points, pay and – in selected stores – register their purchases via scan & go function. Customer loyalty programme Genuss+, previously offered by only three Edeka regions, has been fully integrated. Deutschland Card is also supported by the application. By making the app available, Edeka is simplifying smartphone shopping for its customers and providing its retailers with a powerful tool for acquiring customer data.
Registered customers receive one bonus point for every 2 EUR of purchase value. Shoppers who have collected 500 points gain silver and with 1,000 points gold status. Depending on the status, Edeka grants greater advantages. Silver or gold customers receive higher discounts when they redeem coupons or get discounts on certain groups of goods, such as fruit and vegetables or meat and sausages. When reaching silver status, customers receive a shopping voucher worth 5 EUR, gold status earns them 10 EUR. Customers are credited with 10 additional points when they register for the Genuss+ programme or mobile payment repectively.
Edeka app collects valuable customer data
The aim here is to motivate customers to actively use the shopping functions of the app. This not only offers the retailer operational advantages, such as faster processing at the checkout. Above all, Edeka gains valuable data on the shopping behaviour of its customers and can thus tailor its marketing measures individually. Most recently, Lidl and dm Drogeriemarkt had followed a similar path with their apps.
Apparently, Edeka's participation in the Deutschland Card bonus programme did not bring the desired results. Hence the introduction of its Genuss+ scheme. It remains to be seen whether Edeka will at some point rely exclusively on its own loyalty solution. The new version of the Genuss+ app could also help Scan & Go achieve a breakthrough in the Edeka Group. The integration of the function into the app may cause more retailers to go this route instead of switching to alternative solutions such as Edeka Paschmann, which implemented Snabble.