News
Edeka Südwest opens 24/7 store with robotics from Knapp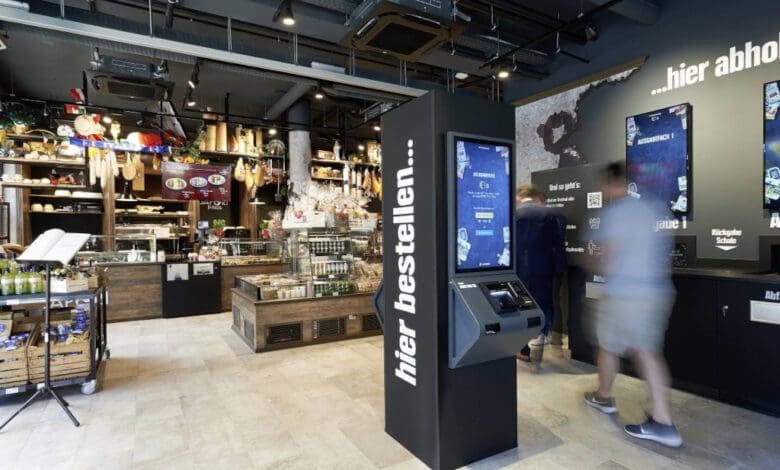 This week, Edeka Südwest opened a combination of its Italophile deli concept Sapori d'Italia with a fully automated 24/7 store in Offenburg. Knapp robotics picks everyday items in the back of the vending area and makes them available to customers at a counter. The assortment includes around 500 SKUs, which can be ordered via the 24/7 Edeka app or on-site at terminals. Payment is cashless via bank card or online.
Edeka Südwest already operates a robotics store at the railway station in Renningen and another one on the campus of the Merck company in Darmstadt, which is operated exclusively for the employees of the healthcare giant. Edeka Südwest remained true to the robotics concept for its autonomous store at its new opening in Offenburg. However, it gave the contract to another provider of the automation solution in the backarea: While the start-up Smark was allowed to equip the store in Renningen, the Edeka team went with Knapp Smart Solutions in Offenburg, the Gelsenkirchen subsidiary of the Austrian logistics automation company. The company unit has been automating pharmacy processes for over 20 years under the names KHT Group and Apostore. With Knapp, the company is now bringing the technology to grocery retail.
Chaotic warehousing saves time and space
With the technology, stock replenishment in the 24/7 store in Offenburg is fully automated and carried out in a short time. The entire height of the storage area at the back is used. The robotics scans the barcode of each SKU and sorts articles into the four to seven degree cool warehouse according to a random system. The data of which goods are where is kept track of by software and used for the fully automated distribution of products. Consequently, shrinkage and incorrect stocks in the system are impossible.
Shoppers can order items seven days a week, around the clock, on the go via smartphone using the E 24/7 app from Edeka Südwest or on one of the two ordering screens in the automated store in Offenburg. The mini grocery store's assortment of around 500 items includes basic foodstuffs, snacks, drugstore items, but also regional products such as lemonades from Jung, specialities from Arnolds Kaffeemanufaktur Offenburg and dairy products from Schwarzwaldmilch. Alcoholic beverages such as beer and wine are only given to shoppers in the 24/7 store after their age has been checked by means of an identity card.
For the implementation of the E 24/7 format at the Offenburg location, Edeka Südwest is not only working with the technology service provider Knapp Smart Solutions from Gelsenkirchen, but also with the digitalisation specialist Maexware Solutions from Freiburg. "We are gaining valuable experience for this concept and are examining new possible locations in city centre locations and beyond," says Jürgen Mäder, board member of Edeka Südwest in a press release.