News
Edeka's Netto brings self-scanning to its app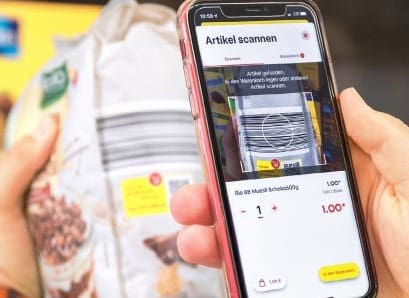 With Edeka's Netto, another German discounter is testing self-scanning with customers' smartphones. The team of IT Managing Director Claus Leitl deliberately relies on a proprietary development that is fully integrated into Netto's customer app.
Under the name Scan&Go, the discounter from Maxhütte-Haidhof is currently testing the solution in ten of its about 4300 stores in the cities of Erlangen, Munich, Nuremberg, Schweinfurt as well as Lappersdorf-Kareth, Maxhütte-Haidhof, Schwandorf and Weiden. This is reported by the always well-informed Peer Schader in his Supermarketblog. Schader was also the first to report recently that Rewe's Penny had rolled out its self-scanning solution in over 100 stores.
The app with the same name Scan&Go in the Apple App and Google Play Store, which has already been around for over two years, belongs to the discounter Netto of Salling Group and can so far only be used in Denmark. It has nothing to do with the eponymous solution from the Edeka discounter with the same name.
Edeka's Netto has one of the best grocery retailer apps in Germany
Edeka's Netto, on the other hand, is quite deliberately opting for a self-scanning solution integrated into its existing app. That makes sense, because Netto has one of the most mature shopper apps of all German grocery retailers: With it, the shoppers can also pay on the move via a retailer-own solution that Netto has developed on the basis of the technology of the GK Software subsidiary Valuephone.
Since recently, users of the Netto app can even pay with Paypal. On the app, Netto has also combined the couponing of Deutschland Card, its promotions, a shopping list that can also be created by scanning, electronic receipts and, of course, the obligatory store finder. By scanning QR codes for Netto's own brands, consumers also receive additional information about the products.
Smart solution for loose produce still missing
A cumbersome aspect of Netto' self-scanning is the scanning of produce, reports Peer Schader: First the customer has to scan a barcode from the price label, then weigh the goods and enter the weight manually into the app.
It would be absolutely desirable for scale manufacturers to provide retailers with wireless interfaces that allow the weight determined with the self-service scale to simply be transferred to the self-scanning app.
Edeka's Netto does not force users of the self-scanning app to make cashless payments. Customers can either pay directly within the app or at a traditional checkout.