News
Fressnapf organises in-store tasks paperless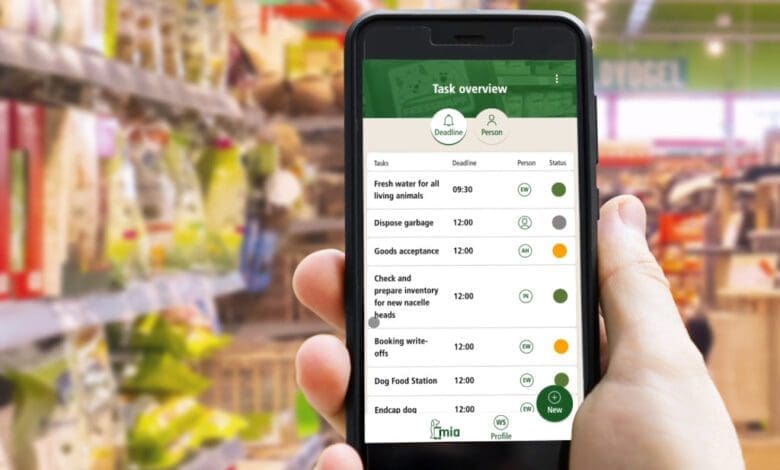 When developing its new workforce app, Fressnapf focused on its processes and the need of the employees of its franchisees. Instead of introducing ready-made software, the pet supply retailer has the IBM-owned web developer ECX (ecx.io) from Düsseldorf develop according to its own requirements. Together with the staff on the sales floor, Fressnapf identified pain points and defined new processes using the Design Thinking method. On this basis, the Krefeld-based specialist retailer implemented its new workforce app MIA ("My intelligent assistant") with ECX using the Scrum method.
A Fressnapf-internal employee survey had shown that the coordination and documentation of their tasks in the store takes up a lot of time, which the employees would rather spend advising their customers. Consequently, MIA helps to organise the processes in the stores of Europe's largest specialist pet supplies chain more effectively, transparently and without the large piles of paper. The smart assistant not only provides employees with an overview of their daily tasks, but also improves cooperation and creates transparency in the processes. The Fressnapf head office and store manager can assign a status, due date and employee to individual tasks.
If the store management notices that someone in the team is too busy or becomes ill, the tasks can simply be assigned to someone else. This can support a fair and balanced workload for all employees.
MIA was programmed in six months to a clickable prototype, a Minimum Viable Product, as a progressive web app based on microservice architecture. Fressnapf wants to continuously develop the application and adapt it agile to the needs of the more than 12,000 employees in the Fressnapf stores in eleven European countries. MIA is nominated for the UX Design Award 2020 of the International Design Center Berlin (IDZ), which awards projects from around the world for outstanding user and customer experience. The winners will be announced in September 2020.