News
Hagebau navigates customers with Locandis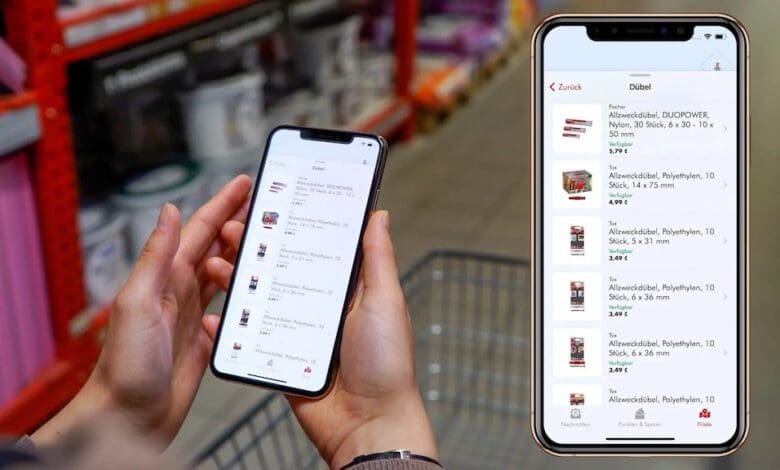 DIY chain Hagebau guides customers at its Neumünster location via smartphone app to the desired product. Visitors to the C.J. Wigger Hagebaumarkt can open the app called Wiggi Hagebaumarkt and enter the item they are looking for. Their smartphone will then lead them directly to the shelf in question. If a customer enters several products, the app calculates the shortest shopping route. Lebensmittel Zeitung had first reported on the project.
Hamburg-based start-up Locandis, specialised in real-time location systems and location-based marketing, provides the technology.  It works like Google Maps. In real-time, users can see where they are and how far from the product they are looking for. Furthermore, the retailer can provide customers with additional information or give product recommendations via app directly at the shelf.
Sensor fusion leads to precise localisation
While navigation via app got a standard outdoors, the technology has not yet established itself indoors. GPS signals are strongly attenuated inside buildings. Furthermore, precision of satellite navigation is not sufficient to precisely locate a product on the shelf. This is true even if triangulation of the WiFi signal is performed. Therefore, signals of additional sensors must be evaluated to determine the exact position.
Locandis calls its in-house developed technology sensor fusion. It uses small transmitters, so-called locators. The manufacturer states that the quality of position determination via Bluetooth Low Energy (BLE) is not sufficient. That is why it relies on an enhanced protocol and specially developed firmware for its devices. Usually, the locators are battery operated. At Hagebau, they have been installed in the lighting systems for the first time. The transmitters are part of the InnoGreen LED luminaires which also supply them with power.
For precise positioning, the application also uses other sources of information, such as augmented reality and magnetic field information. In this way, the solution can guide the customer not only to the appropriate shelf, but exactly to the product they are looking for.
The company expects the solution to increase both customer satisfaction and sales. With an assortment of more than 60,000 articles, indoor navigation facilitates better orientation in the store. Customers can shop faster and more relaxed. Employees are also relieved. It remains to be seen whether this example will set a precedent and Hagebau or its competitors will equip more stores with the technology.