News
Jumbo automates fresh logistics with Witron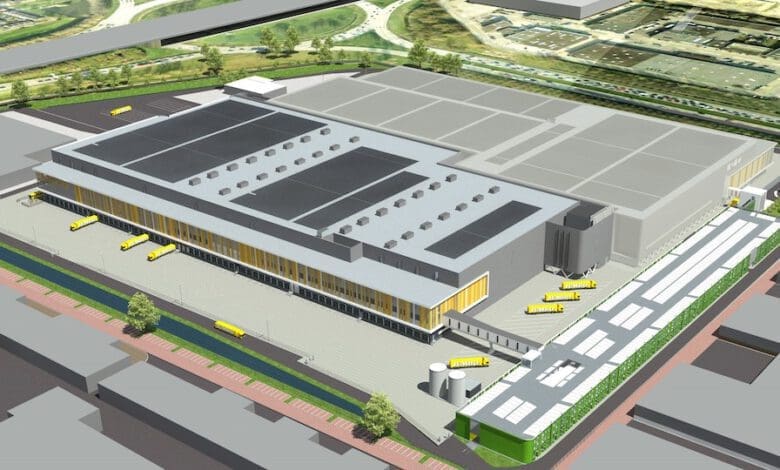 Dutch supermarket chain Jumbo is developing a new distribution centre for fresh foods at its Nieuwegein site. On 40,000 square metres, modern automation technology will supply all Jumbo stores in the Netherlands and Belgium with fresh products. Witron Logistik + Informatik GmbH as general contractor is responsible for planning and implementation of all mechanical, IT and control components.
The system is scheduled to become operational in early 2024 and will be able to pick more than 850,000 units daily. It is designed to be modularly expandable for future growth. Witron will also install additional robotics lines in Jumbo's existing dry goods logistics centre. Expansion will take place during ongoing operations.
Automation optimises logistics processes also for fresh products
Jumbo is investing heavily in logistics to support expansion of its branch network, growth of its online business and enlargement of its product range. Going forward, the company wants to automate material flow processes for all ranges, product sizes and distribution channels as far as possible. In its new central warehouse, Witron technology will move 2,900 different fresh products with a minimum shelf life of eight days, including dairy products, meat dishes, salads, and chilled beverages.
Its fully automated storage and picking system OPM (Order Picking Machinery) can pick the lion's share of the assortment onto roll containers without personnel.  Case picking is handled by 24 robotic lines, so-called COM (Case Order Machine) loading devices. The order of cases is based on the respective store layout.
For heavy and bulky sales units, a semi-automated picking system based on the man-to-goods principle is used. The so-called Car Picking System (CPS) drives the picker to the goods along optimised routes. Radio frequency and pick-by-voice or pick-by-light technology support the picking process.
Supply and disposal of cases is automated by stacker cranes and conveyor technology. In the outgoing goods area, a mechanised buffer (WAP) ensures that the roll containers are consolidated and provided in the correct order for delivery.
Software developed by Witron – called All-in-one Order Fulfilment (AIO)  controls all warehouse logistics processes via one integrated solution. The logistics areas are connected by a 14-kilometre-long conveyor network.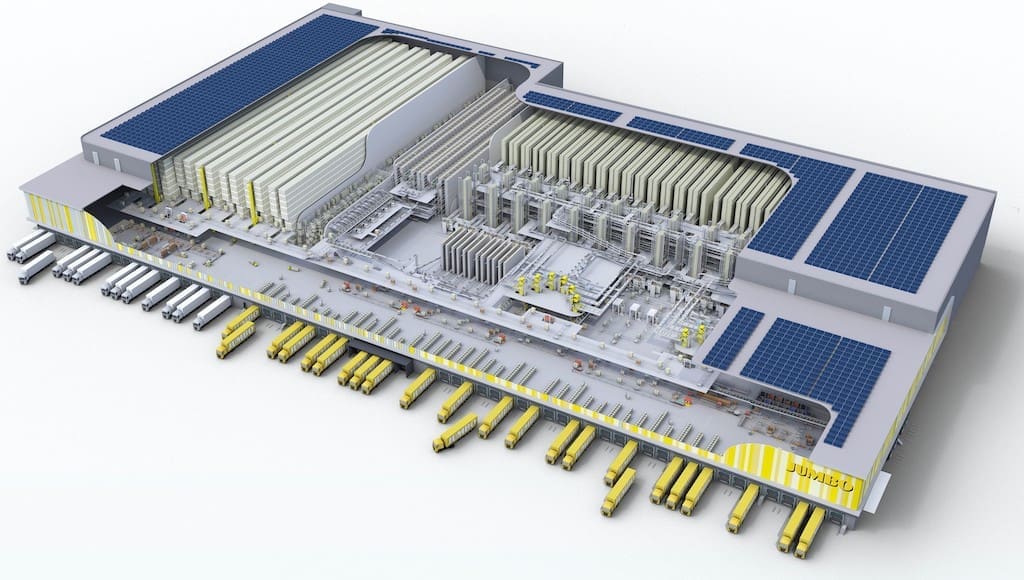 More automation also for dry goods
At the same time, Jumbo is also expanding the existing installation in its dry goods logistics centre. As early as March 2022, twelve additional COM robotics lines will go into operation. With a total of 32 automatic loading devices, the retail company will then be able to pick 2.6 million sales units per week. This means an increase in throughput of 60%.
The company is also expanding its automatic high-bay warehouse, tray warehouse and associated conveyor technology in the 45,000 sqm building.