News
Migros pilots autonomous delivery with Loxo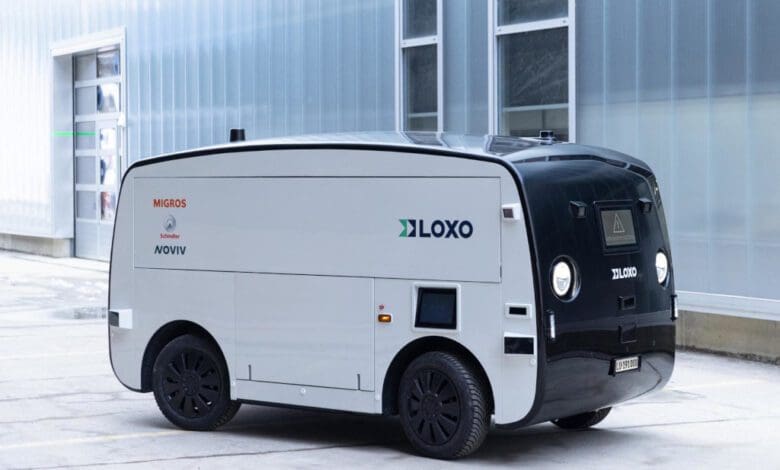 Swiss retail leader Migros has started to test the delivery of goods by a self-driving van from Swiss start-up Loxo this week. The autonomously driving delivery vehicle with electric propulsion will autonomously bring groceries under the name 'Migronomous' from the Migros store in the shopping center Mall of Switzerland to the company campus of lift manufacturer Schindler in Ebikon, in the canton of Lucerne, on behalf of the Migros Lucerne cooperative. It is the first time that an autonomous vehicle is operating on public roads in Switzerland.
"It was quickly clear to Migros that it wanted to be the first retailer in Switzerland to actively participate in this pioneer project," says Rainer Deutschmann, Head of Safety and Transport at the Migros-Genossenschafts-Bund (MGB): "We can definitely imagine that self-driving delivery services could be an addition to our existing transport fleet in the future."
Currently, the service is available from Monday to Friday exclusively for Schindler employees who order online from Migros. Employees of the retailer pick the ordered products in the store and load them into the delivery vehicle. The autonomous transporter named Alpha can carry up to 64 shopping bags on each trip. The vehicle then travels at a maximum of 30 kilometres per hour to the lift manufacturer's site 500 metres away. The order compartment of the van can be opened using a code so that Schindler employees can then remove their purchases.
Since the end of last year, French retailer Carrefour is also testing for the first time the autonomous delivery of goods from its store to the campus for customers of the Polytechnic Institute in Palaiseau, Paris, using a moving pick-up vehicle from Goggo, as reported by the Retail Optimiser.