News
Mobile self-scanning is growing by leaps and bounds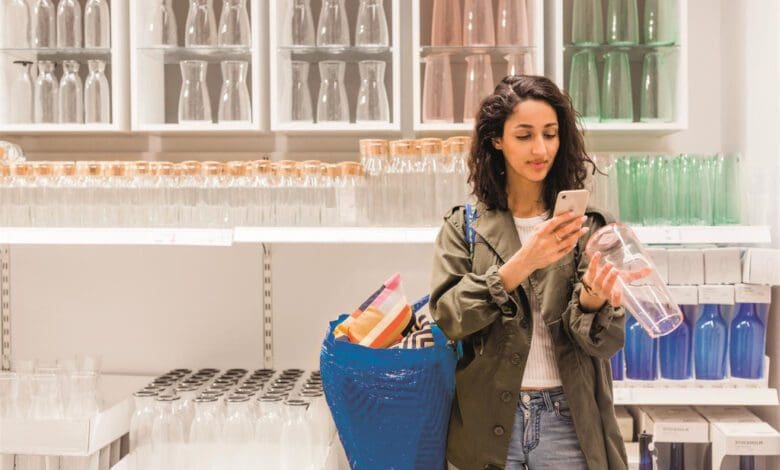 The number of retail outlets allowing customers to scan items while shopping continues to grow significantly worldwide. According to research by UK market research and consultancy company Retail Banking Research (RBR), the number of stores where customers can scan items using either their smartphone, a retailer-provided device, or both, rose to 57,000 last year. This compares to 32,000 stores in 2021.
According to RBR's 'Mobile Self-Scanning and Checkout-Free 2023' study, it's not just grocery retailers that have contributed. Swedish furniture retailer Ikea, for example, now uses mobile self-scanning tools in most of its stores. In the USA, large retailers such as Dollar General and Dick's Sporting Goods offer such solutions to their customers. The Japanese convenience store operator 7-Eleven already offers mobile self-scanning in hundreds of shops in several countries.
In many countries, especially in Europe, retailers are increasingly providing their customers with handheld devices for mobile self-scanning, according to RBR. However, the research shows that the trend is towards smartphone applications. For example, large grocery retailers in Germany, Japan and Sweden have been enabling their customers to self-scan with smartphones in more and more shops since last year. Retailers are also testing solutions with intelligent shopping trolleys that automatically register the items inside.
Mobile self-scanning to triple by 2028
A study by the EHI Retail Institute last year showed to which extent mobile self-scanning systems have been accepted in Germany. According to the study, only three retail companies achieved a usage rate of more than one per cent for self-scanning with the app in the period studied, as reported by Retail Optimiser. In September and October 2022, the institute had interviewed 15 chain retailers using a structured interview guide who have already implemented app solutions in several stores. More widespread than the use of apps for self-scanning is the use of hand scanners by the retailer. Here, the usage rate in Germany is about 10 times higher.
According to RBR, the market for mobile self-scanning will grow strongly by an average of 20 percent per year over the next six years. Market researchers expect large grocery retailers currently using handheld devices to expand their offerings to include smartphone apps in the future, while shopping cart-mounted solutions are also becoming more common in Asia. The rise of self-scanning in other segments will continue, they say, especially in convenience with fuel, DIY stores and other specialist outlets.