News
Self-scanning is progressing slowly in Germany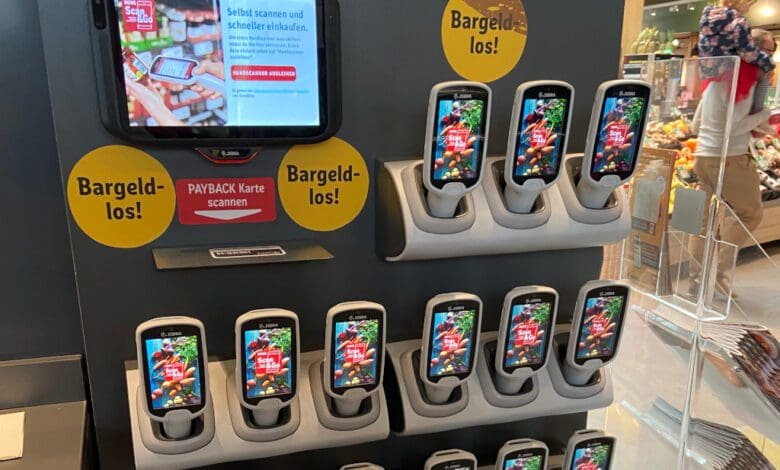 By Björn Weber and Regina Wagner
"Only three retail companies in Germany have a usage rate of more than one percent for self-scanning with smartphone apps," reports Frank Horst, EHI's research head for security topics at EHI this week at the institute's Technology Days in Bonn. In a recent market survey, EHI investigated the use of mobile self-scanning systems by customers of German retail companies. For this purpose, the institute interviewed 15 retailers with stores in September and October this year by using a structured interview guideline, who have already implemented app solutions in several stores. The interviewed retail companies offer their customers self-scanning via app in a total of around 1,100 stores in Germany. More common than the use of apps for self-scanning is the use of hand scanners provided by the retailer: Here, the usage rate in Germany is around 10 times higher.
On the stage in Bonn, representatives of the German retail sector discussed the surprisingly rare use of self-scanning. They agreed that comprehensive training of all staff on the sales floor and higher marketing investments in the area are needed to encourage more customers in Germany to try out self-scanning.
Steffen Göhrig from dmTech, the IT subsidiary of the leading drugstore operator, suggested that self-scanning will be part of the dm app in the future. However, dm will not start it in Germany. "Eastern European markets are much further ahead here," Göhrig said. Self-checkouts, which dm is currently introducing in selected German stores, will also have a stronger impact in Eastern Europe. In Poland, where dm opened its first shop this year, every store will be equipped with self-checkouts in the future.
Only every 150th customer uses their smartphone for scanning
In the market survey, EHI Retail Institute concluded that, on average, only 0.67 percent of all retail companies interviewed, and thus only every 150th customer, use an app to record their purchases with their own smartphone. The range of company averages of the retailers surveyed from 0.15 to 1.92 percent also showed that at the majority of retail companies, less than 0.5 percent of customers scan with their own smartphone. A higher usage rate of more than one percent could only be proven at three of the interviewed retailers.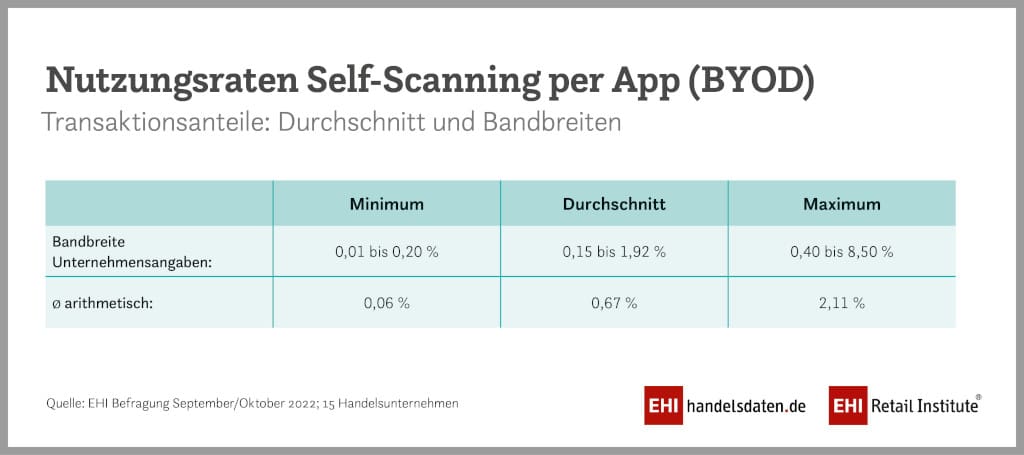 A higher usage rate of more than 2.5 percent could only be realised at store level in individual shops at three of the questioned retail companies. When looking at the lowest usage rate, EHI Retail Institute also concluded that there are currently stores in all of the interviewed retail companies in which scanning via app is hardly used by their own customers, and sometimes almost exclusively by their own employees.
In contrast to the app, EHI found a significantly higher usage rate (seven per cent each) for self-scanning with a handheld scanner as well as for recording items with a device permanently installed on a shopping trolley by customers of the surveyed retailers.
Customers of the interviewed retailers who scanned and completed their purchase via app instead of paying at a stationary checkout generated a higher revenue share. According to EHI, the bandwidth ranges from about 1.1 times to 1.9 of the usual purchase amounts.