News
Penny customers experience sustainability with touchpoints from Instore Solutions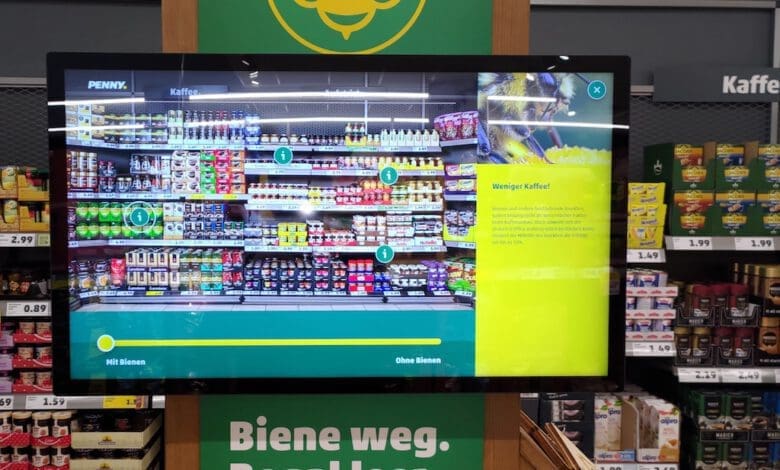 Discounter Penny makes the topic of sustainability visible and tangible for customers. Using digital technologies from Swiss software company Instore Solutions, the company has created Germany's first sustainability experience store in Berlin.
The store in Berlin's district Spandau is structured like a nature trail. At 20 touchpoints, customers can learn about the measures Penny is taking to act more sustainably. For this purpose, the discounter installed a variety of interactive technologies from Instore Solutions.
To create space where customers can inform themselves undisturbed, Penny has completely redesigned the shop. However, the discounter has largely left the product categories in their familiar positions. This means that shoppers do not have to reorient themselves completely.
True costs made transparent
One touchpoint featuring a visualisation of the true costs of products on offer is particularly noteworthy. An interactive screen shows customers what selected products should really cost, if ecological factors were considered. Scientists at the University of Augsburg have calculated the effects of nitrogen, climate gases and energy used along the product's supply chain to create a fictitious sales price. This makes it fairly obvious that current price discussions do not go far enough. This is because neither organic nor conventional agriculture take follow-up costs of consumption into account.
The effects of consumption can be experienced in a playful way
At another station, Penny demonstrates the essential importance of insects for the foodproduction. A screen shows a virtual shelf filled with products that could not be produced without bees or other pollinating insects. Using a slider on the touch screen, customers can check the effects of decreasing insect resources. In the end, the shelf is almost empty due to the fact that without bees all these products could not be produced.
A green dustbin equipped with an interactive screen shows that many items can still be consumed long after their best before date has been reached. This is aimed to raise consumer awareness of the need to produce less waste. Mounted at the fish shelf a periscope with integrated VR glasses is showing a 3D film on sustainable fishing.
Above the checkout area, two screens provide information on the status of the "Penny Fundraising" campaign. This is intended to motivate customers to take part in this campaign for a good cause by rounding up the purchase amounts.
There is some hope that this unique Penny Market will set a precedent. Sustainable action can only be promoted through awareness about the effect consumption has on the livelihoods of present and future generations. Moreover, it is to be hoped that Rewe Group will indeed play a leading role in retailers' efforts of to achieve sustainability. All too often, the industry's practices fall far short of advertising statements on this trending topic.