News
Schnucks brings smart salad bar from Picadeli to selected stores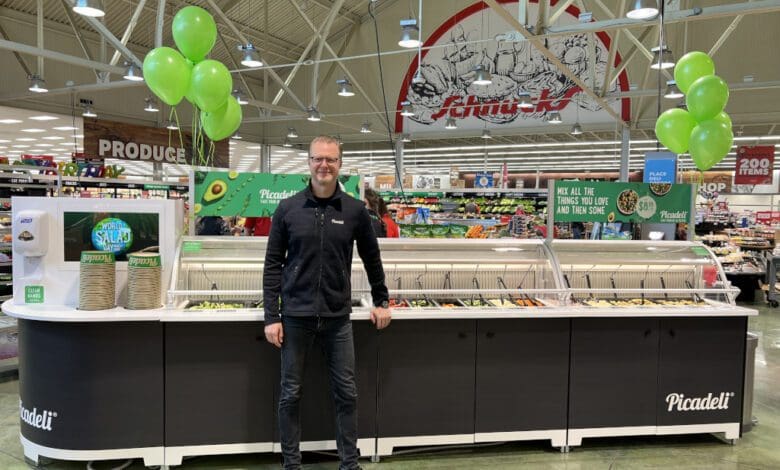 US supermarket operator Schnucks is offering customers fresh salads at selected locations via a digitally controlled, smart salad bar from Picadeli. The retailer is implementing the systems from the Swedish specialist supplier in a total of 22 Schnucks and Eatwell Market stores in the states of Missouri and Illinois.
At the bars, customers can assemble their own salads from fresh ingredients. Using digital technologies, the system ensures that the cabinets are always supplied with fresh produce. Automated inventory management ensures that less food will be wasted at the end of the day.
The modular salad bars are individually adapted to the needs of each location. They have been designed with hygiene and food safety in mind. Automated shielding hoods make sure that goods are not openly accessible for longer than necessary. The cabinets provide automatic hand sanitizers and bowl dispensers.
Artificial intelligence optimises stock levels
Using innovative application software and patented hardware, Picadeli enables transparency of the supply chain and traceability of individual products. All product data is stored with batch accuracy and sales are monitored accordingly via QR code scanning. The salad bar is equipped with a safety system that automatically sends an alarm when a product needs to be refilled.
The system automatically determines reorders. It uses artificial intelligence to calculate optimal order quantities. Furthermore, thanks to self-learning algorithms, the technology identifies which ingredients customers at each individual store prefer and adjusts offerings accordingly. In this way, the system reduces operating costs and helps to avoid food waste.
Picadeli has successfully installed its innovative salad bars in the USA at Safeway and Giant, among others. In Europe, customer references include Axfood, Ica, Kesko, Carrefour and Rewe. In total, more than 2,000 of the smart salad bars are already in operation worldwide.