News
Swisscom enhances customer experience with new digital shop concept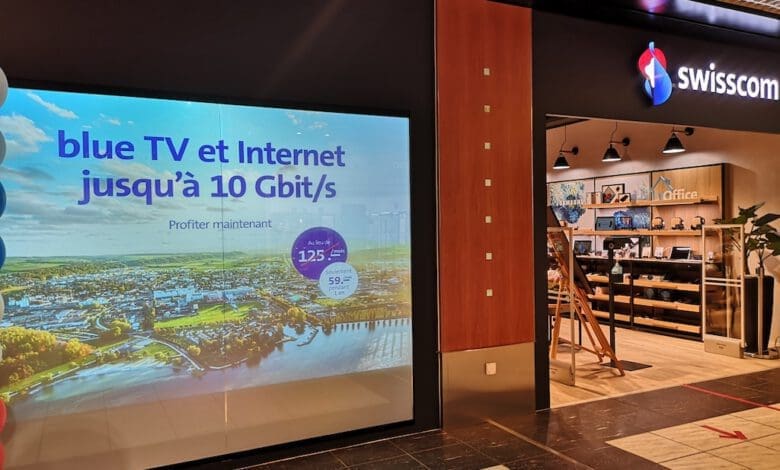 Swisscom is pushing the digitisation of its stores ahead. In a newly opened store in Yverdon-les-Bains, in the Swiss canton of Vaud, technology partner Instore Solutions implemented a variety of innovative solutions. Among other gadgets, the digital signage specialist developed electronic price tags using e-ink technology, which in shape and colour have been adapted to Swisscom requirements.
These ESL tags communicate via Bluetooth and can also be used for interaction with the shoppers. For example, if the customer puts on headphones on to trial it, motion sensors automatically detect this, music is played, and nearby screens display suitable content. The customer can move freely around the shop, as the ESL tags are equipped with an anti-theft function.
Communication on a uniform platform
Visual communication has been implemented on basis of the Navori technology platform by specialist Westiform. Using touchscreens from Elo, customers can obtain information about product features and available accessories for mobile phones on display. These have an information and price app installed which was developed by Instore Solutions. It allows customers to call up tariff information or test the smartphone, without having to change the settings. All operating steps are recorded and can be evaluated for marketing purposes.
Playful access to sophisticated technology
The complex topic of smart home applications is brought closer to customers via an interactive presentation. Interested parties can use a smartphone app to control intelligent devices connected via the network, such as smart speakers, lighting elements or thermostats.
Visitors of the store can participate in a lottery on the so-called digital wheel of fortune by scanning a QR code or entering their e-mail address. Winnings are controlled via Swisscom's central CRM system and are used for upselling and winning new customers.
At multifunctional self-service terminals, customers can book appointments with a sales assistant or request a Swisscom employee to call them back. Standard functions such as PIN request, unblocking of the SIM card or viewing an invoice can be carried out in self-service. This saves customers time and staff can concentrate on consultation.