News
Tegut redesigns self-scanning with Aracom and GK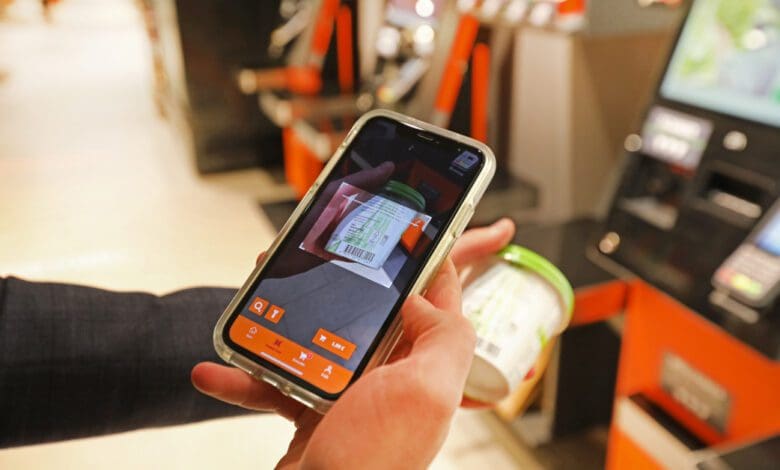 In its new convenience format Quartier, Tegut is piloting self-scanning in combination with stationary self-checkouts on a new technological basis. For the first time, Tegut is using the software from GK, which the Fulda-based retailer is currently also introducing at the manned checkouts of its stores. In its unmanned sales format teo, Tegut has built its self-scanning with Snabble. The self-scanning apps for both formats were developed by Aracom.
With its new Tegut Quartier format, the Fulda-based retail company is testing how to link restaurant and grocery retail in a new self-service format. The innovative concept is intended for high-traffic locations where customers expect particularly efficient shopping processes.
"The aim is to make it as uncomplicated and time-saving as possible for our customers to make small purchases of high-quality groceries," said Maximilian Klußmann, project manager for Tegut Quartier, speaking with The Retail Optimiser. Tegut is also using its new format to test technological innovations on the shop floor. For example, Tegut is also testing electronic shelf price labels in its Quartier stores.
Quartier as a pioneer for new technologies
In the first three Tegut Quartier stores, which can be admired in Fulda's Bahnhofsstraße, Neue Mainzer Straße in Frankfurt am Main and in Frankfurt Airport's Terminal 1, Tegut is testing a new approach to scanning and payment without employees. The self-scanning app Tegut Fluxx is being used there for the first time.
In addition, customers can also scan their purchases at self-checkouts and pay there without cash. Goods scanned with the Fluxx app are paid for either at the attended checkouts or also at the self-checkout terminals.
For the first time, Tegut is using software from GK at self-checkouts there. Also the receipt for self-scanning with the customer's smartphone is calculated by GK's POS software. "Our goal is to bring all checkout types onto a common software base," explains Maximilian Klußmann.
Like the teo app, the new Fluxx app was developed by IT service provider Aracom. The hardware for the self-checkout terminals comes from Diebold Nixdorf.
POS software in the cloud
Tegut is currently introducing the new cloud-based version of the POS software from GK at all checkouts. This makes Tegut one of the first retail companies worldwide to deploy GK Cloud4Retail.
The fancy name Fluxx for self-scanning at Tegut is not new: the company had already introduced self-scanning with Motorola devices at its Kaiserwiesen store in Fulda in 2014 and has now revived it for self-scanning with customers' smartphones. Today, it is still possible to self-scan with the retailer's own devices in this one Fulda store. In the future, however, Tegut only wants to push app-based self-scanning.
Customers must first install the Fluxx app on their mobile phones and open a user account there. Before shopping in a Tegut Quartier store, they open the app and can then scan the items independently.
No re-scanning yet
Convenience products from the counter also get a uniform and scanable code on the packaging. However, if customers buys a coffee from a self-service machine, for example, they have various options for recording the item: He can add the product to his purchase at the self-checkout terminal via a symbol button or have it entered by a staff member at the attended checkout.
Payment within the Fluxx app is currently not possible. Instead, a barcode is generated, which the customer scans at an SCO terminal to complete the payment there. At the attended checkout, the code is scanned by an employee. Customers can also pay cash there.
If there are age-restricted items in the shopping basket, a light on the SCO terminal lights up. A Tegut employee checks and approves the items. Tegut does not yet have a special process for checking shopping baskets by employees against inventory discrepancies in its neighbourhood stores.