News
Valora offers 24/7 shopping in hybrid store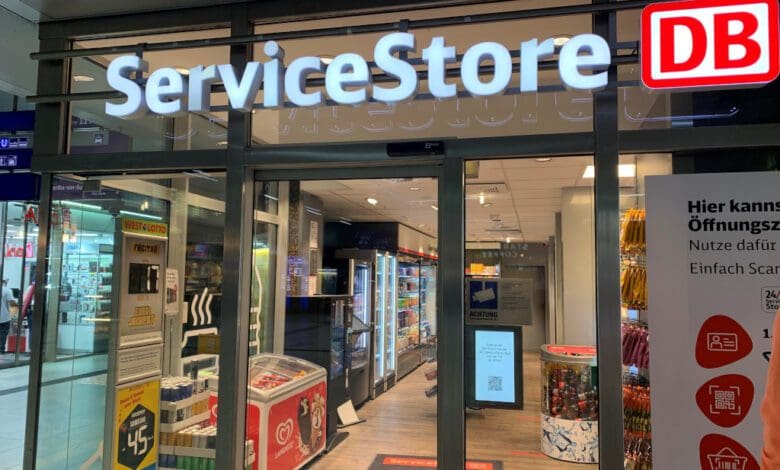 In the converted ServiceStore DB of Swiss retailer Valora at Düsseldorf's central station, customers can now shop around the clock, seven days a week. During normal business hours, staff from the retail company are present during the day, while the store runs completely autonomously at night. During times without staff presence, shoppers gain access to the hybrid store via the 24/7 ServiceStore app. Customers scan and pay for their selected items of the store exclusively via the app on their smartphone.
Around the clock, customers can buy confectionery, salty snacks, drinks, tobacco products and coffee in Valora's DB Store. During night-time operations, cigarettes and alcohol are only dispensed via vending machines. These verify compliance with the strict legal requirements.
In autonomous night mode, the sales area of the convenience store is 41 square metres; during the day, staff expand the store to 76 square metres. Exclusively during the day, the staff of the retail company sell additional baked goods in the larger area, accept lottery tickets and enable the e-loading of prepaid credit or gift cards.
During the night, the app controls access
To access the store outside staff presence hours, customers download the 24/7 ServiceStore app onto their smartphone. In the app, they register with their personal data, an e-mail address and telephone number. Shoppers also enter the details of their credit card (Visa / Mastercard) or PayPal as their preferred payment method and store these in the app.
Customers gain access to the store at night by scanning a QR code at the entrance with the 24/7 ServiceStore app. This is how shoppers identify themselves to the retailer. The interaction of app use and the use of CCTV is intended to keep shrinkage as small as possible during autonomous night-time operation.
Receipt by email
Via the 24/7 ServiceStore app, customers scan the barcodes of the items they want to buy in the store. These appear in the shopping basket of the app on the customer's smartphone. When shoppers leave the ServiceStore, they complete their purchase via the payment button in the app. They receive a shopping receipt by e-mail.
Valora deploys the hybrid solution of the newly opened Düsseldorf's central station store, also at four 24/7 outlets of its Avec banner operation in Switzerland. Another will follow shortly at the Tamoil Service Station in Schlieren, in the canton of Zurich, Switzerland. Valora sees great potential in such hybrid solutions, as existing stores need only to be equipped with the appropriate technology and integrated into the app.