News
Walmart optimises shipments with Knapp and Packsize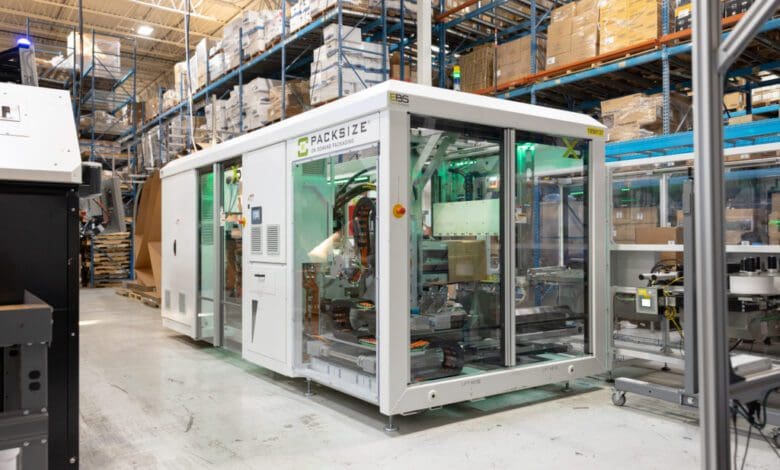 US retail giant Walmart is reducing carton sizes and filling materials used for shipping online orders with automation technology from Knapp and Packsize. The jointly developed solution is set to save personnel as well as material costs and to free up space in transport vehicles. Overall, the retail group wishes to ship goods more efficiently and sustainable this way.
To support its growing online business, Walmart is investing heavily in delivery logistics. Last year, the company already commissioned Knapp to supply automation solutions for four new fulfilment centres, the largest single order in the history of the Austrian intralogistics specialist to date.
The new solution combines Knapp's automation technology with packaging technology from US specialist Packsize. It enables to provide right-sized cartons for shipment of each customer order. Walmart has been using the automated packaging solution in multiple distribution centres since March this year. The technology companies have now announced to form a strategic partnership for sustainable packaging solutions.
Right-sized packaging on demand
E-commerce customers often complain that ordered goods arrive in oversized packaging. This not only leads to more packaging waste in households, but also means that logistic providers can load fewer packages into their vehicles and must drive out more often. So-called right-sized packaging significantly reduces unnecessary packaging and filling material and saves on shipping costs.
As soon as a customer order is processed, software calculates the required size of the shipping carton based on master data of items ordered. The Packsize machine creates the appropriate box. The system then transports it directly to the picking workstation.
Less packaging waste
Exact adjustment of packaging size saves up to 40 percent of cardboard. In addition, about a third less filling material is needed because excess space does not have to be padded. The suppliers state that the solution enabled Walmart to reduce its cardboard waste by 26 per cent and even 60 per cent less filling material was needed. They say this has also had a positive impact on customer satisfaction.