News
Walmart speeds up picking of customer orders with warehouse automation technology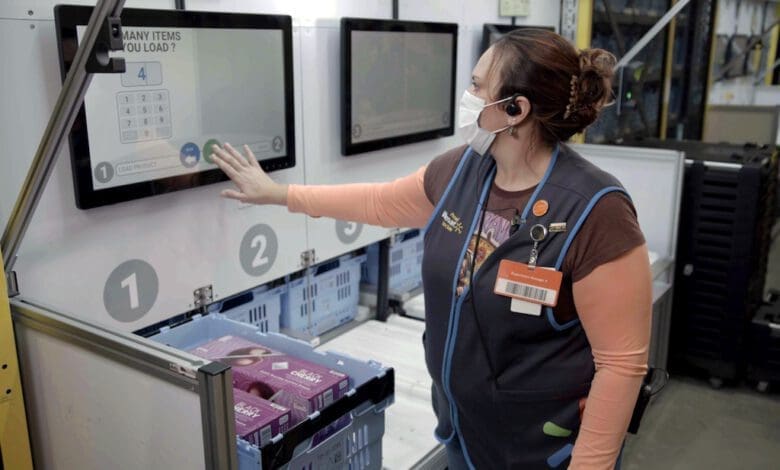 Walmart is setting up small, semi-automated micro fulfilment centres, dubbed Local Fulfillment Center (LFC), at some of its stores. The US retail giant wants to process its customers' online orders faster and more efficiently. With automation technologies from different providers such as Alert Innovation, Dematic and Fabric, the retailer is turning a growing number of stores into local delivery hubs. Walmart says dozens are currently in the planning stages, with many more to come.
Walmart has long used its store network to pick and ship online orders. To do this, employees pick ordered items directly from the shelves, competing with customers in the store. With an ever-increasing share of online business, this can be disruptive to sales operations. Also, manually assembling the goods is time-consuming and costly. That is why Walmart now plans to rely on local micro fulfilment centres that work with modern warehouse automation technology.
Robots pick orders
Walmart's new LFC concept means a compact and modular automated fulfilment centre in direct connection to a store. The facility stores consumables, fresh and frozen foods as well as frequently ordered hard goods. Robots pick articles automatically from shelves bring them to a picking workstation by driverless transport systems, so-called bots. At the same time, a so-called personal shopper collects items not stored in the LFC – such as fruit and vegetables, meat and fish or large-format white and brown goods – from the sales floor. The goods will then then be temporarily stored until shipped or picked up by the customer.
The system enables Walmart to process customer orders within one hour. One LFC can handle the orders for several shops in the area, thus reducing their workload. The retailer piloted its first micro-fulfilment centre in Salem, New Hampshire in late 2019.
According to location, Walmart is working with different warehouse automation specialists, including Alert Innovation, Dematic and Fabric. Thus, the retailer is testing different variants adapted to the respective local conditions. In some cases, the delivery warehouse will be attached to the shop, in others it is set up inside the building. At some locations, Walmart is also planning automated pick-up stations. Here, the customer drives up by car and receives the goods at a self-service terminal. The company has not yet disclosed its roll-out plan or exact locations where the new micro-fulfilment centres will be opened.