News
X5 enables payments via facial recognition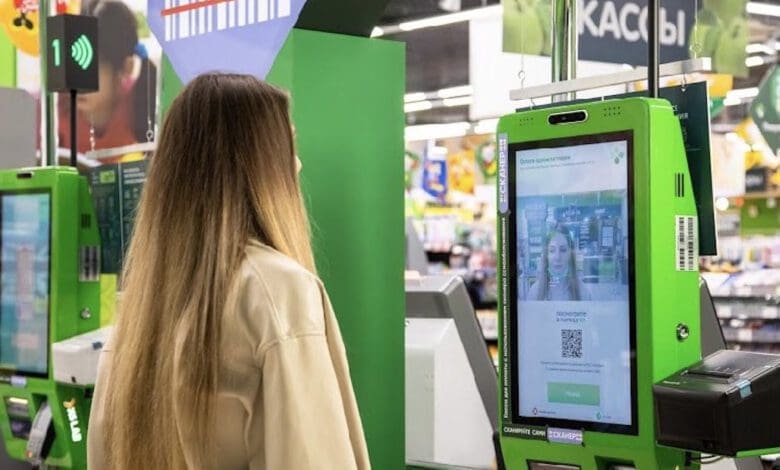 Russian retailer X5 is introducing contactless payment via facial recognition in its stores. For this purpose, the company has concluded agreements with Visa and Sberbank. Biometric recognition works with computer vision technology from Dutch provider Visionlabs and in-house developments.
Currently, customers can use the payment method called Pay-with-a-Glance at self-checkout counters in 52 Perekrestok supermarkets. By the end of March, the solution will be available in 150 stores of the chain. Selected Pyaterochka convenient stores in Moscow will follow suit in April.
Authorisation takes only a few seconds
Sberbank customers can select the Pay-with-a-Glance option in their banking app and assign one of their cards to this payment method. For the actual payment process, neither a mobile device nor card or PIN is then required. After scanning the goods at the self-checkout, the shopper simply selects Pay-with-a-Glance at the kiosk and briefly looks into the camera. The transaction is then authorised within a few seconds.
The biometric method uses images from 3D cameras with high resolution. The software works with artificial intelligence (AI) and computer vision and can take into account possible deviations in customer's appearance. At the moment, the technology is implemented in 350 of the retailer's self-checkouts, with the potential to be rolled out across the entire network of more than 6,000 systems. New checkouts installed in 2021 will also be equipped with the technology.
Customers of banks other than Sberbank cannot use the new payment system so far. The retailer did not disclose any information on possible negotiations with other credit institutions. However, the strategic partnership with Visa suggests that other banks could follow suit.