News
Żabka opens first hybrid 24/7 store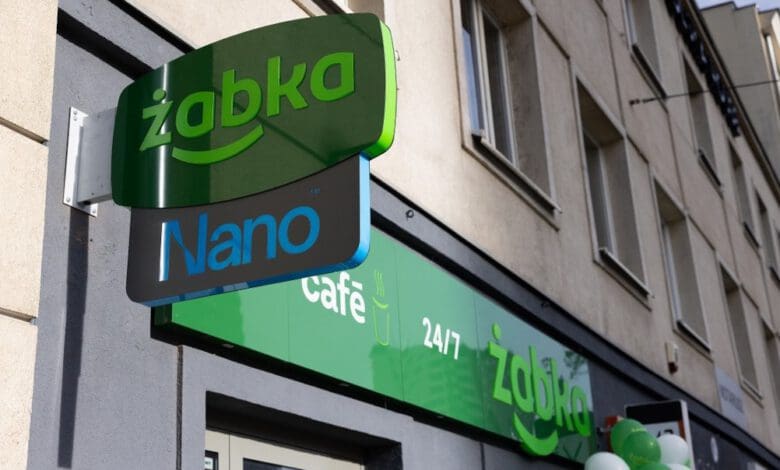 The Polish market leader for convenience stores Żabka has opened its first hybrid store, Żabka Non Stop. From 6:00 am to 11:00 pm, the store is operated in a traditional manned manner, with customers being able to pay either at a normal checkout or at a self-checkout terminal. From 11:00 pm to 6:00 am, shopping is unmanned with autonomous checkout from AiFi. Żabka Group had already opened 50 stores of its AI-based Żabka Nano model in Poland in 2022. The first hybrid location is located at 64 Wolska Street in Warsaw.
"Thanks to that, we can extend opening hours," writes Patryk Powierża from Żabka Nano Growth on LinkedIn. The store at Wolska Street 64 has been operating for some time, but only as a traditionally manned branch. The hybrid store has been open to customers since 30th October.
During unmanned hours, the store can be accessed with a bank card or the Żabka app. The autonomous checkout from AiFi works in the hybrid store just as it does in all Żabka Nanos. The AiFi solution uses vision recognition technology to record the goods removed or put back without shoppers having to scan items or pay at a checkout, as reported by the Retail Optimiser.
Further Innovations
With the hybrid store, Żabka Group has opened its 10,002nd store. In early October, Żabka Polska opened another autonomous store on the campus of Warsaw Medical University. "We truly believe that autonomous stores can bring more convenience to the lives of our customers," writes Patryk Powierża: "Thanks to this autonomous technology we can open our store in locations where traditional stores can't appear."
The hybrid store is not the only innovation in the Zabka Group's convenience offer. On 30th October, the group also opened its first Żabka Drive in the Polish city of Piaseczno. As in many fast-food restaurants, customers can order from Żabka Café's food range at terminals and then pick it up at the pick-up window without having to get out of their car. However, shoppers also have the option of going into the store and shopping in the traditional way.
Convenience ecosystem
"The new store formats not only cater to the needs of our customers, but also simplify their lives and save them time", says Adam Manikowski, Deputy Chairman of the Executive Board at Żabka Group and Managing Director of Żabka Polska: "Żabka Drive and Żabka Non Stop are the result of the journey we have travelled from small, traditional stores to a modern convenience ecosystem that provides more than three million customers with products and services every day.