News
Bünting brings automation to the central warehouse with Dematic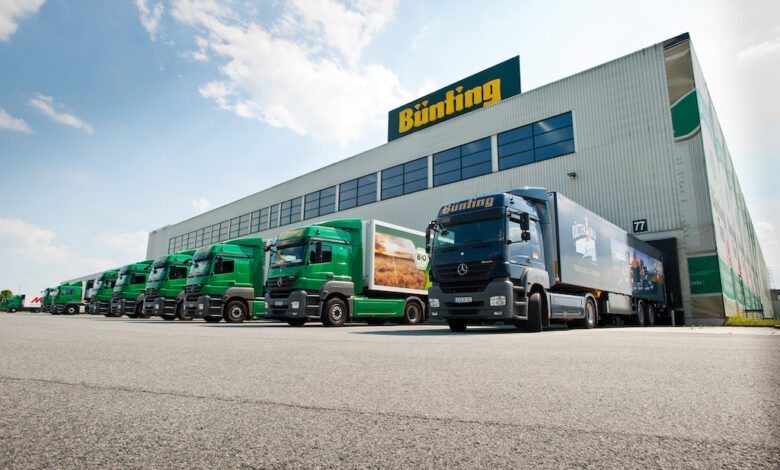 Bünting group is expanding its logistics capacities at its Nortmoor site in Lower Saxony by installing warehouse automation technology from Dematic. With this step, the company wants to optimise supply of its own Famila and Combi stores as well as its retail partners.
Conversion to the automated transport system is intended to increase flow of materials and improve the centre's throughput rate. In this way, the retail company wants to support steady growth across all channels and meet the increasing demands of its customers. The facility is scheduled to become operational in September 2022.
Capacities to be expanded in stages
Implementation of the technology is planned to take place in several stages. Initially, a three-aisle Dematic Multishuttle with 75,000 tote positions will take over automatic buffering, storage and sequencing of totes and trays. With its 85 shuttles, the system will automatically store the various transport units in a space-saving manner. Thanks to precise sequencing, the Multishuttle supplies picking stations with goods assembled according to store requirements. Image documentation and a weighing function significantly reduce the risk of mixed-up or missing articles.
In the next construction phase, Bünting plans to at least double the capacity of the warehouse and the workstations. In addition, the company will increase the number of shuttles to 105 units. Performance and layout of the facility is flexibly scalable and can be adapted to future requirements.
Within the multi-storey building, Dematic's modular conveyer system transports the goods across the individual logistics areas. A vertical conveyor ensures safe handling of single items across all floors.
Bünting uses Dematic software for warehouse management and control of material flow. This enables the retail company to adjust order processing in real time to meet demand. Dematic has integrated systems from former parent company Siemens to monitor and control the technical processes of the facility.
For Bünting, the project represents a first step towards automation. The company announced that it will examine further possibilities for digitalisation. It will focus on networking systems and automating processes.